What are the details?
Fairfax County Police said the fatal shooting in Oakton was preceded by an interaction between the homeowner and another man, which turned into a scuffle outside the house, the station said.
With that, police told WTTG the homeowner went inside and got a gun.
However, the other man entered the residence as well with what police described as a "large landscaping rock," the station said.
Police said the homeowner shot and killed the intruder before calling 911, WTTG reported.
Cops tweeted around 6:50 p.m. that officers were on the scene in the 11400 block of Waples Mill Road, the station said. Responding officers found a man dead at the scene, WTTG said.
Investigators told the station there's nothing indicating that the pair knew each other, but they aren't sure what sparked the whole thing. In fact, police told WTTG they're still trying to ascertain the identity of the home intruder, describing him at one point as a "young adult."
"Hopefully, when we can positively identify this individual we can maybe start putting some puzzle pieces together as far as, 'Why was he in this area? Why was he at this home?'" Second Lieut. James Curry said.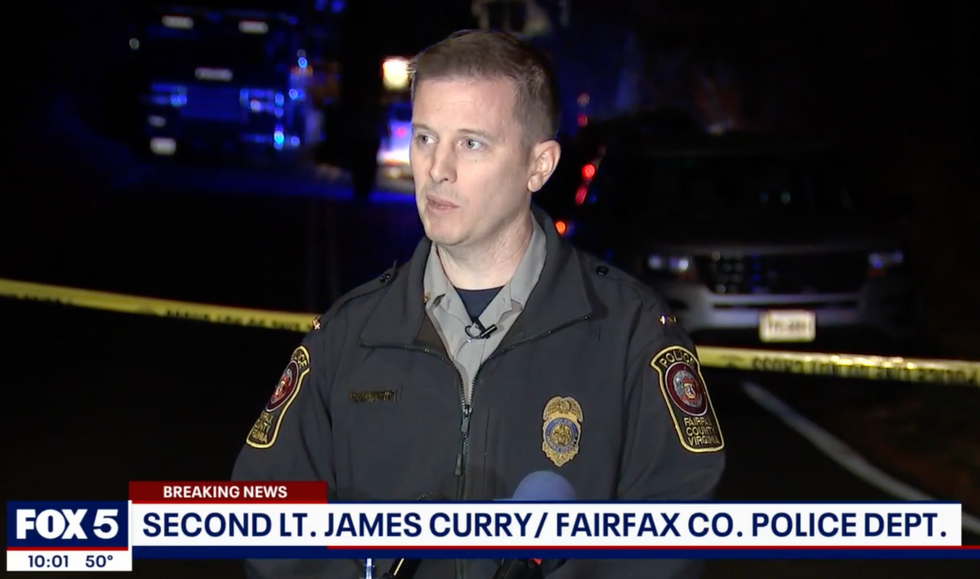 Image source: WTTG-TV video screenshot
Curry added to the station that the homeowner, his wife, and two children, as well as another adult, were inside the home during the incident.
WTTG said in its video report that the homeowner was taken to a hospital with non-life-threatening injuries.
The station added that there is no ongoing threat to the community.