A group of Georgia high school football players didn't hesitate last week when they spotted a wrecked car and ran over to help, only to find a woman driver trapped inside — and smoke pouring from the vehicle's hood.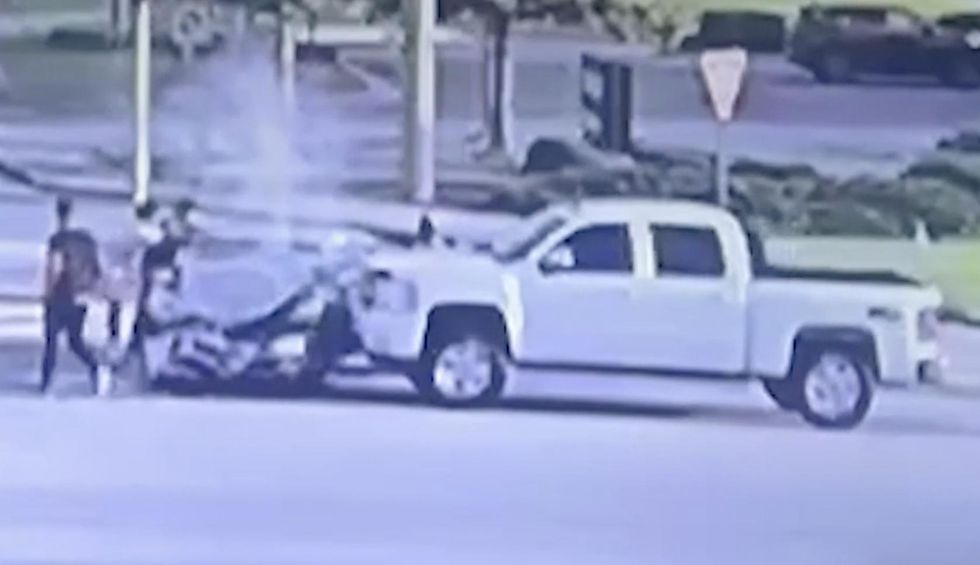 Image source: WAGA-TV video screenshot
What are the details?
Luis Goya, a math teacher at Rome High School, saw the whole thing while standing in front of the school on duty Friday morning and after hearing the loud crash at a nearby intersection.
"There was a 50-year-old lady trapped in her car [who] couldn't get out," Goya wrote on his Facebook page. "Smoke started to come out of the car, and fluid started to spill everywhere in the intersection. The door was jammed and in terrible shape."
Then Goya said he saw something "amazing."
He said a group of football players from the high school "who witnessed the wreck ran to the car and started helping the lady. They literally started using their strength to pry the door open, so the lady could be released. After a few seconds of pulling and pushing the door, the boys ended up opening it and helped her get out of the car."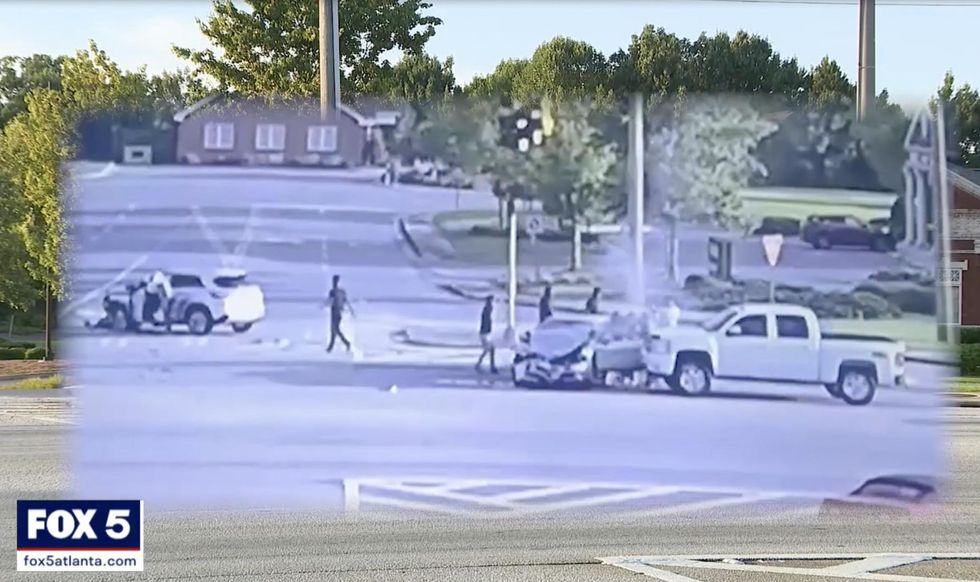 Image source: WAGA-TV video screenshot
'We all knew we had to get her out'
WAGA-TV spoke to Antwion Carey, Alto Moore, Tyson Brown, Cesar Parker, and Treyvon Adams about what was going through their minds as they were on their way to school that morning.
"We all knew we had to get her out, you know, before something worse would happen," Adams told the the station.
Carey added to WAGA that the woman "reached out for my hand; she was saying 'help!'"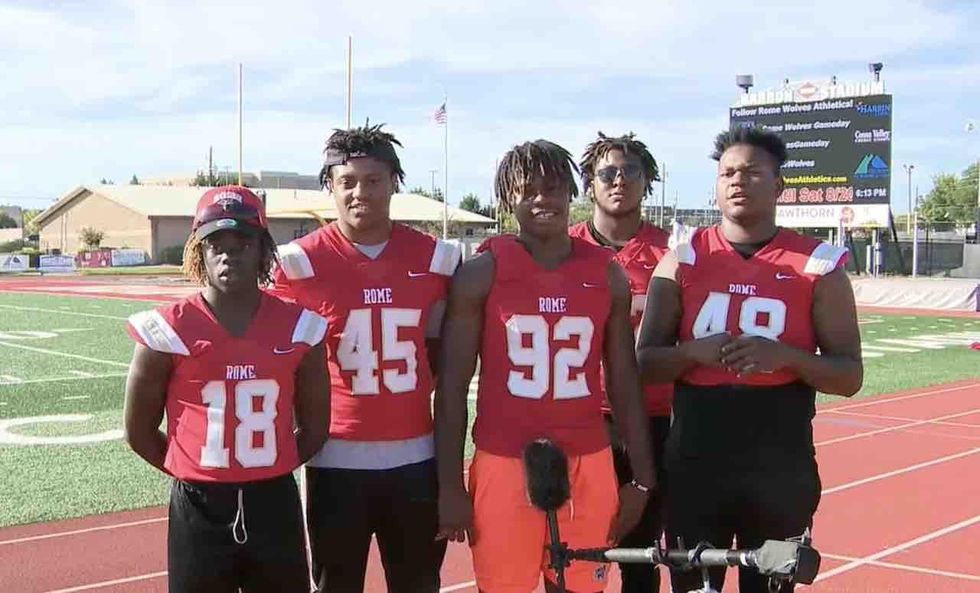 Image source: WAGA-TV video screenshot
With that, the players put their muscles to use, prying open the door that was stuck closed due to the crash.
"He grabbed one side of the door. and I grabbed the other side, and we started, like, bending it down," Moore told the station.
The door now open, the players helped the woman exit the car and then got her to a safe place, WAGA said.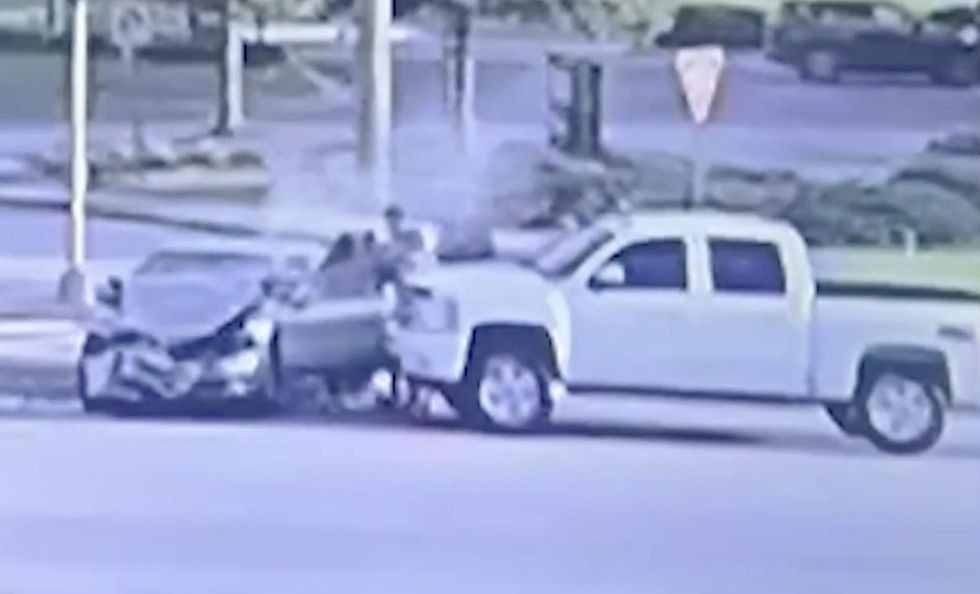 Image source: WAGA-TV video screenshot
"She was shaking and still in panic," Goya added to his Facebook page. "But our RHS boys gave her comfort and were able to help her. The Rome High School football players really showed up today. They went above and beyond to help this lady without hesitation."
Not only that, they went to check on the people in the other vehicle to make sure everyone was okay, the station added.
'These kids really did run right into danger'
No one was prouder of the players than their coach, John Reid.
"When I finally saw the video, I was like, 'Oh my gosh, these kids really did run right into danger,'" Reid told WAGA, adding that they "really had a sensational event where they helped a lady out of a car that could have caught on fire."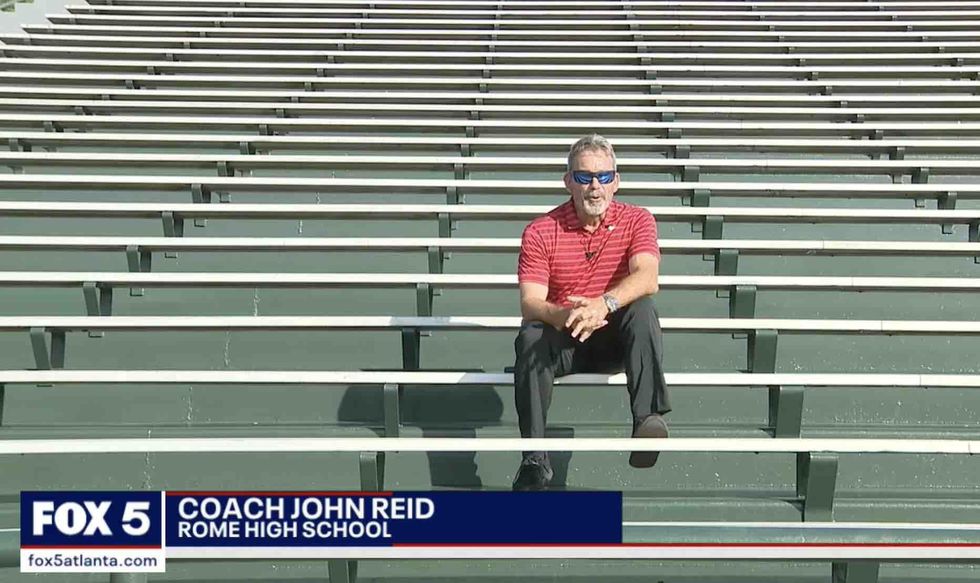 Image source: WAGA-TV video screenshot
The players told the station they weren't thinking about the danger — just helping those in need.
"We weren't really worried about ourselves," Brown told WAGA. "We were worried about the lady that got in the wreck."
Reid commented, too, about the "heroes" mantle.
"Are they heroes? I bet they are to that woman and her family," he noted to the station. "To us, we're just really proud of them."
Anything else?
WAGA said the woman the players rescued was taken to a hospital, adding that Rome police said she had cuts and bruises and needed some x-rays but should be okay.