Since ICE deported a Long Island, New York, high schooler for suspected MS-13 gang affiliation after a school resource officer got suspicious about the student, Huntington School Board members want to limit what officers on campus can do to students, ProPublica reported.
In fact, board president Jennifer Hebert said she opposes having school resource officers in Huntington's schools unless a formal agreement can be reached among neighboring districts regarding how the officers are used, the outlet said.
"We need clarity and guidelines, and if we can't get those, I'm not comfortable having officers in our building going forward," Herbert said at Monday's crowded board meeting, according to ProPublica. "And many of these trustees feel similarly."
Board member Xavier Palacios called for expunging school suspensions from disciplinary records of students reported to Immigration and Customs Enforcement by school resource officers, the outlet said.
"We must make a wrong right," Palacios said, ProPublica reported. "If our district needs to create a new policy to prevent this from happening again, then we must do so."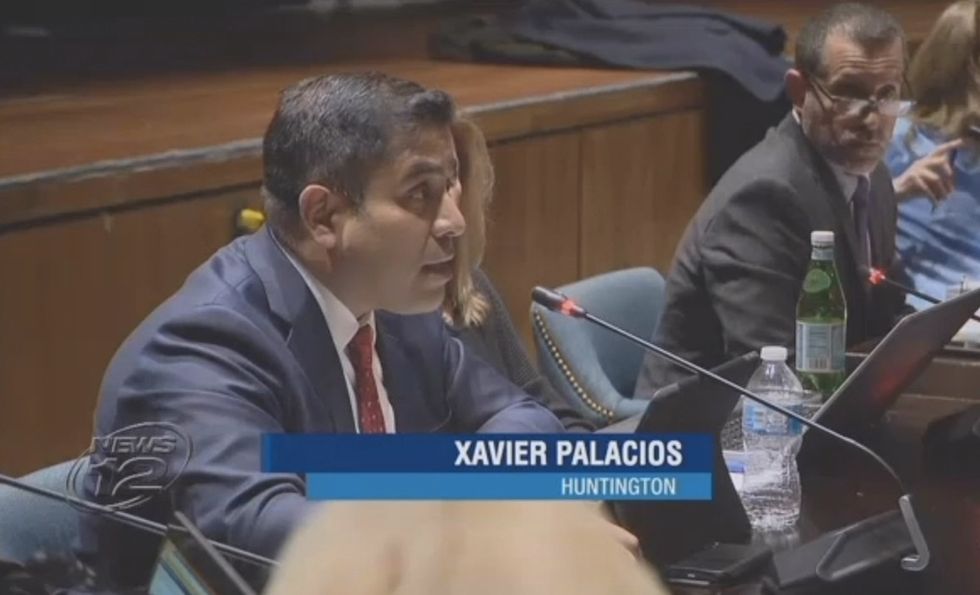 Image source: News12 video screenshot
The outlet said about 500 people packed the hall for the meeting and that the board held two comment sessions to allow attendees to speak.
"It's very hard to be Latino here," recent district graduate Landary Rivas said through tears, ProPublica reported. "Something has to change. 'I'm sorry' is not going to cut it. This stuff has to stop."
What's the background?

The former Huntington High School student in question, Alex, was featured in a collaborative story last month by ProPublica and the New York Times Magazine, the outlet said. While News12 said his name is Alex Martinez, ProPublica referred to the 19-year-old simply as "Alex," saying it's his middle name.
ProPublica said Alex attended the school while seeking asylum in the U.S. The outlet added that after he drew the telephone country code of his native Honduras as well as a devil with horns — an MS-13 symbol but also Huntington High's mascot — the school suspended him for gang activity.
More from the ProPublica piece:
Alex was then detained by U.S. Immigration and Customs Enforcement, which under President Donald Trump is increasingly using school records to arrest immigrant students who haven't been charged with any crime but are suspected of gang membership. Alex was one of about a dozen immigrant Huntington High students detained for allegedly associating with MS-13, which has been particularly active on Long Island. In several of these cases, ICE cited classroom doodles and other school incidents that were reported by Huntington High school resource officer Andrew Fiorillo. Alex was deported to Honduras in July 2018.

The day after the story ran, the Huntington school district posted a letter promising to ask for a contract with Suffolk County police to clarify the duties of school resource officers. The Police Department said it is reviewing the district's request, and the police commissioner is expected to meet with county superintendents soon. At a community meeting Tuesday, Inspector Bill Scrima said that Fiorillo, who has worked at Huntington High for 14 years, has been pulled out of the high school. "We're not sure whether the school wants him back," Scrima told Newsday.
ProPublica said neither the school nor police responded to its questions about when Fiorillo will return, adding that the officer didn't respond to messages.
What does the district superintendent have to say?
"This episode is upsetting on so many levels," Huntington Superintendent James Polansky told the outlet. "What I ask for is that we come together as we take a lead role in changing the story, not just for us, but for districts around the area."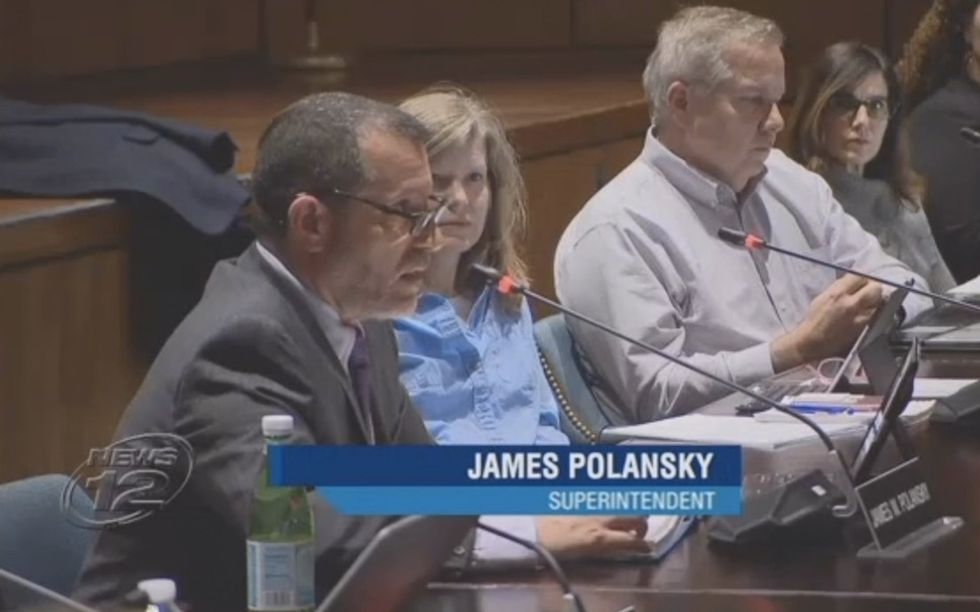 Image source: News12 video screenshot
What are some alumni saying?
ProPublica reported that a group of Huntington High alumni that formed in response to the article — and includes the school's three most recent valedictorians — said an agreement should require cultural competency training for school resource officers. The group — Protecting Our Classmates — set up a GoFundMe site for a deported former student, the outlet said.
What did 'Alex' have to say about the developments?

The former Huntington student is in Honduras and told ProPublica he's grateful for the support and hopes his story will help other immigrants. "I want this to never happen to another student," he said.