An Alabama man who was arrested and taken into custody last month apparently died of hypothermia soon afterward, and the family has now filed a lawsuit alleging "jail abuse."
On January 12, deputies were called to Carbon Hill, Alabama, about an hour northwest of Birmingham, because a man had reportedly been behaving erratically. When they arrived, they found Anthony "Tony" Mitchell, 33, standing in the front yard of his family's residence. When he spotted the deputies, Mitchell allegedly drew a handgun, fired in their direction, and fled the scene. He was quickly apprehended and taken to Walker County Jail on a charge of attempted murder.
Just over two weeks later, Mitchell was dead. On January 27, he was transported to Walker Baptist Medical Center for "further evaluation" following a "routine medical check," a statement from the sheriff's office said. While at the hospital, Walker "suffered a medical emergency and became unresponsive," and though emergency medical teams managed to "revive" him temporarily, he ultimately passed away, the statement added.
"The inmate was alert and conscious when he left the facility and arrived at the hospital," the statement insisted.
However, secret footage shared by a corrections officer, who has since been fired, suggests that Mitchell was neither "alert" nor "conscious" when he left the jail. The footage instead shows four jail officials carrying Mitchell into a loading bay, laying him on the ground, and then placing him into the back seat of a squad car. Mitchell appears to move very little, if at all, during the process. The relevant footage begins around 0:52:
The family has since filed a federal lawsuit, calling the treatment of Mitchell "one of the most appalling cases of jail abuse the country has seen."
The lawsuit also included notes written by a WBMC physician, who said, "I do believe that hypothermia was the ultimate cause of [Mitchell's] death." The physician also added, "I am not sure what circumstances the patient was held in incarceration but it is difficult to understand a rectal temperature of 72° F 22° centigrade while someone is incarcerated in jail." Other reports indicate that Mitchell was "pulseless and cold to the touch" when he arrived at the hospital.
A county medical examiner has not issued an official cause of death and did not comment about possible hypothermia. Still, lawyers representing the family want answers: "How does a man literally freeze to death while incarcerated in a modern, climate-controlled jail, in the custody and care of corrections officers?"
Mitchell had a history of drug abuse and mental illness, and the physician whose notes are included in the lawsuit also admitted, "It is possible he had an underlying medical condition resulting in hypothermia."
However, the family alleged that Mitchell's death came as the result of abuse and neglect. They believe that jail officials may have restrained Mitchell in a chair, placed him in the jail's walk-in freezer or a "similar frigid environment," and left him for hours, the lawsuit stated. The family also alleged that Mitchell was stripped naked and housed in a concrete isolation cell like a "dog."
"But unlike a dog, Tony was not even given a mat to sleep on," the lawsuit said.
Karen Kelly, the correctional officer who leaked the footage, said she wanted only to "share the truth." She has since filed her own lawsuit against the sheriff's office, claiming she was fired in retaliation for sharing the video.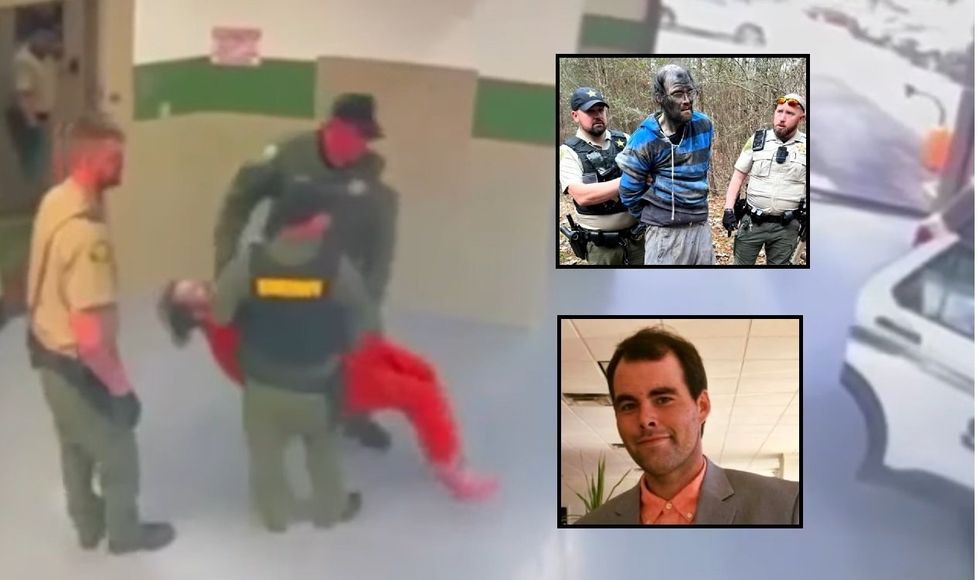 Bottom: Tony Mitchell, before he was ravaged by drug abuse and mental illness | Top: Arrest of Tony Mitchell on Jan. 12
Like Blaze News? Bypass the censors, sign up for our newsletters, and get stories like this direct to your inbox. Sign up here!