© 2023 Blaze Media LLC. All rights reserved.
Jason Aldean's anti-woke anthem shoots to #1 on iTunes, blowing past Taylor Swift and K-pop stars, following CMT drop
Jason Aldean's song "Try That in a Small Town" and the accompanying music video rocketed to the top of the iTunes charts in less than 24 hours as outlets began reporting that the video had been pulled from country music channel CMT.
Louder with Crowder reported that the song had reached the top spot on the iTunes all-genre charts, beating out the massively popular Korean pop stars from the group BTS as well as fellow country artist Luke Combs.
In addition, Aldean's visuals made their way to the top of the music video chart, passing artist Taylor Swift, who is also a vocal left-wing activist.
The video, which was pulled by CMT on Monday, July 17, 2023, showed familiar clips of Antifa and BLM rioting. News coverage of looting, violent protests, and spitting on police were all featured in the video.
Billboard reported that Aldean's video was released on a Friday and was in CMT's rotation through Sunday, but the outlet noted that CMT declined to comment on why it stopped playing the video by Monday. The Billboard report dropped Tuesday, and by 11 p.m. that night the music service had reported the song had reached number one on the charts.

At the time of Billboard's report on July 18, 2023, Aldean's music video had approximately 346,000 views on YouTube. At the time of this publication (about 14 hours later), that view count is well over 1.3 million.
Aldean said that he had been "accused of releasing a pro-lynching song," to which he responded that "these references are not only meritless, but dangerous."
"There is not a single lyric in the song that references race or points to it- and there isn't a single video clip that isn't real news footage -and while I can try and respect others to have their own interpretation of a song with music- this one goes too far," he added.
"Try That In A Small Town, for me, refers to the feeling of a community that I had growing up, where we took care of our neighbors, regardless of differences of background or belief," Aldean explained.
The increase in views meant the video also found its way onto YouTube's trending music page.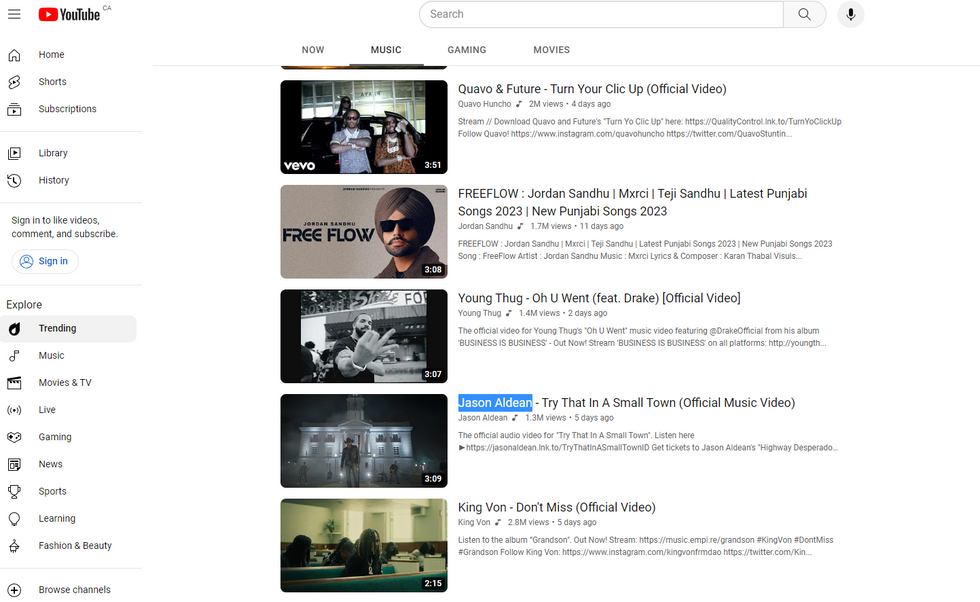 Image via YouTube.com
The song was originally released in May 2023, but only reached #25 on the charts, as of the release of Billboard's same report.
At the same time, Aldean suffered from heat stroke and was forced to cancel a July 15, 2023, performance. The country music star called the bout of dehydration and exhaustion not that "serious," but noted "it was pretty intense last night at the show."
Like Blaze News? Bypass the censors, sign up for our newsletters, and get stories like this direct to your inbox. Sign up here!

Want to leave a tip?
We answer to you. Help keep our content free of advertisers and big tech censorship by leaving a tip today.
more stories
Sign up for the Blaze newsletter
By signing up, you agree to our
Privacy Policy
and
Terms of Use
, and agree to receive content that may sometimes include advertisements. You may opt out at any time.