A sportswriter tweeted Sunday that she "just yelled at a prick with the audacity to wear a f***ing Make America Great Again hat in the middle of a jazz festival" — and received major ridicule for her declaration.
The iconic red cap was the symbol of President Donald Trump's 2016 campaign and has become a lightning rod for a growing number of those on the left who say the MAGA hat is synonymous with racism, bigotry, and hatred.
Natalie Weiner, a writer for SBNation, appears to have been attending the New Orleans Jazz & Heritage Festival at the time of her tweet. She added in the thread that the MAGA hat-wearer "doesn't deserve to be within a 10 mile radius" of singer Irma Thomas, who was performing at the festival.
"I don't understand how people can be so hateful," Weiner also noted.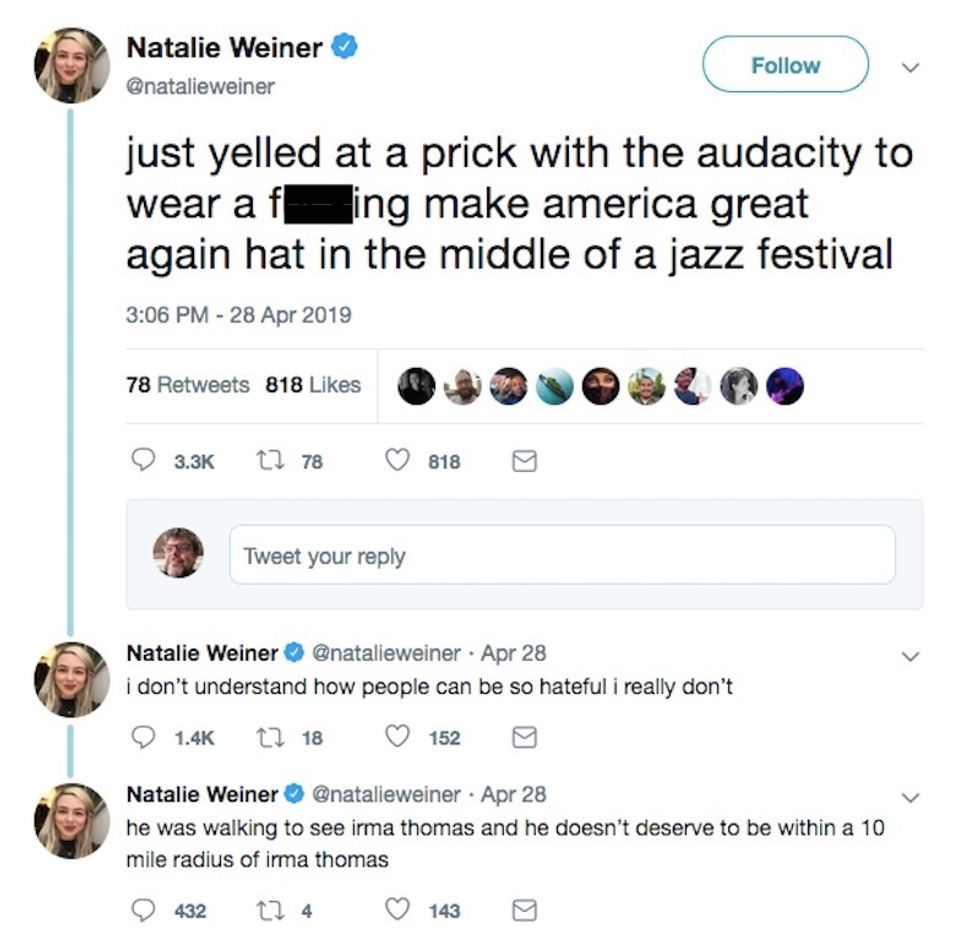 Image source: Twitter, redacted
What did folks think of the journalist's MAGA hat tweet?
As of Tuesday morning, Weiner's initial tweet garnered over 800 likes but also 3,500 comments, meaning it was "ratioed" — negative Twitter-speak for when replies far outnumber likes.
A cursory glance at those comments indicates that not everybody was down with the journalist's announcement that she yelled at a MAGA hat wearer and called him a "prick":
"There's definitely a problem here. It isn't with the guy wearing a hat."
"Imagine screaming at a stranger in public because of a hat and thinking THEY'RE the hateful one. You're not cool, brave, dignified, or justified in doing this. You're just a c***."
"'Sports journalists' are the new vanguard of the SJW asshattery."
"So you were the concert police, who can't seem to have control over yourself when seeing an article of clothing? Now I know why people like you are for control over everything. Newsflash, not everyone is like you. Thank the Lord for that."
"What a truly putrid series of tweets. You deserve the ratio, you intolerant dullard."
"I hope you explained to him that jazz concerts are safe spaces, free from the pesky First Amendment."
"Tolerance at its finest I see."
"The self-righteousness is nauseating."
"Nice to see you liberal fascists at work. You make POTUS Trumps re-election more certain by the hour."