Yet another ugly confrontation over a "Make America Great Again" hat — the iconic symbol of President Donald Trump's 2016 campaign that a growing number of those on the left say is synonymous with racism, bigotry, and hatred — was captured on video.
The incident took place on the campus of Missouri Western State University in St. Joseph on March 29.
What happened?
According to a video Missouri Western student Dossou Nidaye posted with a friend, Nidaye noticed a person wearing a red MAGA hat on the first floor of the Blum Student Union and asked him to take it off, online school paper The Griffon News reported.
"The way it happened was we were downstairs in Blum, and the kid walked in with his hat, and when he was coming towards the food court ... his friends just started tapping him," Nidaye said on her video, the paper reported, adding that "it was mostly African American people at the time, and we were all kind of uncomfortable — we were all looking at him."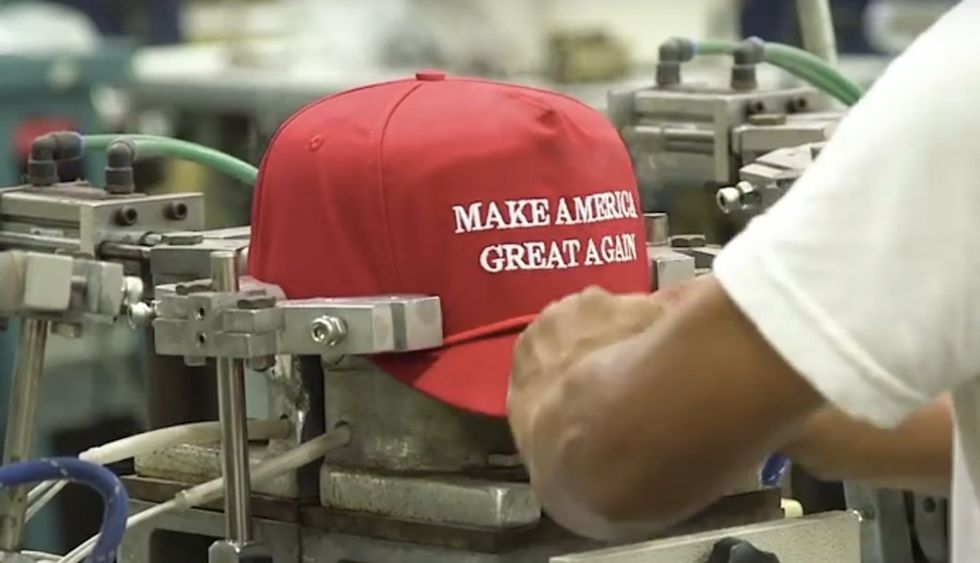 Image source: YouTube screenshot
The News said she added: "So I went up to him peacefully, and I said, 'Hey, why are you wearing that hat? Why do you think it's OK to wear that on this campus?' And he was like, 'Oh, I'm sorry,' and took the hat off. And that was that, and I was going to end like that, but this older white man came up from behind me and was like, 'shut up,' walked past me, got me out of the way ... and told him, 'No, don't listen to her — put it back on.' I turned around to him, and I said, 'Why do you think that's OK? Why are you telling him that and to put it back on?'"
Turns out the MAGA hat-wearer is a high school student, and the Kansas City Star said he was on campus to help decorate for a prom his school was holding there that weekend.
The News said the high schooler told Nidaye he was 17 and should be able to wear the MAGA hat; but an eyewitness said the high schooler traveled up the stairs to the second floor of student union — and Nidaye followed him. That's where the confrontation caught on video took place.
'Take that s**t off!'
"It is a symbol of white supremacy! I don't want to see that!" Nidaye is heard yelling tearfully on the video, the News reported. "I wake up every day, and I see my people getting killed!"
When someone apparently tried to strike a compromise, she replied, "Uh uh! Take that s**t off!"
The video showed one of the two campus police officers at the scene trying to calm things down, but Nidaye wasn't having it.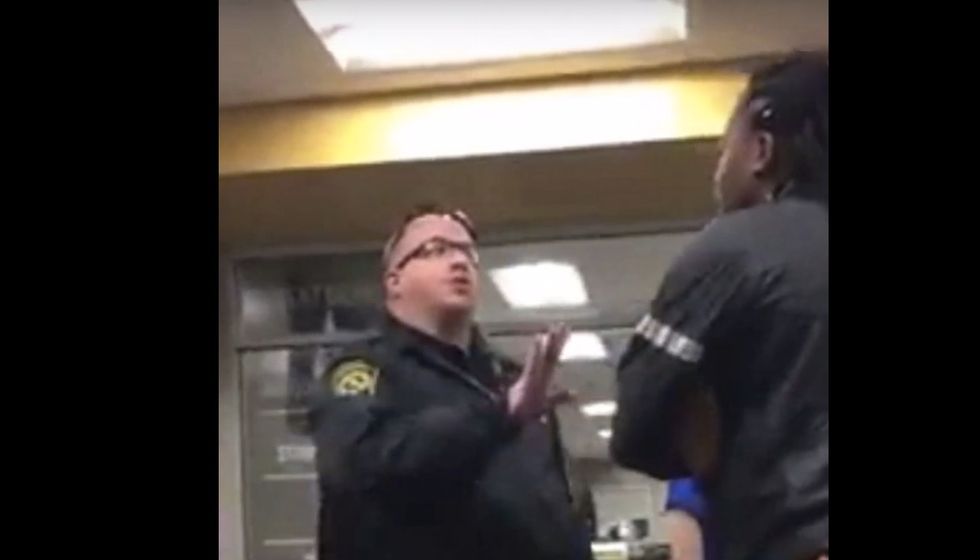 Image source: YouTube screenshot
"Do you know what that hat symbolizes?" she asked the officer.
When he replied that he didn't want get into those details, she repeated that she wanted the high schooler to take off his MAGA hat and that she didn't want to see it. When she told the cop he didn't "understand" the situation and that "it's deeper than that, bro," the officer turned things up a notch.
"Don't tell me what I do and don't know," the officer said angrily to Nidaye. "Don't tell me that. I'm not going to tell you what you do and don't know, so don't do the same to me."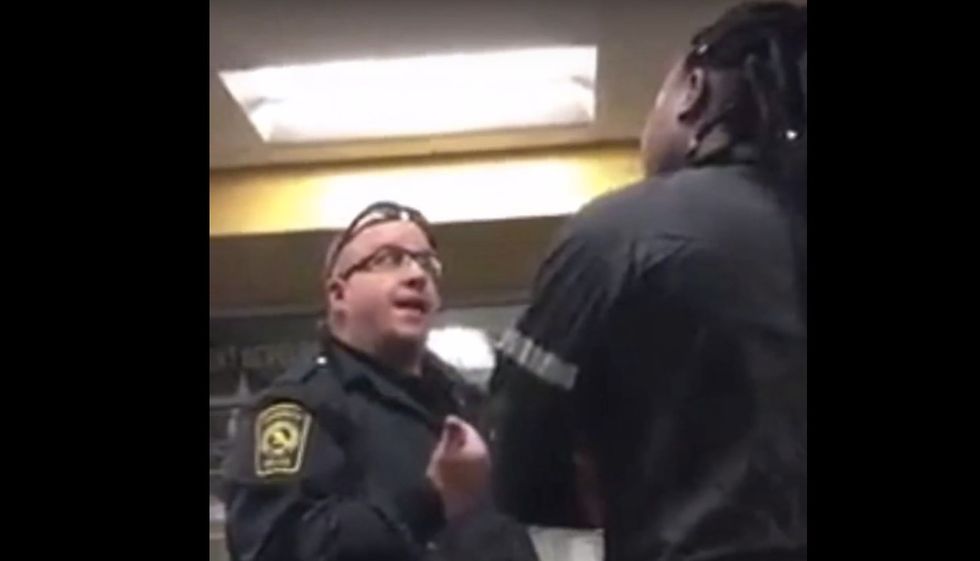 Image source: YouTube screenshot
Nidaye then went on a rant suggesting that women on campus should start wearing "turbins" to see how long it takes others to wage anti-Muslim attacks on them — but why is it OK for the kid to wear a MAGA hat?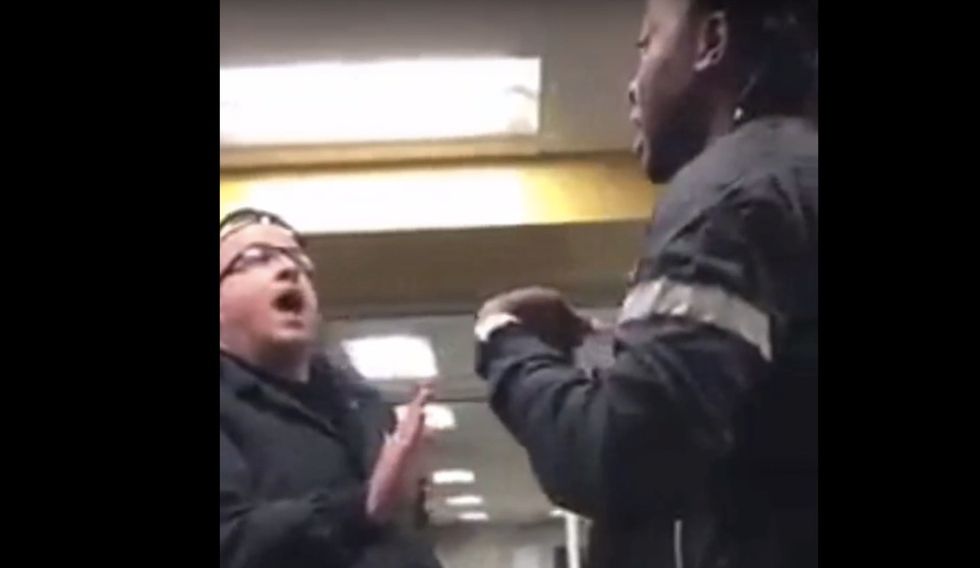 Image source: YouTube screenshot
A person apparently with Nidaye was seen telling her quietly to "calm down," and the officer also asked Nidaye if she was willing to talk calmly, but no dice: "I don't want to talk calmly. I want him to take that off." At that point Nidaye left the scene, and the clip ends.
Here's the video of the MAGA hat confrontation when police intervened. ( Content warning: Profanity):
What happened afterward?
The News said an incident report was taken, and school President Robert Vartabedian released a statement:
"As a campus community, we cherish the freedom of expression guaranteed in the U.S. Constitution, and we have an obligation to protect that freedom for our students, employees and visitors. Equally important is that we exercise our freedom of expression in a way that respects the inherent worth of each individual on our diverse campus. Ideally, we would express our views and listen to views different from our own not with an intent to start or win an argument, but to understand and be understood. That can be a challenge in a community like Missouri Western's, where we have such a diversity of backgrounds and opinions. But it is vital. It is my hope that this incident can spark a period of reflection and conversation that will deepen all of our understanding of these two core values, freedom and respect."
Vice President of Student Affairs Shana Meyer told the News, "I think we have seen in other situations where there has been video that there is often more than what a video shows. I think that when it comes to issues like this that there is always different perspectives, I think that we put our own perspectives on what we're seeing and we don't always have the entire picture."
And a tweet from the News announced a "Free Speech vs Hate Speech" discussion set for Tuesday "in response to recent events":
On April 9th there will be a discussion in Spratt 205 speaking about Free Speech vs Hate Speech. Please feel free t… https://t.co/SFbqaOZH6N

— The Griffon News (@The Griffon News) 1554425188.0