Sen. Kamala Harris (D-Calif.), who is running for the 2020 Democratic presidential nomination, definitively stated Tuesday that convicted terrorists and sexual predators should not be allowed to vote, walking back willingness to discuss the controversial issue.
Harris' comments come amid broad discussion within Democratic circles whether convicted felons should be stripped of voting rights, including those who remain behind bars.
What did Harris previously say?
During a CNN town hall Monday, Harris said she believes there needs to be a "conversation" about whether convicted terrorists who are American citizens should be allowed to vote from prison.
"People who are convicted, in prison, like the Boston Marathon bomber on death row, people who are convicted of sexual assault, they should be able to vote?" CNN host Don Lemon asked Harris.
"I think we should have that conversation," Harris replied.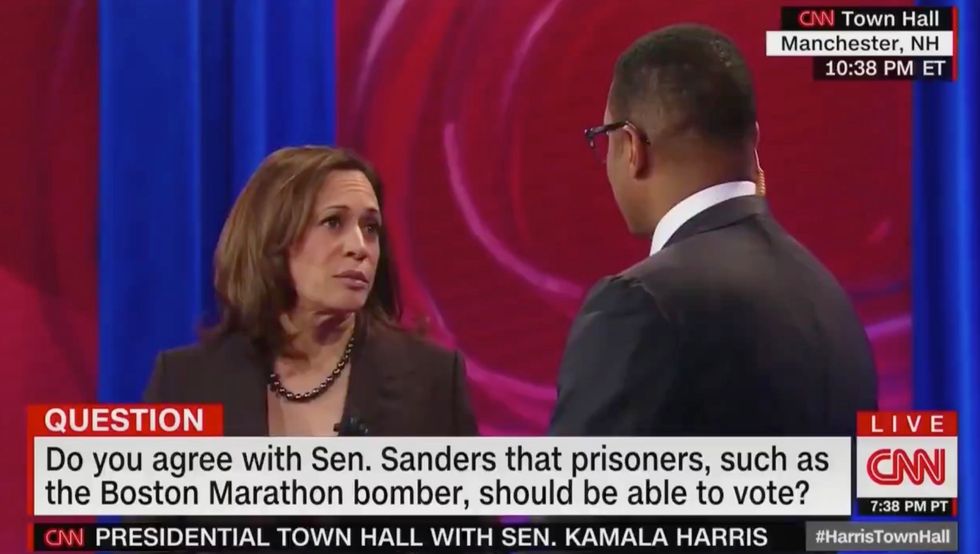 Image via Twitter @RealSaavedra screenshot
Harris' comments came after Democratic presidential front-runner Sen. Bernie Sanders (I-Vt.) said he believes convicted terrorists like the Boston Marathon bomber should be allowed to vote from prison.
"If somebody commits a serious crime, sexual assault, murder, they're going to be punished," Sanders said. "But I think the right to vote is inherent to our democracy. Yes, even for terrible people, because once you start chipping away … you're running down a slippery slope … I believe even if they are in jail, they're paying the price to society, that should not take away their inherent American right to participate in our democracy."
What did Harris say Tuesday?
While speaking to media Tuesday in New Hampshire — the first state to hold a primary election — Harris was asked to clarify her position on felon voting.
"Do I think that people who commit murder, people who are terrorists should be deprived of their rights? Yeah, I do," Harris said.

Voting rights issues are important for Harris in particular because of her extensive background as a prosecutor and California's attorney general, which diminishes her appeal among progressives who believe criminal justice reform is paramount.
Her comments at the town hall were likely an effort to appeal to hardline progressives who are inclined to support Sanders. However, backtracking so quickly will raise red flags among criminal justice reform advocates and likely diminish her standing among far-left progressives.
Democrat Kamala Harris last night: "We should have that conversation" about allowing the Boston Marathon bomber to… https://t.co/S3FfUqNRGe

— Ryan Saavedra (@Ryan Saavedra) 1556075161.0