Leftists are becoming far too predictable.
In the wake of rioting in the nation's capital, a rather astonishing video shows an oh-so-woke Karen having a little talk with a trio of women committing the crime of scrubbing graffiti from a federal building.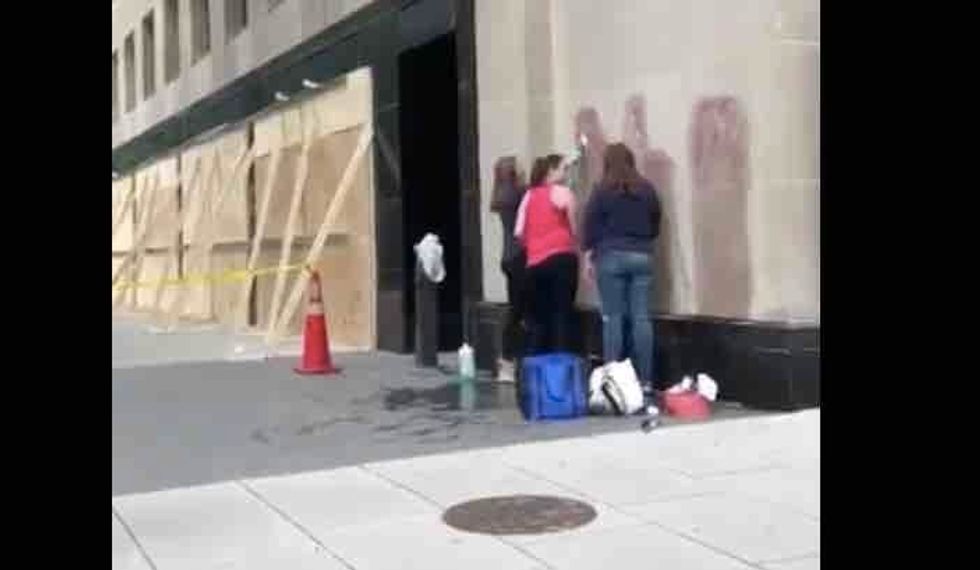 Image source: Twitter video screenshot
That is to say, the letters read "BLM" — and apparently it was the wrong graffiti to wash off.

"Why are you guys removing Black Lives Matter graffiti?" she asked.
The culprits replied that it's a federal building and that it was vandalized. In fact, the address is 811 Vermont Ave. NW, which houses the Department of Veterans Affairs.
'So, you don't care about black lives then?'
Not that it mattered to Karen — the women were failing her litmus test for righteousness in 2020.
"So, you don't care about black lives then?" she asked.
The guilty party replied, "That's not at all what we're saying" and "we do care about black lives."
"Not enough to leave up a message," Ms. Woke shot back.
"We don't disagree with the message, ma'am, it's just on the building," one of the deplorables replied. "We're just trying to clean it."
Not getting anywhere with the oppressive wall-scrubbers, our heroine signed off her clip by saying, "Right. Not a great way to use your white privilege, ladies. That's disgusting."
Karen is here to call out all the racists who are *checks notes* cleaning up the graffiti in their city https://t.co/Odv8ybg6K3

— Jason Howerton (@Jason Howerton) 1591280914.0