Los Angeles Rams linebacker Bobby Wagner absolutely leveled an animal-rights activist who made the mistake of running onto the playing field during Monday night's football game against the San Francisco 49ers — and getting a tad too close to the Rams' sideline.
What happened?
The activist ran onto the field during the second quarter — with a device emitting pink smoke — and was successfully evading security personnel, one of whom slipped and fell in the process.
But Wagner is paid big money for not missing moving objects on the field — and he clobbered this guy for free.
As the woke demonstrator skirted near the Rams' sideline, Wagner emerged and put a full-speed lick on the interloper, who immediately collapsed to the turf.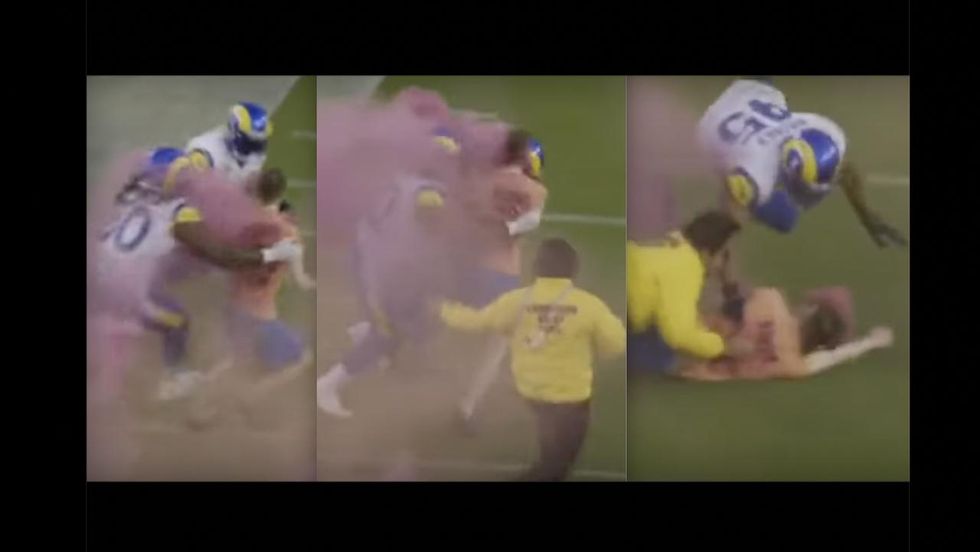 Image source: YouTube screenshot, composite
Fellow Rams linebacker Takkarist McKinley assisted, ESPN said.
Peyton and Eli Manning sure enjoyed it:
Peyton & Eli break down a streaker on the field during Monday Night Footballyoutu.be
"Yes! That's what we're talkin' about!" Peyton Manning shouted while punching the air during a replay of Wagner's hit.
What did Wagner have to say?
Wagner told ESPN that he was intent on "keeping it safe" for those around him.
"You don't know what that fan got or what they're doing," he added to the sports network. "You see it all the time, and we don't know what they're carrying in their pockets. It's whatever that little smoke stuff is, but that s**t could be dangerous. One of the guys on the other side, it looked like he got hurt, and security looked like he was struggling, so I was frustrated, so I took it out on him."
Here's a look from a few other angles; onlookers were pleased:
Bobby Wagner tackles fan on the field (fan angles)youtu.be
49ers Coach Kyle Shanahan enjoyed Wagner's hit as well. "I saw Bobby Wagner take somebody out," he told ESPN. "That was kind of cool to see."
The Rams lost to the 49ers, 24-9.
What's the story with the demonstration?
Direct Action Everywhere appeared to take responsibility for the demonstration, Fox News reported.
Two activists were identified as Alex Taylor and Allison Fluty, both of whom are from the Bay Area, Fox News added. Direct Action Everywhere tweeted a photo of the pair wearing "RightToRescue.com" T-shirts and holding their citations, noting that Taylor is the activist whom Wagner tackled:
Direct Action Everywhere said in a press release that two of its investigators, Paul Darwin Picklesimer and Wayne Hsiung, were charged with multiple felonies for "rescuing" piglets in 2017 from Circle Four Farms, which is owned by Smithfield Foods, Fox News said.
"Smithfield will do anything to shield its abuses and protect its profits," Taylor said in a news release, according to the cable network. "We must take action to stop the violence and create a better future for us all."