Following Liam Neeson's shocking admission that nearly 40 years ago he hunted for a "black bastard" to attack him so he could fight back after his friend told him a black man had raped her, the Irish actor appeared Tuesday on "Good Morning America" to let viewers know one thing: "I'm not racist."
Neeson's racially charged desire for revenge — offered during an interview with The Independent about his new movie "Cold Pursuit," which focuses on his character's quest to avenge his son's murder — was met with surprise and outrage.
"It's unfortunate and sick that Liam Neeson would in response to a tragedy simply seek out any black person to murder," NAACP spokesman Malik Russell told the New York Times. "Pain suffered is not an excuse for racism."
"If black people responded this way regarding all the times our ancestors were lynched, raped, mutilated, tortured or shot down by police brutality, there would be too many bodies to count," Russell added to the paper. "The fact that black people have been able to not blame every white person for the deeds of racist whites is a tribute to our character as a people."
What else did Neeson say?
Neeson told "GMA" anchor Robin Roberts that he went "deliberately into black areas in the city looking to be set upon, so that I could unleash physical violence."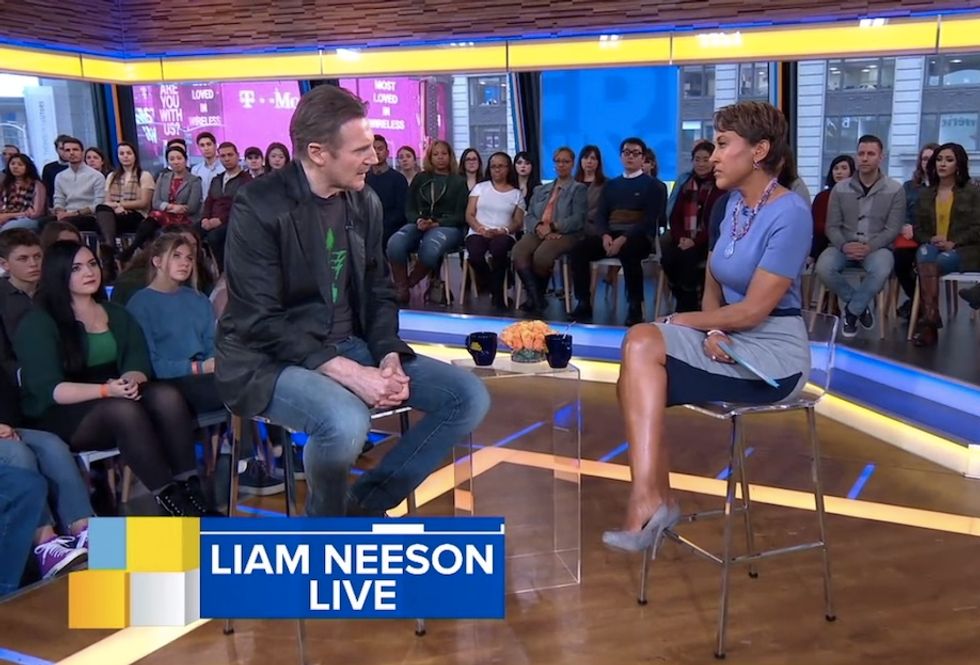 Image source: GMA video screenshot
He added that beforehand he asked his friend a variety of questions about her attacker, including his race — and the fact that she said it was a black man didn't influence his "primal urge to lash out." Neeson added to Roberts that he would've responded the same way if the attacker had been white — Irish, British, Scottish, or Lithuanian, he said, it wouldn't have mattered.
"Luckily no violence occurred — ever," he told Roberts, adding that after a handful of times going out into the streets, he came to his senses and said his desire for violence "shocked me and it hurt me." Afterward he "did seek help" and went to a priest who heard his confession and also talked to a pair of very good friends.
"I'm a fairly intelligent guy, and that's why it kind of shocked me when I came down to Earth after having these horrible feelings," Neeson added to Roberts.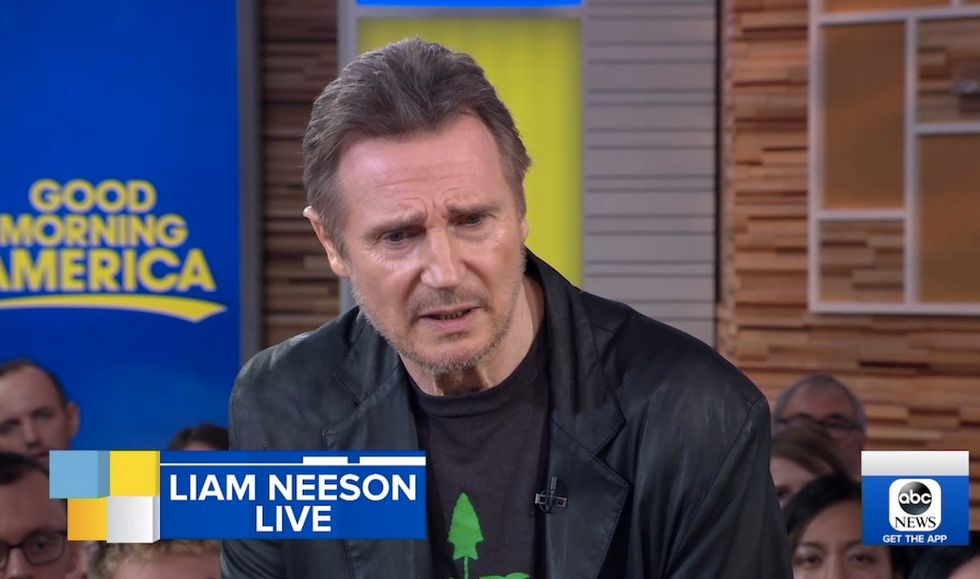 Image source: GMA video screenshot
What's the 'teachable moment'?
When Roberts asked Neeson to offer a "teachable moment" from this experience, he suggested to "open up" and "talk about these things. We all pretend we're all kind of, you know, politically correct. I mean, in this country — it's the same in my own country, too — you sometimes just scratch the surface, and you discover this racism and bigotry, and it's there."
Neeson also asked Roberts what teachable moment she could glean from the situation, and she added that even though the incident occurred long ago, "you have to understand the pain of a black person hearing what you said."
Neeson replied he agreed with that point: "You're absolutely right."