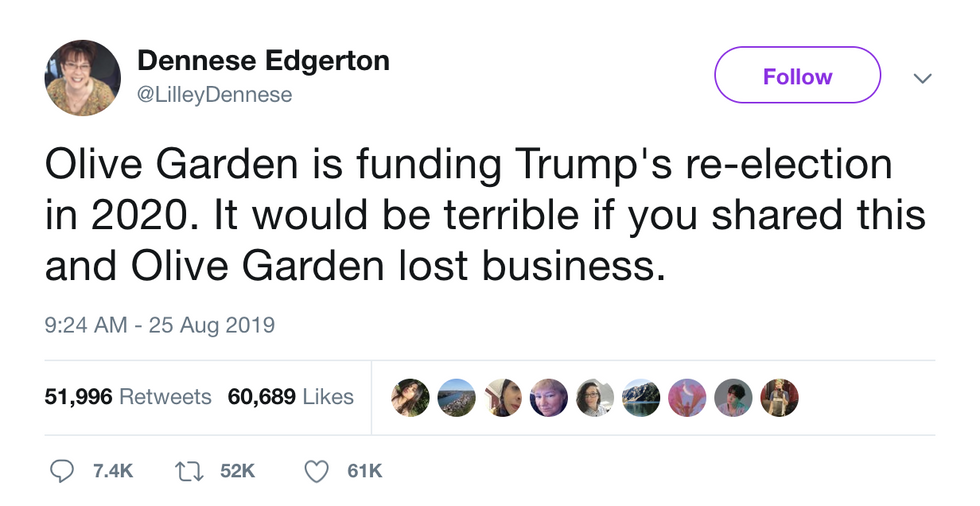 Image source: screenshot
By Sunday evening, the hashtag #BoycottOliveGarden trended on social media.
Olive Garden attempted to quell frustrations by responding to hundreds of tweets rebuking the restaurant chain for allegedly supporting Trump.
@mateh2008 Hi there, we don't know where this information came from, but it is incorrect. Our company does not dona… https://t.co/0inv1bBsBy

— Olive Garden (@Olive Garden) 1566790131.0
In other messages, Olive Garden stated unequivocally that Darden — the parent company that owns Olive Garden and other restaurants like Longhorn Steakhouse and Cheddar's — does not donate to federal candidates.
It's not exactly clear why the boycott went viral over the weekend. But, just a few weeks ago, a college student's tweet claiming that Olive Garden is among a dozen popular restaurant chains supporting Trump's reelection went viral.
So here's a list of companies supporting Trump's re-election: - Bang - inn n out - chick fil a - Taco Bell - McDo… https://t.co/0Sfc8V6C25

— Costa (@Costa) 1565274159.0
A verified account connected to Sen. Bernie Sanders (I-Vt.) also spread the misinformation, as did model Chrissy Teigen.
However, as the Washington Post's Philip Bump reported, the tweet's claims are not true.
"For consumer activists looking to put their money where their politics are, though, some bad news: The college student is broadly wrong about those companies," Bump wrote.
It turns out the student conflated "assessments of the politics of the company broadly" with direct political spending, citing data from the Center for Responsive Politics, despite a disclaimer stating the data do not reflect direct organizational donations.
"The organizations themselves did not donate, rather the money came from the organizations' PACs, their individual members or employees or owners, and those individuals' immediate families," CRP says.