© 2023 Blaze Media LLC. All rights reserved.
'Look at me!': Black mother blasts 'racist' critical race theory to school board members' faces in fiery address
A black woman who reportedly is a mother of children in Virginia's Loudoun County Public Schools absolutely eviscerated critical race theory in front of the school board Tuesday night.
What did she say?
The unidentified woman, wearing a face shield, began her address to board members by quoting from Martin Luther King's "I Have a Dream" speech — specifically the part in which the late civil rights leader said he didn't want his children judged by the color of their skin but rather by the content of their character.
Then she let it rip.
"[Critical race theory] is not an honest dialogue — it is a tactic used by Hitler and the Ku Klux Klan on slavery very many years ago to dumb down my ancestors so we could not think for ourselves," the woman said, using the acronym "CRT."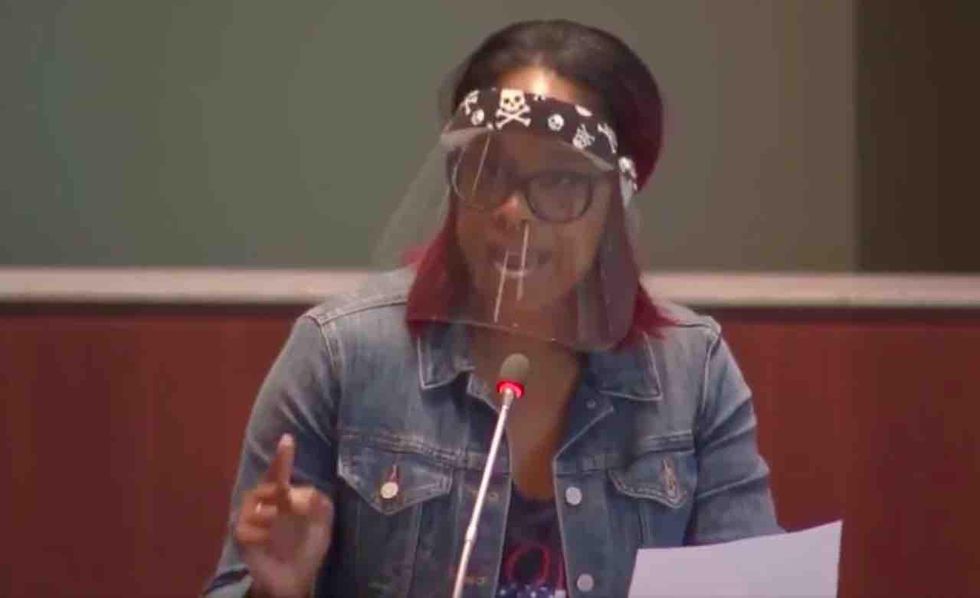 Image source: Twitter video screenshot via @iandprior
"[Critical race theory] is racist, it is abusive, it discriminates against one's color," she added. "Let me educate you: An honest dialogue does not oppress. An honest dialogue does not implement hatred or injustice. It's to communicate without deceiving people. Today we don't need your agreement; we want action and a backbone for what we ask for today — to ban CRT."
She also said "we don't want your political advertisement to divide our children or belittle them. Think twice before you indoctrinate such racist theories. You cannot tell me what is or is not racist."
Then the mother glared at the school board members and growled, "Look at me! I had to come down here today to tell you to your face that we are coming together, and we are strong. This will not be the last 'greet and meet,' respectfully."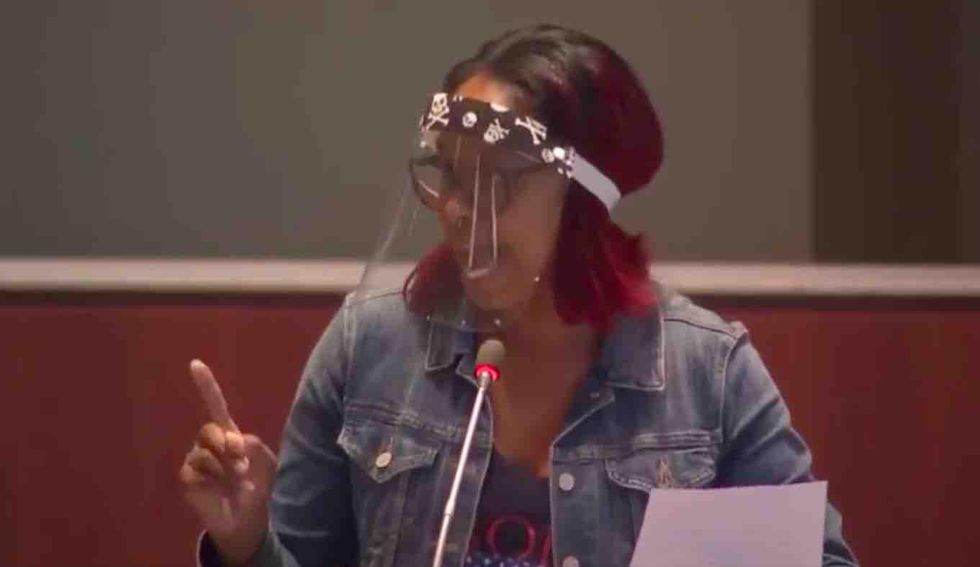 Image source: Twitter video screenshot via @iandprior
Here's the clip:
#Loudouncounty parents brought the at the school board meeting tonight.\n\nThis is a masterful takedown of #criticalracetheorypic.twitter.com/dHLyB2bLLH

— Ian Prior (@Ian Prior) 1620783265
What is critical race theory?
Critical race theory has come under fire from those who say the concept — which calls the United States a racist country and says academics are filled with racism — is dangerous and divisive.
House Republicans on Wednesday introduced the Stop CRT Act, which bans critical race theory training in the armed forces.
"Critical race theory is a divisive ideology that threatens to poison the American psyche," U.S. Rep. Dan Bishop (R-N.C.) said at a news conference, according to NBC News. "For the sake of our children's future, we must stop this effort to cancel the truth of our founding and our country."
Chloe Valdary — who is black and is the founder of a New York City anti-racism firm — penned a Newsweek op-ed Monday blasting critical race theory: "We should reject critical race theory's social gospel not only from a wish to see no one — including white people — dehumanized because of their skin color but also as an affirmation of the enduring power, beauty, and triumph of black American life, despite the tragedies we have been made to bear."
What did the school district have to say?
A Loudoun County Public Schools spokesperson told Fox News on Wednesday that critical race theory "is not part of the Loudoun County Public Schools curriculum" and noted interim superintendent Scott Ziegler's post on the district's "equity work," which included hiring a third-party group — the Equity Collaborative — that offers "equity coaching" and performed a "systemic equity assessment" on the district.
Fox News noted that racial equity is a key tenet of critical race theory.
Battling back
There's an effort under way to recall six Loudoun County school board members from parents who say they've pushed critical race theory and were indifferent when parents who questioned it were attacked, the New York Post reported.
A video ad was released Tuesday accusing the district of training teachers that Christians are oppressors and pushing the concepts of "white privilege" and "white fragility" on students, the paper said.
Here's the ad:
We Can't Waityoutu.be
Anything else?
In March, GoFundMe reportedly took down a page run by the parents fighting against the district's leftist agenda after local progressive activists complained.
And the woman who blasted critical race theory at the school board meeting earlier this week wasn't the only person who received national attention for such a move. In January, an unnamed man blasted the board for keeping students out of school amid the COVID-19 pandemic.
"The garbage workers who pick up my freaking trash risk their lives every day more than anyone in this school system! Figure it out! Or get off the podium!" he screamed. "Because you know what? There are people like me and a line of other people out there who will gladly take your seat and figure it out! It's not a high bar! Raise the freaking bar!"
Want to leave a tip?
We answer to you. Help keep our content free of advertisers and big tech censorship by leaving a tip today.
Sr. Editor, News
Dave Urbanski is a senior editor for Blaze News.
DaveVUrbanski
more stories
Sign up for the Blaze newsletter
By signing up, you agree to our
Privacy Policy
and
Terms of Use
, and agree to receive content that may sometimes include advertisements. You may opt out at any time.