A pair of masked, hooded robbers pulled off a cakewalk of a caper on Black Friday, facing zero resistance as they easily stole $35,000 in products from a crowded Apple Store in Palo Alto, California.
Not that witnesses would have behaved any differently — since most folks seem to accept such lawlessness happening right in front of them these days — but one of the crooks reportedly threatened violence against anyone in the store who tried to stop them.
What are the details?
Police told PaloAltoOnline the crime — captured on video — took place at 340 University Ave. at 4:17 p.m.
Video shows the pair quickly circulating among a large number of customers and staff and ripping multiple iPhones and laptops from their security cords at display tables, the outlet said, adding that Apple employees are seen pulling customers clear of the crooks.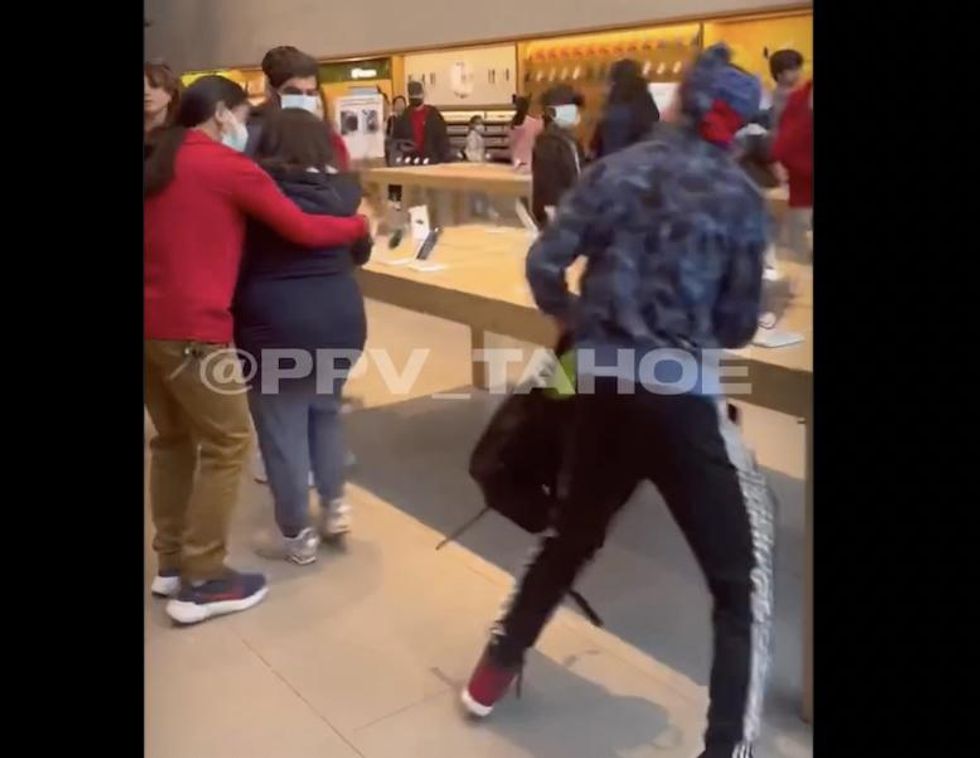 Image source: Instagram video screenshot via @ppv_tahoe
One person can be heard on the clip asking, "Should we stop them?" and another individual quietly and calmly replies, "Let them go."
The outlet added that a store employee heard one of the crooks make a general statement to the crowd of shoppers threatening physical violence against anyone who might try to stop them. Such a threat elevates the crime from a burglary shoplift to a robbery, Palo Alto Police Capt. James Reifschneider added to the outlet.
No weapons were seen, and no one was injured, the outlet reported.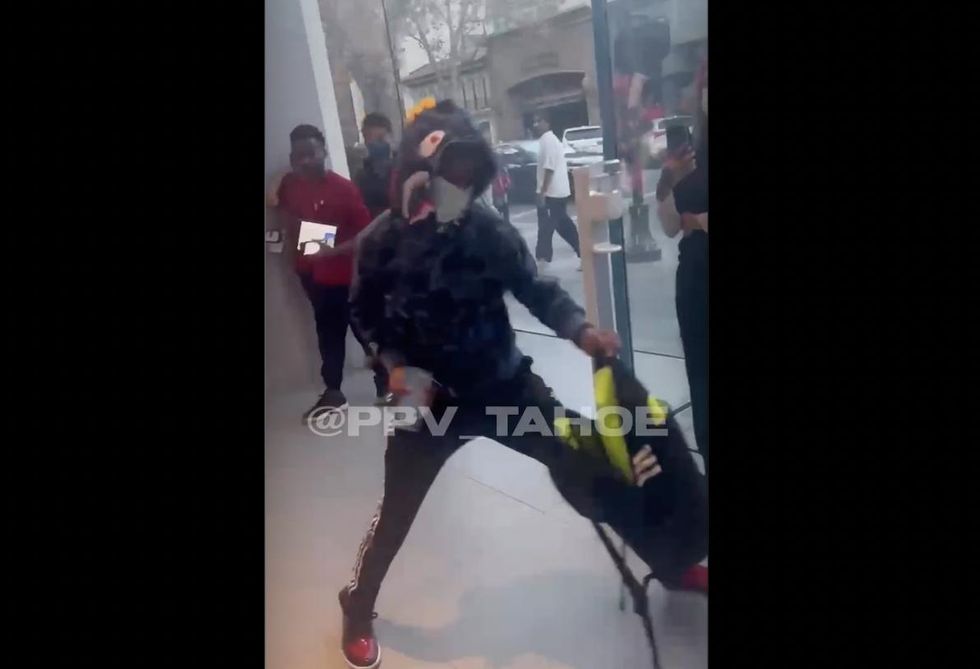 Image source: Instagram video screenshot via @ppv_tahoe
The crooks fled in a red Mazda3 hatchback and were last seen traveling north on U.S. Highway 101, PaloAltoOnline reported.
The outlet said police haven't made any arrests and have limited information about the suspects, described as black males in their late teens or early 20s. One of them was wearing a dark hoodie with a camouflage pattern and a hood with a shark head design, black pants with white athletic stripes, black and red shoes, and a black backpack with white markings, the outlet said, citing the video, adding that the other suspect was wearing a beige hoodie with faded blue jeans and white shoes and a carrying bright red backpack.
PaloAltoOnline said Apple couldn't be reached for comment.
Those with information about this incident are asked to call the police department's 24-hour dispatch center at 650-329-2413, the outlet said, adding that anonymous tips can be emailed to paloalto@tipnow.org or sent by text message or voicemail to 650-383-8984.