McDonald's CEO Chris Kempczinski warned Wednesday that Chicago is experiencing a "crisis" of violent crime that is driving away businesses.
What did Kempczinski say?
Chicago is home to corporations like McDonald's, Allstate, US Foods, United Airlines, and tons of others. But unless the city solves its crime problem, Kempczinski predicted that fewer businesses will headquarter themselves in the Windy City.
"Everywhere I go, I'm confronted by the same question. 'What's going on in Chicago?' There is a general sense out there that our city is in crisis," he said during a speech at the Economic Club of Chicago.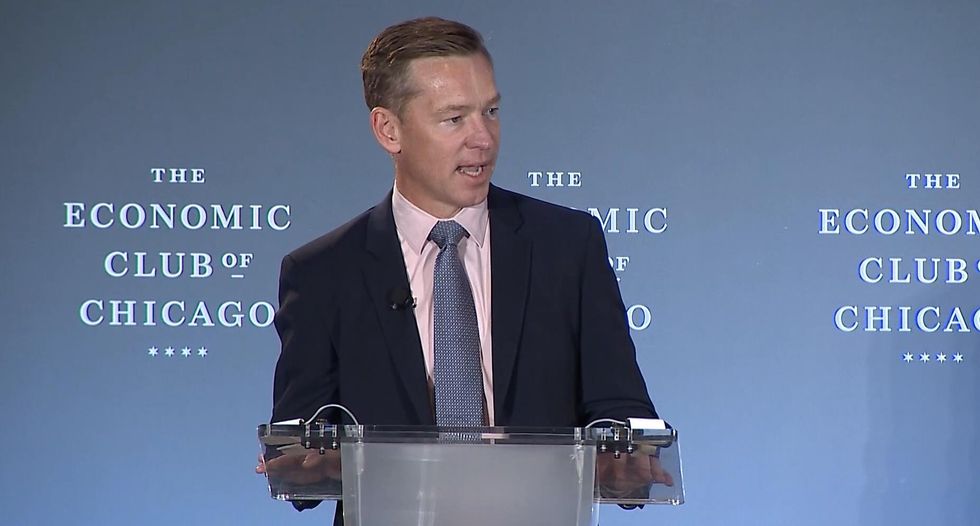 McDonald's CEO Chris Kempczinski (Image source: YouTube screenshot)
Kempczinski said city leaders need to face the "facts" and realize that crime is transforming Chicago into an undesirable place to conduct business.
"The facts haven't been especially kind to the city of Chicago as of late," Kempczinski said, Fox Business reported. "The fact is that there are fewer large companies headquartered in Chicago this year than last year. There are fewer this month than last month."
He later said, "It has become increasingly difficult to operate a global business out of the city of Chicago and the state of Illinois."
Chris Kempczinski, President & CEO, McDonald's Corporation, 9/14/22 www.youtube.com
McDonald's estimates that its economic impact in Chicago is roughly $2 billion annually, according to the Wall Street Journal. That's a big number considering company employees are telling Kempczinski they do not feel safe traveling to McDonald's downtown corporate offices, he said.
Crime has been a significant problem for years in Chicago. But the issue is getting even worse this year. From the WSJ:
Data from the Chicago Police Department show that from the start of the year through Sept. 11, murders are down 15% when compared with the same period a year earlier, while thefts are up 65%. Crime overall is up 38% from last year's period, according to the department, and 19% higher compared with the same stretch in 2019, before the pandemic.
Which businesses have left?
Over the last year, Chicago has lost Boeing (moving to northern Virginia), Caterpillar (moving to Texas), and Citadel (moving to Florida). Ironically, each of those companies are moving to states controlled by Republican governors.
For its part, McDonald's will remain in Chicago, Kempczinski said.