An online petition has been signed by thousands of Muslims who are angry at Nike over a design on their Air Nike Max 270 shoe that they see as "blasphemous."
The petition appears on Change.Org, and aims to garner 15,000 signatures, but has received over 11,200 at the time of publishing.
"Nike has produced the Nike Air Max 270 shoe with the script logo on the sole resembling the word Allah in Arabic, which will surely be trampled, kicked and become soiled with mud or even filth," wrote Saiqa Noreen, who published the petition.
The petition has a photo of the offensive logo of the shoe, with a comparison to the word "Allah" written in Arabic above it.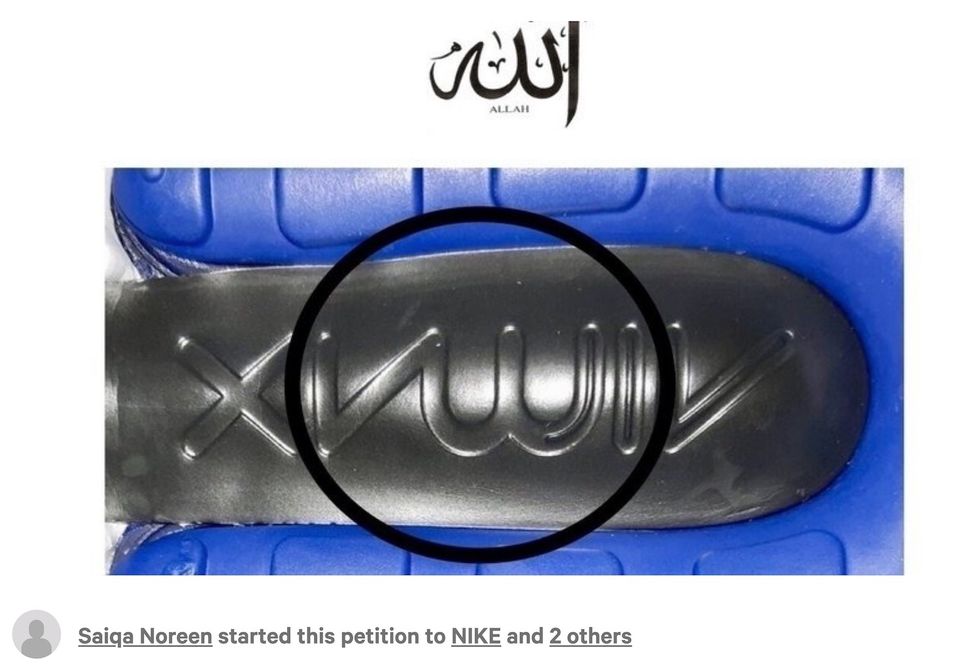 Image Source: Change.Org screenshot
"It is outrageous and appalling of Nike to allow the name of God on a shoe," the petition continued. "This is disrespectful and extremely offensive to Muslim's and insulting to Islam."
The petition demands that Nike stop selling the "blasphemous and offensive shoe," and any other product that might include the same logo.
"I urge all Muslim's [sic] and everyone who respects the freedom of religion to sign this petition," the petition concludes.
Nike released a statement that did not comment on the demand to stop selling the shoes.
"Nike respects all religions and we take concerns of this nature seriously," a Nike spokesperson said to "Today." "The AIR MAX logo was designed to be a stylized representation of Nike's AIR MAX trademark. It is intended to reflect the AIR MAX brand only."
"Any other perceived meaning or representation is unintentional," the statement concluded.
Nike was previously embroiled in a political firestorm when they signed Colin Kaepernick, the controversial former NFL quarterback who began the national anthem protests, to a very lucrative marketing deal.