Whether it's Virginia Gov. Ralph Northam (D), Virginia Attorney General Mark Herring (D), or Canadian Prime Minister Justin Trudeau, a remarkable number of otherwise very progressive politicians seem to have had photos surface. But several major media outlets seem intent on downplaying these scandals by reporting that these politicians simply wore "dark makeup."
What are the details?
This week the world found out that Trudeau had worn black or brownface on at least three occasions. There may be more, since on Friday he said that he was "wary of being definitive" about whether or not he had worn blackface at other times.
Yet, a headline for video coverage of this event by Reuters said, "Trudeau apologizes again for wearing dark makeup in multiple incidents."

Two separate thumbnails on Google exist side by side for the same CNN link. The older one (by only one hour) says, "Video shows Trudeau in dark makeup." The other, slightly newer, thumbnail bears the current headline "Video shows Trudeau in racist makeup."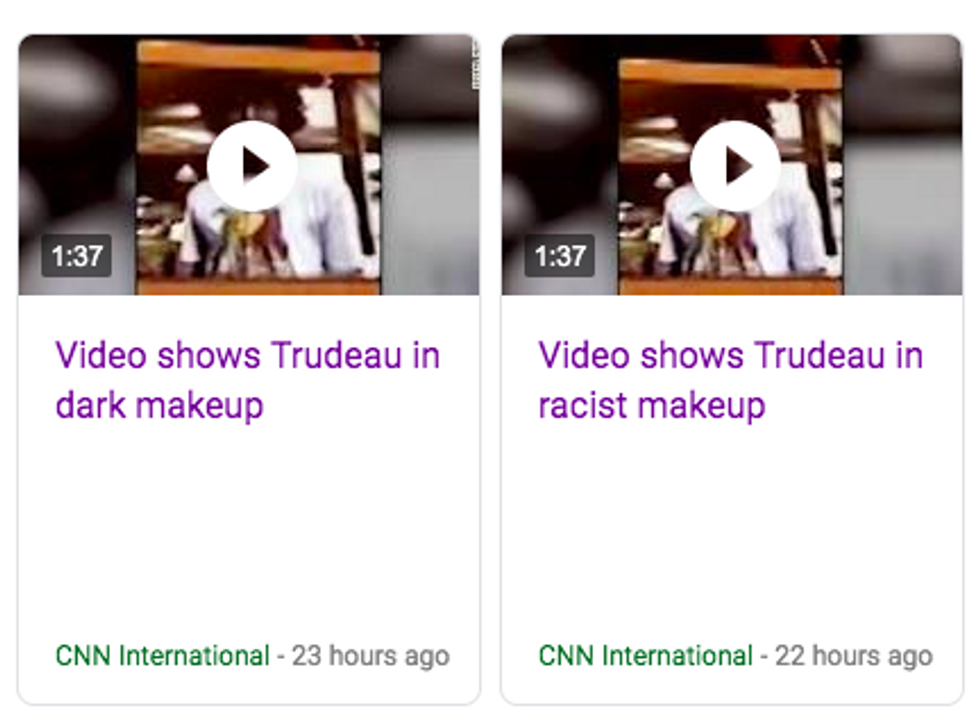 Image source: Google search screen capture
And while the headline may have been changed, the description for the video still reads, "A newly surfaced video shows Canadian Prime Minister Justin Trudeau wearing dark makeup in the early 1990s."
"Third instance of Justin Trudeau in face-darkening makeup surfaces," The Daily Beast tweeted on Friday. Although the thumbnail reveals that this used to be the headline of the story, the headline has since been updated to read "Third Instance of Justin Trudeau in Blackface Surfaces"
An Associated Press story, published by NBC affiliates across the country, (including San Diego, Dallas, New York, Philadelphia) ran a headline that read "Third Incident of Trudeau in Face-Darkening Makeup Emerges."
Not to be outdone, NBC News published a story which said that Trudeau "darkened his face dramatically."
In fact, even the Getty Image used in this story referred in its description to what Trudeau did as "dark makeup" and not "blackface" or "brownface."

Trudeau said he doesn't want this sugar-coated either
At a news conference, Trudeau himself called out the media for trying to downplay what he had done. "I appreciate calling it makeup, but it was blackface," he said. "And that is just not right. It is something that people who live with the kind of discrimination that far too many people do because of the color of their skin, or their history, or origins, or their language, or their religion face on a regular basis, and I didn't see that from the layers of privilege that I have. And for that I am deeply sorry."
This isn't the first time some in the media have pulled this stunt
Virginia Attorney General Mark Herring revealed that he had worn blackface in the past (following Gov. Ralph Northam denying that he had worn blackface in one example by informing everyone that he had worn blackface another time), the New York Times ran a headline that read "Virginia Attorney General Says He Also Dressed in Dark Makeup."
Thankfully, some other journalists including New York Magazine and Huffington Post contributor Yashar Ali pointed out how absurd this was. "NYT headline writers what are you thinking?" Ali wrote on Twitter. The headline was later changed to say "blackface."