© 2023 Blaze Media LLC. All rights reserved.
NY Times claims 'airplanes took aim' at World Trade Center on 9/11, not terrorists.
'This newspaper is garbage'
The New York Times ignited outrage Wednesday — the 18th anniversary of the 9/11 terrorist attacks — after seemingly blame-shifting responsibility for the attacks from Al Qaeda terrorists to the airplanes.
"18 years have passed since airplanes took aim and brought down the World Trade Center," the Times tweeted. "Today families will once again gather and grieve at the site where more than 2000 people died."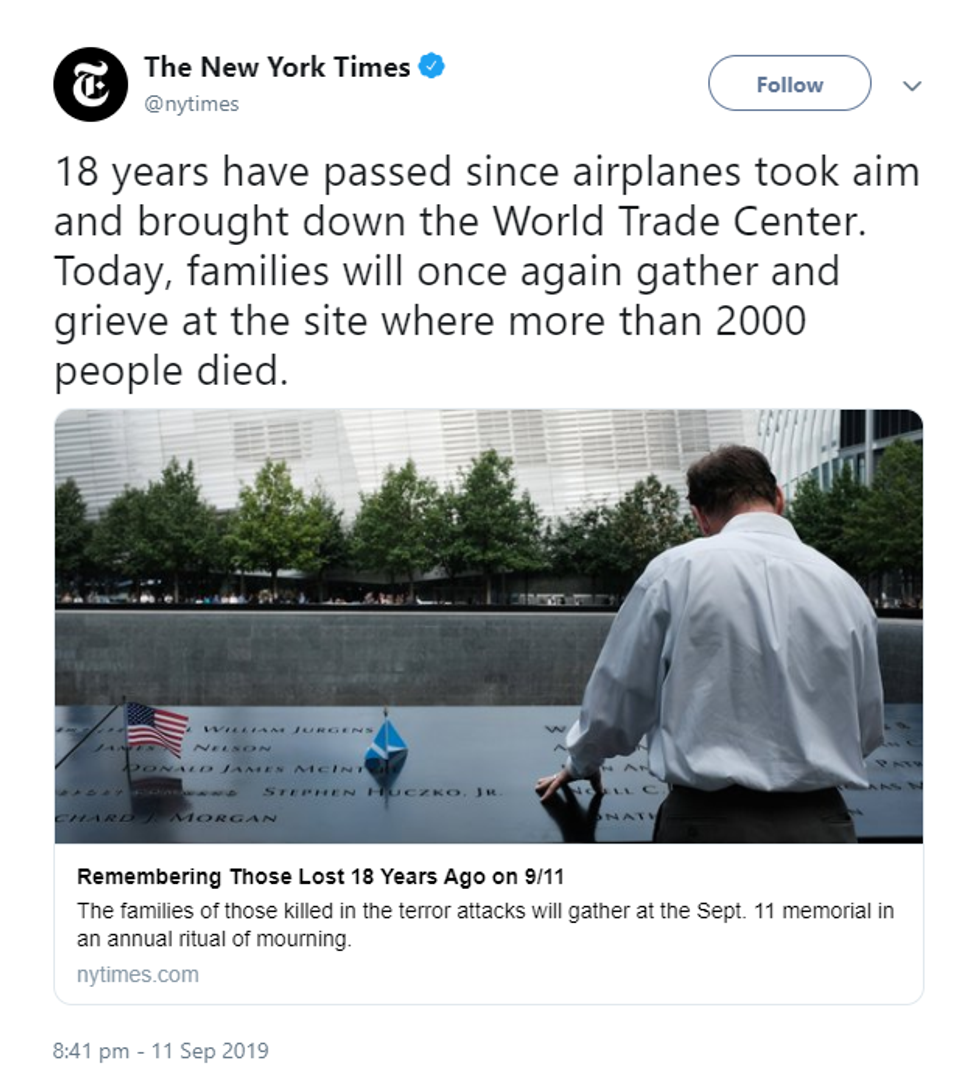 Image source: Twitter screenshot
The story, which the Times tweet linked, began:
Once more, families gathered at ground zero, where nearly 3,000 people died on that bright September morning. Once more, there was an outpouring of grief. Once more, there were the sound of bells tolling in mourning and names being recited.

Eighteen years have since passed since airplanes took aim at the World Trade Center and brought them down.
What was the reaction?
The Times was universally condemned and mocked for writing that "planes took aim" when, in reality, Al Qaeda terrorists hijacked airplanes filled with hundreds of innocent people to weaponize them in an effort to topple the World Trade Center's Twin Towers.
"Fortunately, journalists rallied to make sure sentient airplanes would be less likely to kill ever again," one person said.
"The New York Times is so woke they say 'airplanes' targeted the World Trade Centers - as opposed to Muslim extremists. Appalling, especially on the 18th anniversary of 9/11," another person responded.
"This newspaper is garbage," radio host Larry O'Connor responded.
"Man, those towers really must have done something to upset those airplanes," one person mocked.
"And 18 years later, we still somehow allow airplanes to be legal. Let that sink in," another mocked.
How did the Times respond?
The newspaper quickly deleted the tweet and published another to reflect that terrorists were, in fact, responsible for 9/11. The outlet wrote that the tweet and its story were updated "for clarity."
The second paragraph of the updated story now reads, "Eighteen years have passed since terrorists commandeered airplanes to take aim at the World Trade Center and bring them down."
The paragraph is the only paragraph in the story that mentions "terrorism" aside from the story's subheading, which mentions "terror attacks." The story also does not mention Al Qaeda, the terrorist group behind the attacks.
Want to leave a tip?
We answer to you. Help keep our content free of advertisers and big tech censorship by leaving a tip today.
Staff Writer
Chris Enloe is a staff writer for Blaze News
chrisenloe
more stories
Sign up for the Blaze newsletter
By signing up, you agree to our
Privacy Policy
and
Terms of Use
, and agree to receive content that may sometimes include advertisements. You may opt out at any time.