My fear is that that sort of thing could be happening in the Democratic Party, and … unfortunately some members of the Squad support the [Boycott, Divestment and Sanctions] movement against Israel, which seeks nothing less but elimination of the Jewish state between the Jordan River and the Mediterranean Sea.
Weiss' book — in addition to noting far-right anti-Semitism — rips the left-wing's anti-Semitism and its tendency even to cover for Islamic extremists, NewsBusters said.
But fellow guest and former MSNBC host Krystal Ball didn't like the direction of Weiss' chat with Maher and stepped up to defend the left: "What concerns me is this whole conversation focused on some comments that were off color from a few freshman members of Congress when we have an entire alt-right online violent movement."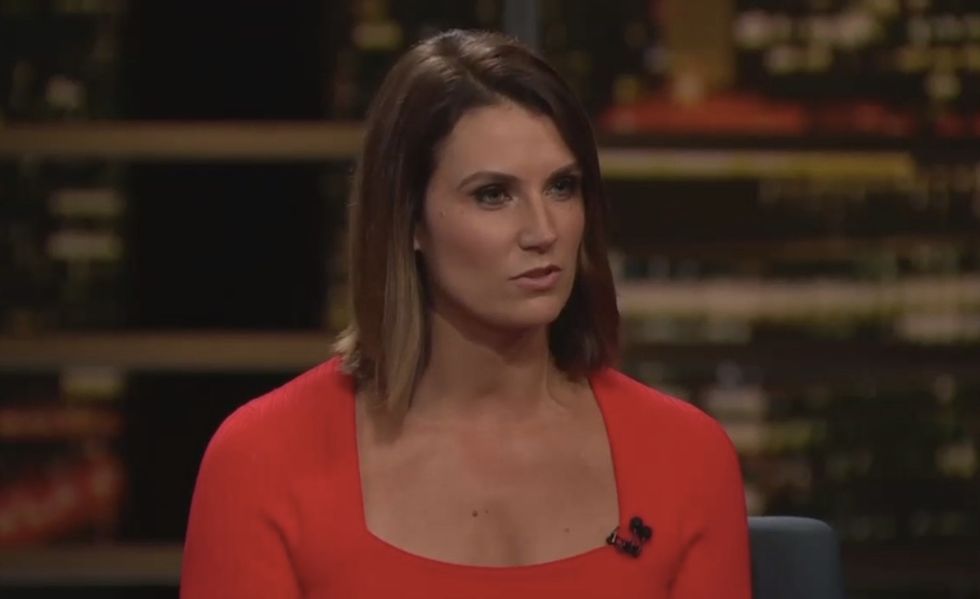 Image source: MRC-TV video screenshot
It's on
With that, Weiss and Ball threw down — civilly, mind you — but the battle indeed was on.
When Ball accused Weiss of creating an equivalency between the left and right when it comes to anti-Semitism, Weiss countered that "the difference on the left is that [anti-Semitism] smuggles itself into the mainstream in language that is a siren song to progressive ears: the language of anti-racism, the language social justice of social justice."

Still, Ball — employing a familiar left-wing talking point — referred to Israel as an "unacceptable apartheid state" that violates Palestinians' human rights.
The problem with journalists (and politicians) on Twitter
Weiss also made known her disdain for journalists and politicians who use Twitter:
I believe if all of the journalists who work for the New York Times — and frankly every other paper in this country — got off Twitter for six months, we would see a wildly different and improved way of covering the news. … And it's not just journalists, it's politicians. I was talking to chief of staff of a popular congresswoman, and he was talking about how all of the staffs of all of these politicians literally just look at Twitter, look at the reaction, and just calibrate what the politician's gonna say based on that immediate response.
Anything else?
Weiss is no stranger to this sort of pushback from leftists.
In 2017, she penned an op-ed — "When progressives embrace hate" — that ripped the leaders of the Women's March, and a year ago Weiss was harshly criticized after questioning whether Brett Kavanaugh should be disqualified from the Supreme Court nomination, even if Christine Blasey Ford's sexual assault allegation was true.
Earlier this year, Weiss criticized journalists for jumping the gun and castigating Covington Catholic High School boys as aggressors in a viral video with a native American elder on the steps of the Lincoln Memorial in Washington, D.C.