The Oregonian newspaper deleted a "poorly worded" tweet that identified the race of the victim of a lethal police shooting as white after getting criticized from the right and left.
The news outlet was reporting on a shooting where a man was shot and killed Friday morning after police said that they were alerted to a report that a man with seen with a gun at a park in Portland, Oregon.
Police said they confronted the man at about 9:40 a.m. and fired a "less lethal" projectile at him before another officer shot him once with his firearm. They called for medical attention but he was declared dead at the scene.
Protesters began accosting the police over the incident in light of recent allegedly racially charged shootings elsewhere.
The Oregonian reported that three sources had confirmed the man was a white male in his thirties.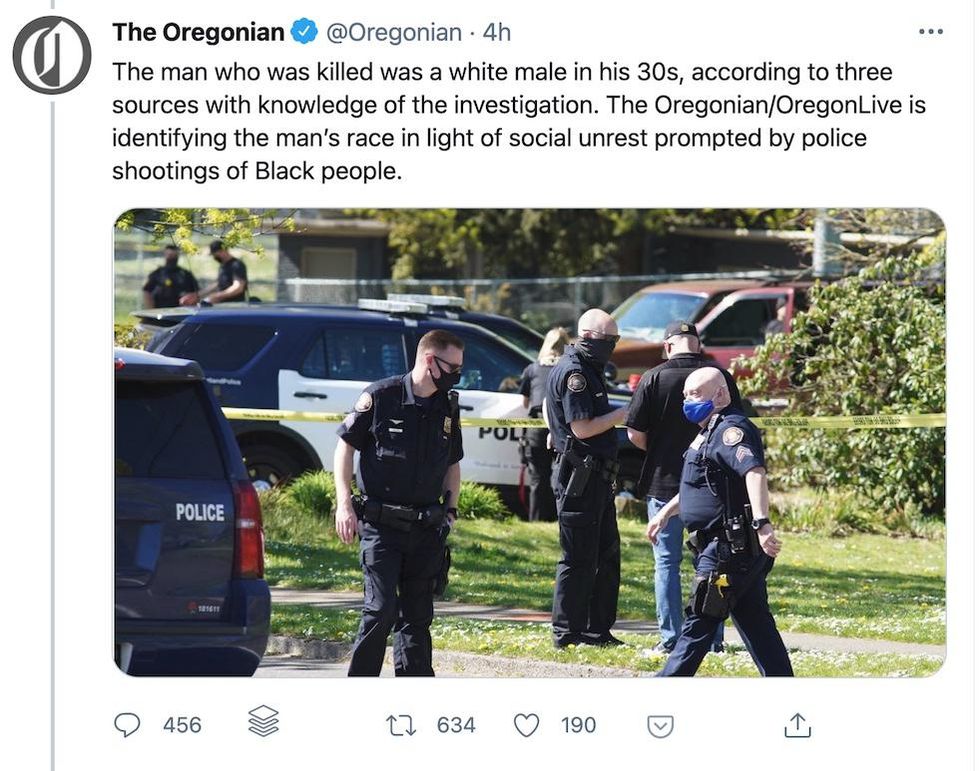 Image Source: The Oregonian Twitter screenshot
"The man who was killed was a white male in his 30s, according to three sources with knowledge of the investigation. The Oregonian/OregonLive is identifying the man's race in light of social unrest prompted by police shootings of Black people," the tweet read.
Some criticized the newspaper for implying that the incident wasn't as serious because the victim was not a minority.
"The Oregonian is noting the race of the man who was shot in Portland because people won't care enough to riot unless the victim is black and can use it to forward a political agenda. How instructive," tweeted talk show host Jason Rantz.
Others on the left criticized the same tweet for not being supportive of the "Black Lives Matter" cause.
"So @PortlandPolice murdered a man in Lents Park today and the @Oregonian had the audacity to print this. Someone school them on what solidarity means. Protesting killer cops is going to happen regardless of the race of the victim. The Oregonian staff just showed their whole ass," read one tweet.
The newspaper deleted the tweet and offered an explanation in a later tweet.
"We included information in an earlier tweet about why we identified the victim's race that was poorly worded. It was not intended to minimize what happened, only to provide context," the newspaper said.
"We generally do not identify race in news stories but often do when reporting police shootings," they added.

After deleting the "poorly worded" tweet, they also changed the text in the body of the article, which had been the same as in the tweet.
Portland Police would not say if they had recovered a weapon at the crime scene. A witness told The Oregonian that he saw the man behaving erratically, with his hands up and his shirt off. He said that the man was blocking traffic before police arrived.
Here's the video from the Oregonian (includes expletives):
Protesters gather after police fatally shoot a man in Lents Parkwww.youtube.com