Republican Mehmet Oz extended an offer to John Fetterman Thursday after the Democrat complained about the closed-captioning system used at their debate.
What is the background?
Prior to their debate on Tuesday, Oz and Fetterman agreed to use a closed-captioning system in which live transcription of the debate moderators' and Oz's words would appear on two large TV screens offstage.
The unusual concession was agreed upon to assist Fetterman, who is fighting auditory processing issues related to the stroke he suffered in May.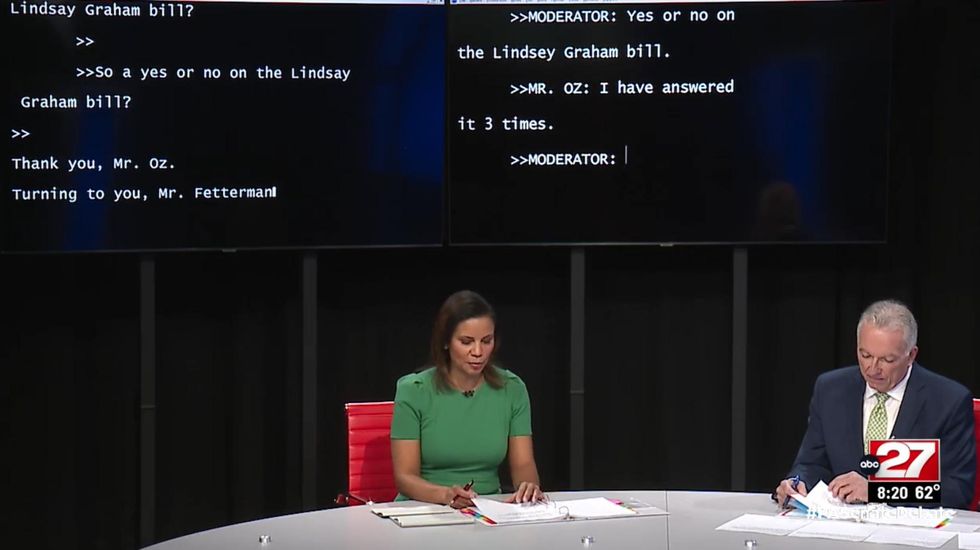 The closed captioning system used during the debate between Oz and Fetterman. (Image source: YouTube screenshot)
But after the debate, Fetterman's campaign appeared to blame his poor performance on the closed-captioning system.
"We are thrilled with John's performance. He did remarkably well tonight — especially when you consider that he's still recovering from a stroke and was working off of delayed captions filled with errors," said Joe Calvello, communications director for Fetterman's campaign.
An executive at Nexstar Media Group, Inc. — the parent company of the network that hosted the debate — swiftly condemned the statement, explaining the system functioned properly. The executive also revealed that Fetterman only rehearsed with the system once, whereas Oz rehearsed with it twice.
What is Oz saying now?
Seizing on Fetterman's allegation of problems with the closed-captioning system, Dr. Oz is now offering Fetterman a second debate to vindicate himself.
"We're sorry to hear that the Fetterman campaign was unhappy with how the closed captioning system that they requested was working on Tuesday," a statement from Oz's campaign said.
"We're happy to do a second debate any time," the statement added, "and let the Fetterman campaign source a closed captioner that they believe is of better quality."
The likelihood of that happening is almost zero.
It took weeks of public haggling for Fetterman to agree to debate Oz in the first place. He finally made the commitment last month to debate Oz one time only.
Moreover, Fetterman's health is now a central issue in his campaign after the debate showed the impacts of his stroke.
One Pennsylvania Democratic official, who spoke to Axios anonymously, summed up the concern with Fetterman. "Everyone is nervous. I've traveled everywhere. Fetterman is a deep concern. And this debate will only increase it."