Democrat John Fetterman tried to blame his poor debate performance on inaccurate closed captioning that hurt his ability to respond to questions and his opponent, Republican Mehmet Oz.
But the media organization that hosted the debate quickly shot down the allegations.
What did the Fetterman campaign say?
Ahead of the debate, both campaigns agreed to use live transcription services to help Fetterman, who is fighting auditory processing issues related to the stroke he suffered in May.
Everything said by the debate moderators and Oz was transcribed in real time and displayed on two large TV screens. Fetterman's words, however, were not transcribed.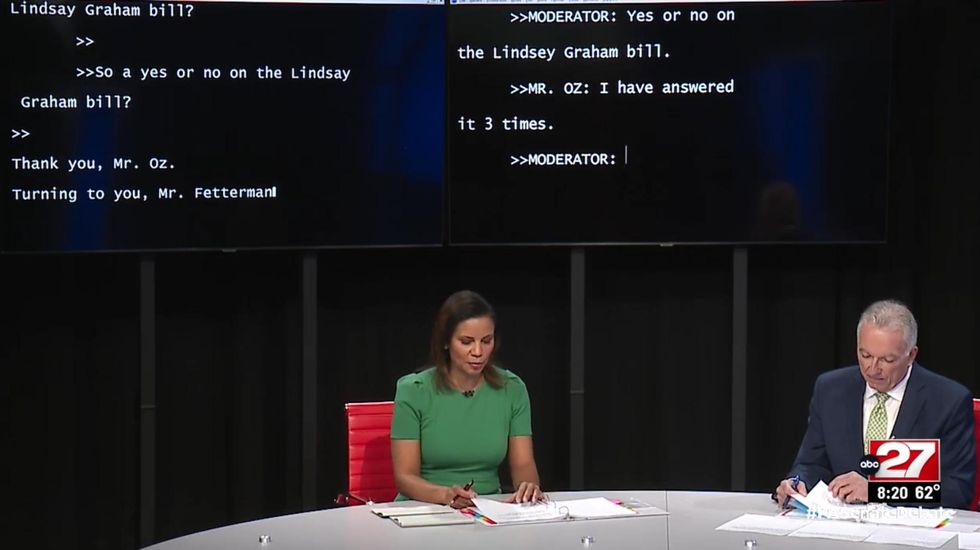 The closed captioning system set up behind the debate moderators. (Image source: YouTube screenshot)
Despite the accommodation, Fetterman's campaign attacked the closed captioning services.
"We are thrilled with John's performance. He did remarkably well tonight — especially when you consider that he's still recovering from a stroke and was working off of delayed captions filled with errors," said Joe Calvello, communications director for Fetterman's campaign.
But what was the response?
An executive for Nexstar — the parent company of NewsNation, the network that hosted the debate — quickly dismissed the criticism.
In fact, Nexstar chief communications officer Gary Weitman said Fetterman's campaign only rehearsed with the closed captioning system once — while Oz's campaign put in double that effort.
"It is unfortunate that Mr. Fetterman is now criticizing the closed captioning process employed by Nexstar during tonight's debate," Weitman said in the statement.
"Both candidates were offered the opportunity for two full rehearsals with the same equipment used in tonight's debate; Mr. Fetterman chose to do only one," he explained. "In fact, Nexstar's production team went to extraordinary lengths to ensure the effectiveness of the closed captioning process, and to accommodate several last-minute requests of the Fetterman campaign. The closed captioning process functioned as expected during rehearsal and again during tonight's debate.
"We regret that Mr. Fetterman and his campaign feel otherwise," the statement concluded.
Pennsylvania U.S. Senate Debatewww.youtube.com