© 2023 Blaze Media LLC. All rights reserved.
16-year-old girl screams for help when man on parole allegedly tries to sexually assault her in grocery store restroom — then customers, employees come to her rescue
A man on parole allegedly tried to sexually assault a 16-year-old girl in a grocery store restroom Sunday afternoon in southern California, but after the victim and her mother screamed for help, customers and store employees came to the rescue.
What are the details?
The suspect allegedly followed a girl into a restroom of a Stater Bros. store in South Whittier, locked the door, and attempted to assault her, the Los Angeles Times reported. South Whittier is an unincorporated community about 40 minutes southeast of Los Angeles.
Sgt. Jose Ramos said the suspect "pushed the victim and got on top of her and attempted to sexually assault her on the ground," KTTV-TV reported. Ramos is with the Special Victims Bureau of the Los Angeles Sheriff's Department.

But the girl fought back and screamed for help, KTTV said, adding that her mother heard what was happening and also began screaming.
"The screams were just terrifying," a witness told the station. "She was actually screaming saying, 'Help, help! I need help! My daughter's in the bathroom with a guy!'"
Hearing the screams, customers and employees took action and made their way into the restroom, the Times said.
Three men pinned the suspect to the restroom floor and held him there until law enforcement arrived, LASD told KTTV. The incident was reported around 2 p.m., the LASD told the Times.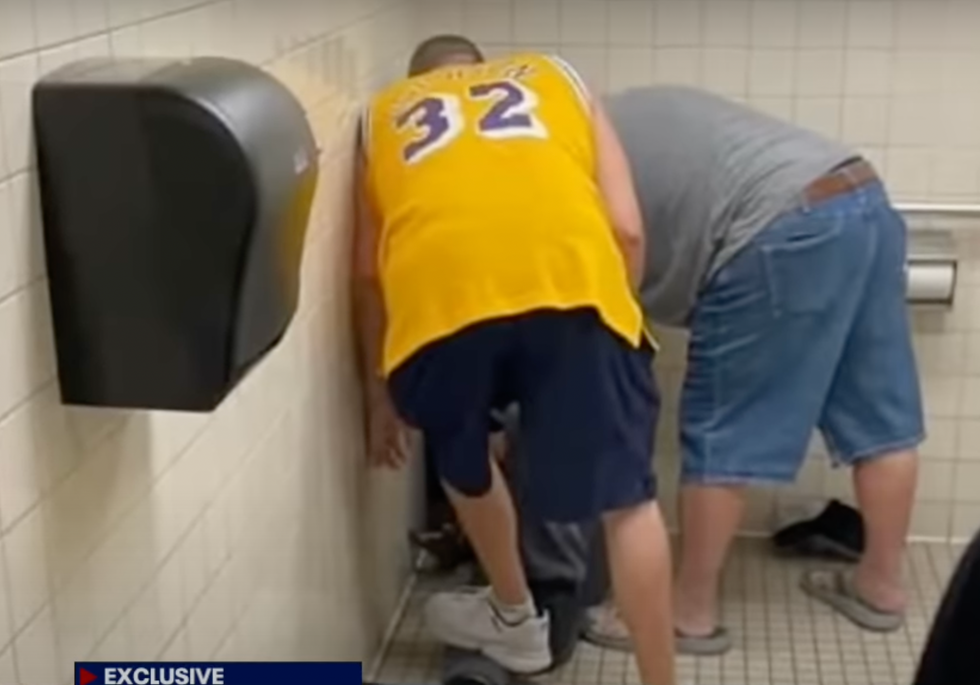 Image source: YouTube screenshot
The girl was treated for injuries at a hospital, the paper said.
Who is the suspect?
The Los Angeles County district attorney's office identified the suspect as 38-year-old Steven Magdaleno, the Times said, adding that he was charged Tuesday with felony assault to commit rape, false imprisonment by violence, and attempted escape from custody, along with a misdemeanor charge of giving false information to a police officer.
Magdaleno, who was wanted on a warrant for violating parole, gave deputies his cousin's name, Ramos told the San Gabriel Valley Tribune.
He has prior convictions for identity theft, possession of methamphetamine, and being under the influence of a controlled substance in Los Angeles County, the Tribune reported, citing court records.
Magdaleno is homeless, hangs out in the parking lot of the grocery store, and his last known address was in Whittier, Ramos added to the Tribune.
The Times said Magdaleno pleaded not guilty Wednesday and is being held on $410,000 bail.
Transient arrested for pulling girl into supermarket bathroom to appear in courtyoutu.be
DA George Cascón speaks
"It is appalling that someone tried to sexually assault a 16-year-old girl in the middle of the day in a grocery store restroom," Los Angeles County District Attorney George Gascón said in a release, according to the Times. "Brazen crimes like these are shocking to the entire community because the girl and her family should have felt safe in that space."
Gascón commended the employees and customers who took action for showing bravery and courage — and cautioned that others may have fallen victim to the suspect, the Times said: "I want to encourage anyone who has been sexually assaulted to report these crimes and get the help they need to heal from this devastating trauma."
The sheriff's department asked the public to help identify possible additional victims, the Times added, noting that the sheriff department's Special Victims Bureau can be reached at (877) 710-5273 or specialvictimsbureau@lasd.org.
Man accused of trying to sexually assault teen girl at Whittier grocery storeyoutu.be
Want to leave a tip?
We answer to you. Help keep our content free of advertisers and big tech censorship by leaving a tip today.
Sr. Editor, News
Dave Urbanski is a senior editor for Blaze News.
DaveVUrbanski
more stories
Sign up for the Blaze newsletter
By signing up, you agree to our
Privacy Policy
and
Terms of Use
, and agree to receive content that may sometimes include advertisements. You may opt out at any time.