Pastor Jacob Reaume was reading the Christmas story from the Bible during the opening night of the Christkindl Market in Kitchener, Ontario, when something odd happened.
Reaume's microphone was cut off by city staff, CTV News reported.
"I thought it was probably an accident, some type of technical difficulty, but then I looked around and realized, 'No, this is intentional," Reaume added to the station.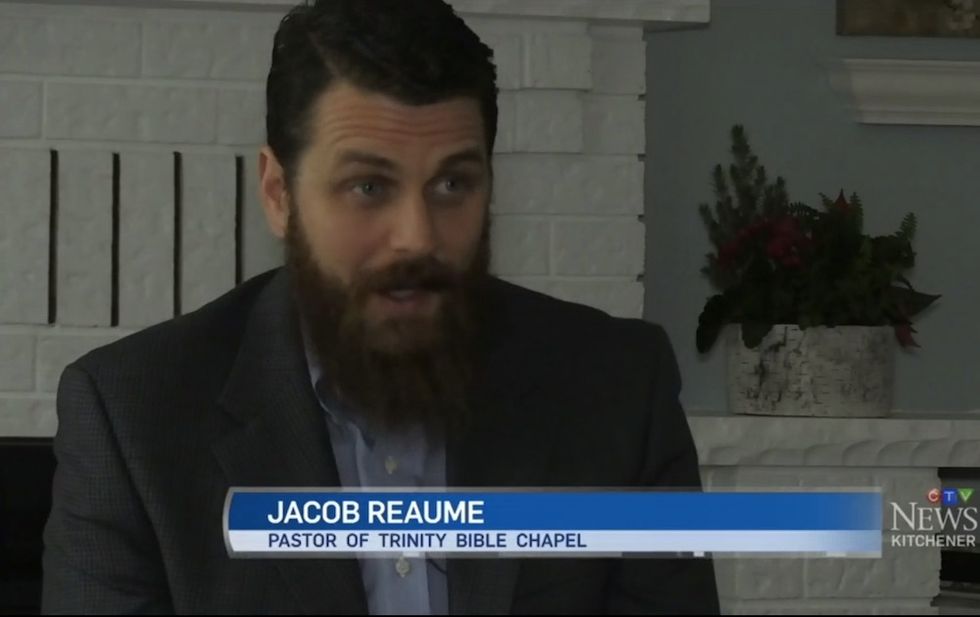 Image source: CTV-TV video screenshot
He told CTV News the microphone was cut off three times: once during a German Bible reading and twice when he was reading the story of Christmas. LifeSite News said a grandmother was doing the German Bible reading.

Reaume said during an interview with Kitchener's CKGL-AM that he saw three or four city workers who seemed "really mean-spirited" and who grinned at him after cutting off the microphone, LifeSite News reported, adding that he told CKGL he didn't recognize them from last year's festival.
Undeterred by the lack of amplification, Reaume resorted to shouting his message to listeners. Part of what he said was caught on video. "Now we've come to a point in a country where it's actually offensive to talk about the incarnation and the death and resurrection of Jesus Christ ... that's a shame," he said.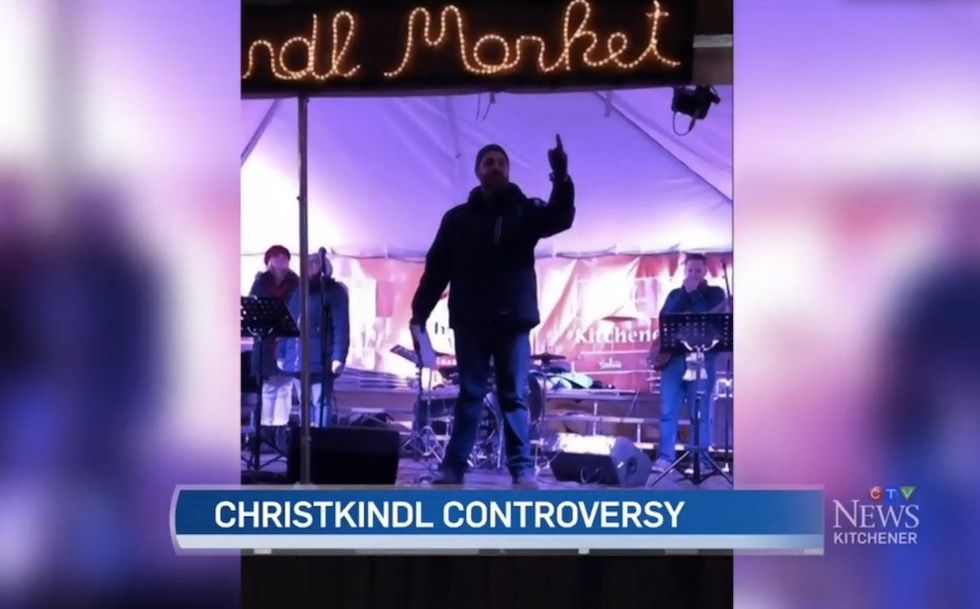 Image source: CTV-TV video screenshot
For added irony, "Christkindl" is translated as "Christ child," LifeSite said.

What did the city have to say?
The city of Kitchener told CTV News that Reaume's church group — he leads Trinity Bible Chapel, which meets in a Breslau high school — didn't note there would be a Scripture reading or sermon during its time in front of the crowd.
"In its 22-year history, Christkindl Market has never had Scripture or sermons as part of its scheduled programming, and there is no venue for this within the four-day event," the city said in a statement, according to CTV News.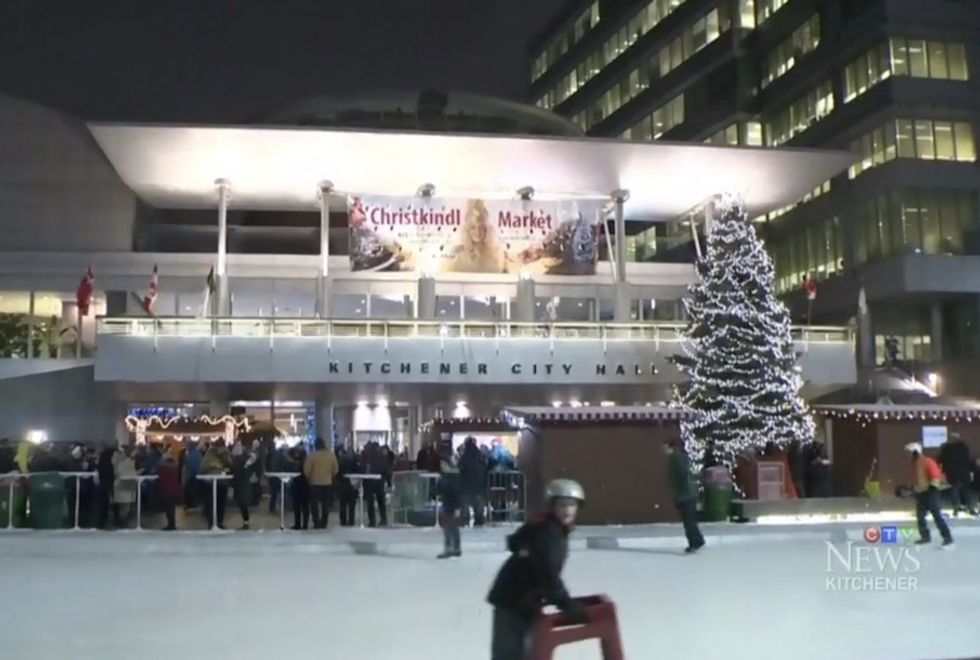 Image source: CTV-TV video screenshot
But the church claimed it put on the same performance last year, including the Scripture reading, the station said.

In response, the city told the station it wasn't aware that occurred last year — which is why the city didn't tell the group it wasn't permitted this year.
What else did the pastor have to say?

"I'm befuddled as to why the reading of the Christmas story from the Scriptures is forbidden at the Christkindl market, if that is the case," Reaume told CTV News, making sure to emphasize the word Christkindl.
He added that his group never had been presented with a policy as to what was and what wasn't allowed at the event.
"If I was reading Scripture at a Ramadan market, I could understand if people were upset," Reaume continued. "This is a Christmas market."
Furthermore
In addition, the city told CTV News that "faith isn't the issue" since there's a live Nativity scene at the Christkindl Market on the first night.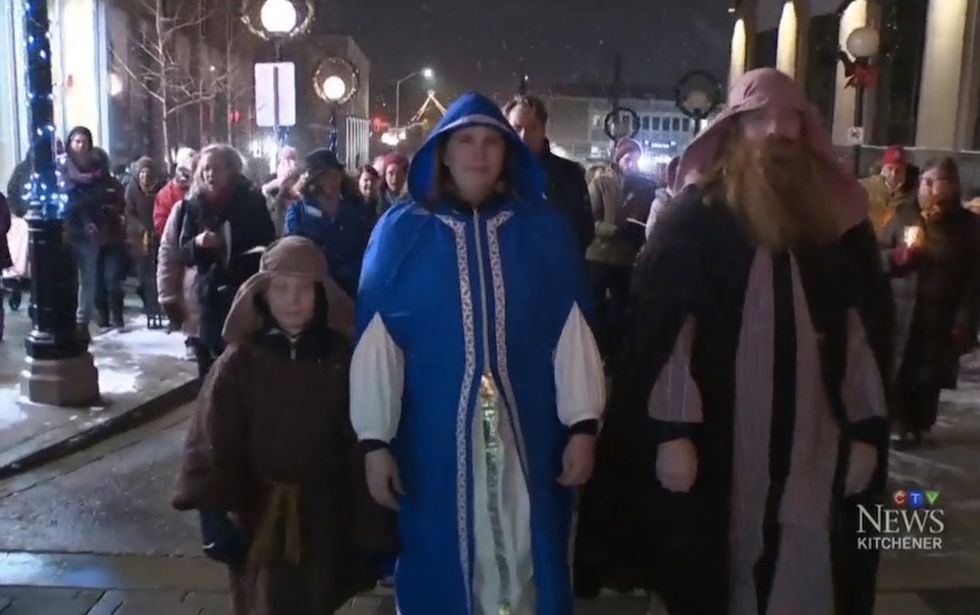 Image source: CTV-TV video screenshot
Not that there's any contradiction afoot, Reaume noted.