A newly hired Defense Department officer charged with promoting diversity and inclusion within military ranks once compared former President Donald Trump to Nazi leader Adolf Hitler on social media.
What are the details?
The United States Special Operations Command, a division of the Defense Department that oversees the various special operations components of the U.S. armed forces, announced last week that it had appointed Richard Torres-Estrada as its first-ever "Diversity and Inclusion" chief.
In a post on Instagram announcing the hire, USSOCOM wrote that "Torres-Estrada has nearly two decades worth of experience working diversity and inclusion programs and activities in federal agencies" and now "will guide the enterprise-wide effort to institutionalize and sustain [diversity and inclusion]" at the command.
"We look forward to Mr. Torres-Estrada's contribution in enhancing the capabilities and effectiveness of [special forces operations] through diversity of talent, helping us recruit the best of the best," USSOCOM added.

But shortly after the announcement was posted, past controversial social media posts published by Torres-Estrada began to circulate online.
One such post, published on Facebook last June, featured a side-by-side picture of Trump and Hitler, both appearing to hold a Bible.
"Here I leave this and slowly retire (to continue working from home)..." Torres-Estrada wrote as a caption to the post, insinuating a comparison between the two.
Remarkably, the new diversity chief didn't think to verify the accuracy of the post before sharing it. The image of Hitler has since been discredited as fact-checkers confirmed the Bible was photoshopped into the original image.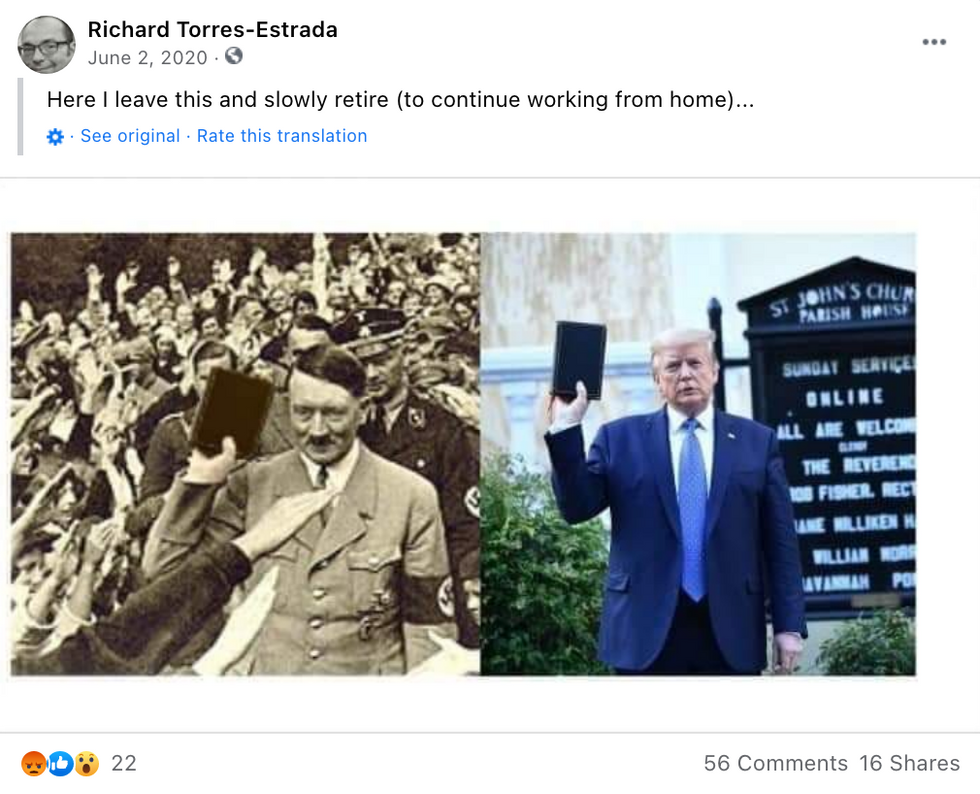 Image Source: Facebook screenshot
What else?
Commenting on the news during his show Friday, Fox News host Tucker Carlson blasted Torres-Estrada and the Pentagon's decision to hire him.
"So, this is the guy who now oversees hiring for the SEALs," Carlson said before pointing to other examples of the military going "woke."
"The Pentagon is now the Yale faculty lounge, but with cruise missiles. That should concern you," he added.
TheBlaze reported in February that following the creation of Task Force Navy One, a division "established to combat discrimination in the Navy," sailors were forced to pledge to "advocate for and acknowledge all lived experiences and intersectional identities of every Sailor in the Navy."
Anything else?
According to the Daily Caller, a spokesman for USSOCOM confirmed Sunday that the command had opened an investigation into the controversial social media posts.
"We are aware of the situation, and the command has initiated an investigation," the spokesman, Ken McGraw, told the news outlet.