Tampa Bay Rays prospect Blake Bivens broke his silence on Instagram regarding the horrific slayings of his wife, baby son, and mother-in-law.
Bivens' brother-in-law, Matthew Bernard, 18, is charged with the murders of his family after reportedly embarking on a spree of violence, which took the lives of Emily Bivens, Cullen Bivens, and Joan Bernard. Authorities discovered one of the bodies in the driveway of a Virginia home. Two other bodies were discovered inside the home. WSET-TV reported that the victims were discovered with gunshot wounds to the head.
Authorities say that Bernard killed his mother, Joan Denise Jefferson Bernard, 62; sister, Emily Bernard Bivens, 25; and nephew, Cullen Micah Bivens, 14 months, on Tuesday morning.
Sheriff Mike Taylor said there is still no clear motive in the murders. You can read more about the crime here.
What did Bivens say?
In a moving Instagram post, Bivens insisted that while he is devastated beyond all comprehension, he will not allow the devil to win.
He wrote, "Two days ago my heart was turned to ash. My life as I knew it is destroyed. The pain my family and I feel is unbearable and cannot be put into words."
"I shake and tremble at the thought of our future without them," Bivens continued. "Emily, my sweetheart, you are the best wife and mother this world has ever seen. You made me into the man I am today and you loved me with all of my flaws. You brought our precious baby boy into this world and made our family complete. Your love and kindness changed countless lives, including mine."
Bivens, 24, went on to express his heartbreak at losing his baby son.
"My sweet little boy, dada loves you so much! I can't breathe without you here," Bivens wrote. "I finally understood what love was when you were born and I would have done anything for you. You have changed my life forever, you are my reason why. I long to hold the both of you again in heaven. I'm so glad you are with all your Great-grandmothers now, I know they are eating you up."
He also memorialized his mother-in-law, Joan, who he said was "the best mother-in-law anyone could ask for."
"This earth did not deserve either of you; you were just too wonderful to comprehend," he continued. "Joan you were the best mother-in-law anyone could ask for. You loved your family more than anyone I've ever seen. You raised the most wonderful girl in the world. I'm so glad y'all are still together. You were the best Nana this world has ever seen and I will never forget you."
Bivens said that the harrowing ordeal would not be in vain, and he would "not let the devil win."
"Skip you are a wonderful father and grandfather," he added. "We will get through this together as a family. We will not let the devil win! Thank you God for giving me the most wonderful family in the world! I've been blessed beyond belief."
Bivens, a pitcher for Alabama's Montgomery Biscuits, a Double-A affiliate of the Tampa Bay Rays, also went on to thank his teammates and those who have reached out to him during this time.
"Thank you to all my family and friends who have reached out to me during this time of sorrow," he concluded. "Thank you @raysbaseball @biscuitbaseball for your support through everything. I am comforted by all the messages and well wishes. I'm not sure what is next for me, but I do know God has a plan even though I can't see it."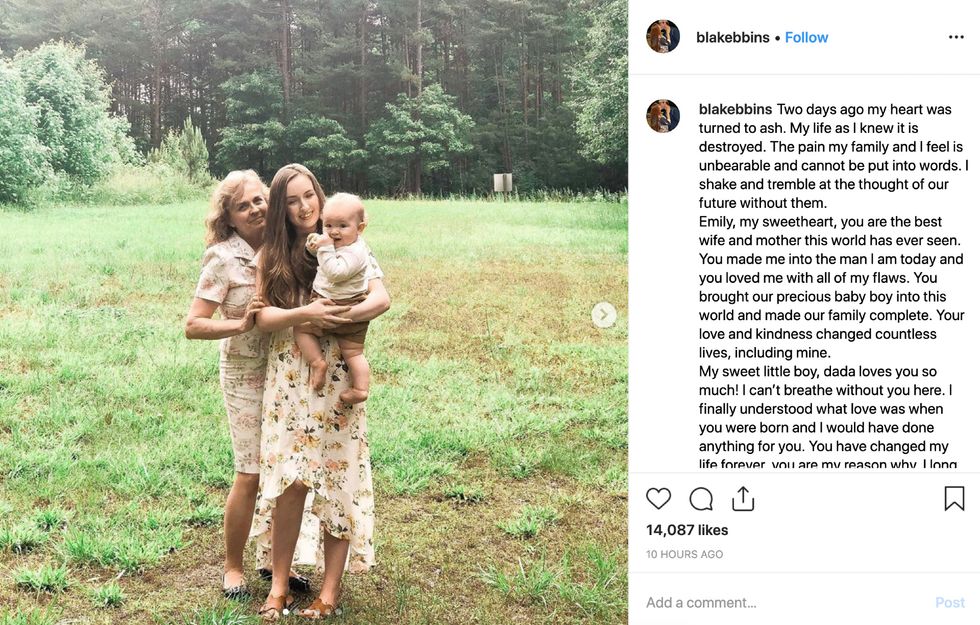 Image source: Instagram screenshot
What else?
Bernard was set to appear in court Thursday but was rushed to a hospital for an undisclosed reason.
According to WSET-TV, Bernard was placed on suicide watch.
A GoFundMe page was set up to benefit Bivens. At the time of this writing, it has collected more than $54,000.
The page reads:
Tragically on August 27, 2019 Emily Bivens, her one year old son Cullen, and her mother Joan, lost their lives.

We are devastated by the loss of our friend and fellow baseball wife, Emily had an incredible heart for the Lord and shared His light to many through her writings in Baseball Chapel. She deeply loved this community of baseball women and was a comforting, kind soul to all who knew her. Our hearts are with her husband Blake and her family during this unimaginable time.

Funds raised will be directly given to her husband Blake Bivens.