Leftist activists crashed a wedding that was officiated by Sen. Kyrsten Sinema (D-Ariz.) last week, forcing the mother of the bride to plead with activists to go away and not ruin her daughter's big day.
Sinema has been subjected to confrontational protesters for the last month as she continues to withhold support for President Joe Biden's massive spending agenda. Protesters have even confronted her in a bathroom and on an airplane.
What happened?
While Sinema officiated the wedding of a personal friend in Brisbee, Arizona — a small town not far from the U.S.-Mexico border — left-wing activists gathered outside the wedding venue, carrying anti-Sinema signs and chanting against the Democratic lawmaker.
Video of the protest showed that, at one point, the bride even confronted demonstrators.
"Thanks for ruining my wedding. I really appreciate it," the bride said sarcastically. "It's just my wedding. I really wish I could enjoy my wedding without you ruining it."
One protester countered the bride by claiming Sinema is "ruining our lives."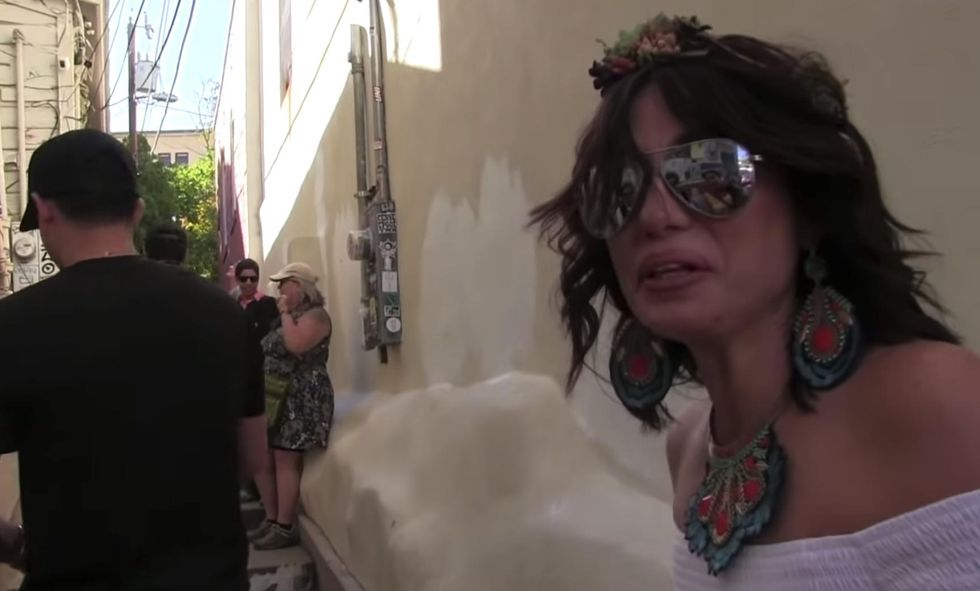 Image source: YouTube screenshot
At another point, a woman who identifies herself as the mother of the bride pleads with protesters to disperse — just for an hour — to allow wedding festivities to proceed peacefully.
"Could you just go down to the corner for an hour," the emotional mother said. "It's my daughter's wedding. Just for an hour — just let her get married, please."
"This person is not my daughter," she added, referring to Sinema.
One protester agreed to let the wedding ceremony proceed without interruption. Other demonstrators, however, continued to scream, and refused to allow the wedding to go on peacefully.
For Better Or Worse: Kyrsten Sinema Comes to Bisbeewww.youtube.com
The Tucson Daily Star framed its story on the protest not around the demonstrators, but white wedding guests who wore Native American costumes to the celebration.
The story assumed the guests committed an act of so-called "cultural appropriation" despite not truly knowing whether the guests were Native American or had Native American lineage.
"Senator Sinema officiated a personal friend's wedding at which a small group of activists protested during the private ceremony," Sinema spokesperson Hannah Hurley told the newspaper. "While the Senator knows the bride and groom, she does not know and did not interact with the wedding guests who wore disrespectful and racist costumes to the ceremony, and she strongly condemns such behavior."