A motorist, lined up with other vehicles on the side of a Maine two-lane road Sunday, pulled out his cellphone and began recording when a speeding driver fleeing cops in the opposite lane drove over spike strips set up by police — and then things got scary.
Tyler Bisson of Raymond began narrating the action prior to the speeding driver entering the camera frame: "Settin' up a spike strip on [Route] 302. No f***in' way."
'Look at this!'

Then the speeding driver — identified as Dale H. Tucker, 29, of Casco, the Portland Press Herald reported — came into view.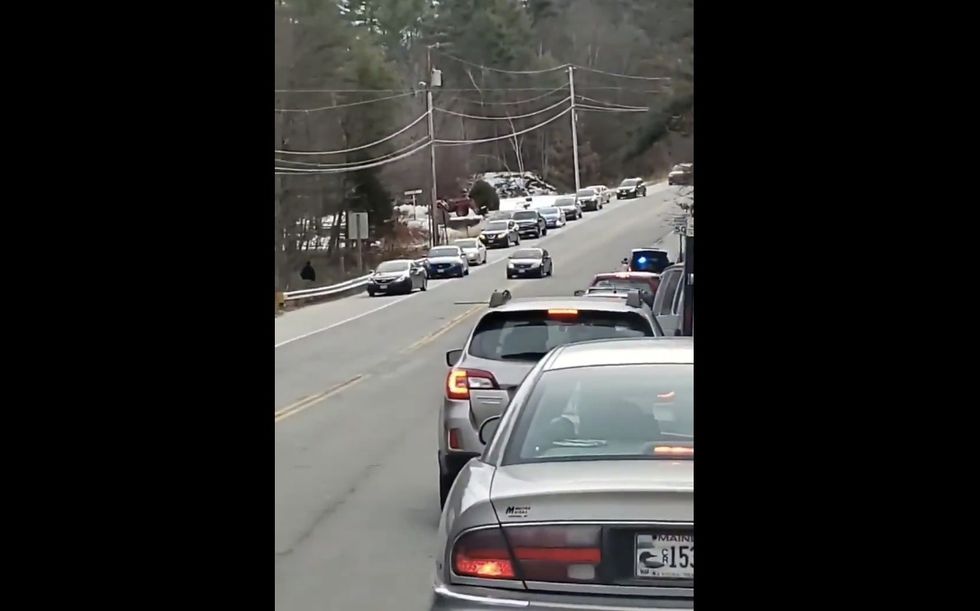 Image source: Twitter video screenshot
"Look at this! Look at this!" Bisson remarked.
Tucker then swerved around the right side of the strips — but not far enough, as he hit the strips' edge and then lost control.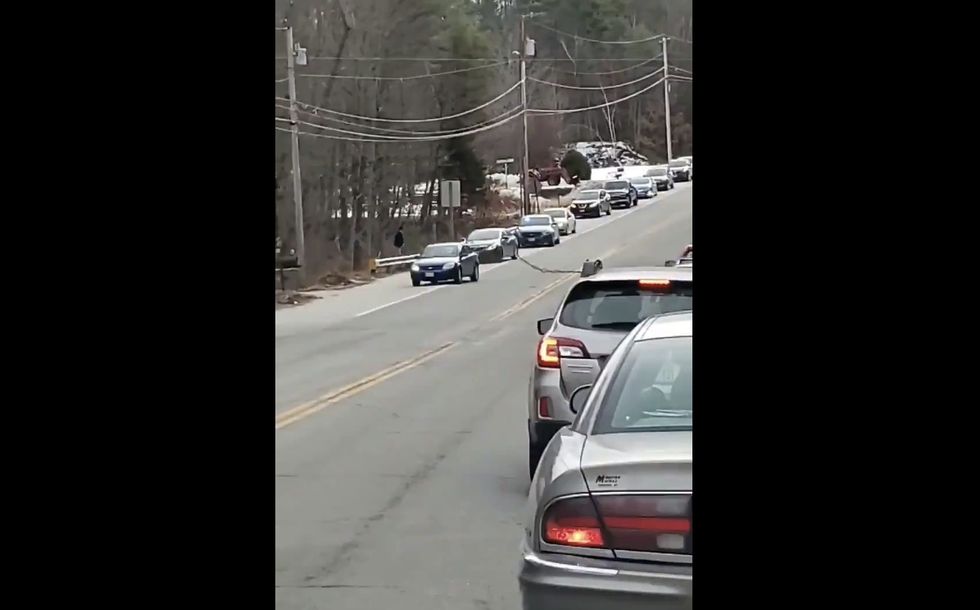 Image source: Twitter video screenshot
His car then began spinning toward the line of parked vehicles.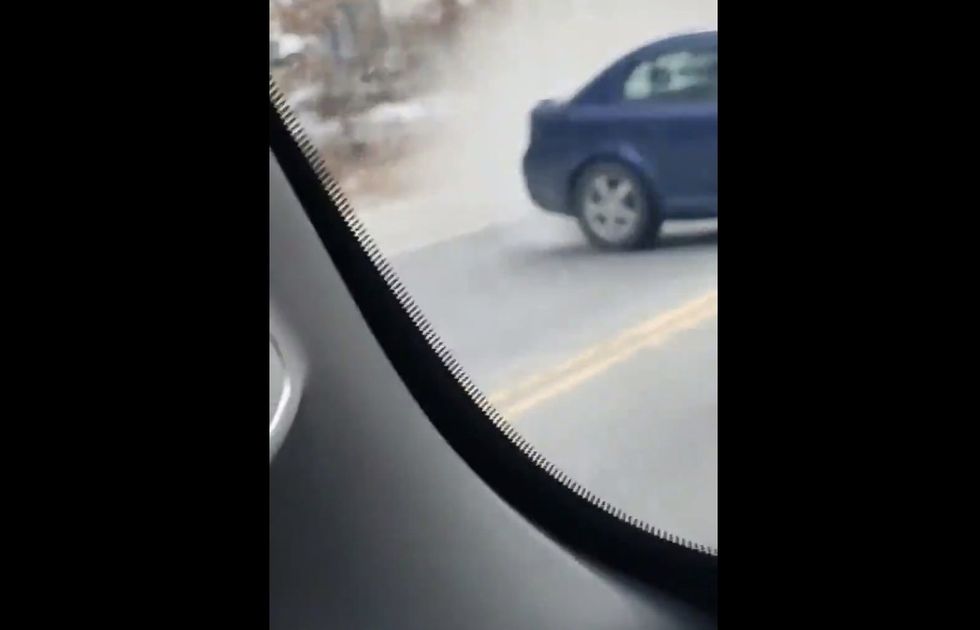 Image source: Twitter video screenshot
As Tucker's car headed directly at him, Bisson only could utter a terrified, "Oh, no!"
"What the f***," Bisson's passenger reacted before he echoed the sentiment through the completely shattered driver's-side window of his pickup truck.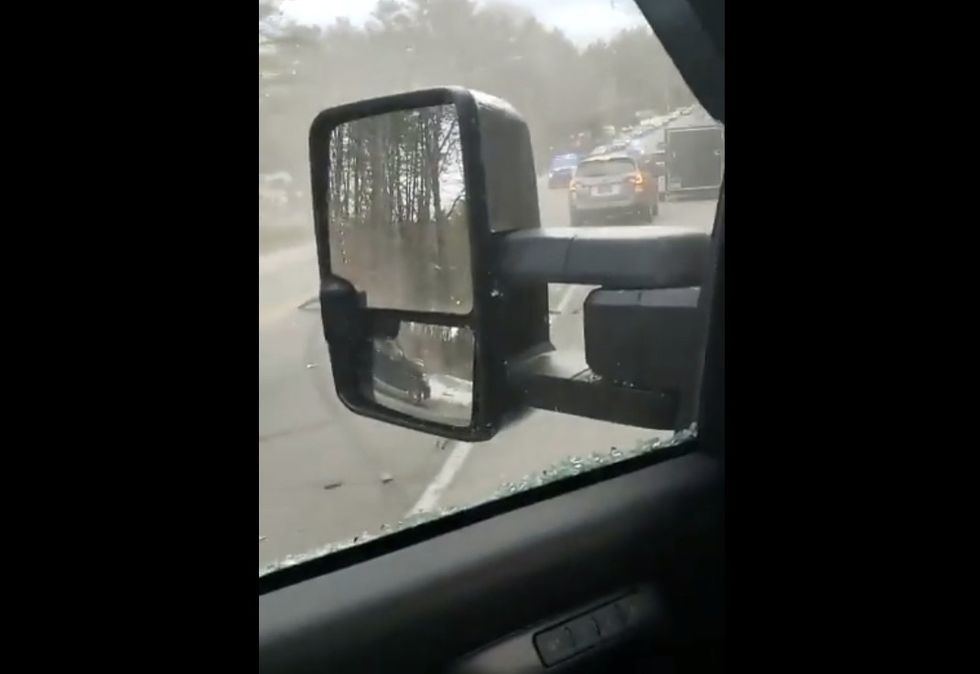 Image source: Twitter video screenshot
His passenger noted that her head hurt as a result of the impact.
Here's the now-viral clip. (Content warning: Strong language):
Four people, including Tucker, were injured in the crash, the paper said, adding that none of the injuries was life-threatening. Another vehicle in addition to Bisson's was hit. The Press Herald said Bisson didn't respond to an interview request Sunday evening.
Tucker was arrested and charged with aggravated driving to endanger, aggravated eluding a law enforcement officer, criminal speed, and failure to maintain control of a vehicle, among other infractions, Capt. Don Goulet of the Cumberland County Sheriff's Office told the paper.
What's the background?
Deputies were searching for Tucker because of his involvement in a "domestic situation" in Casco earlier Sunday, the Press Herald reported.
"Tucker made threats of going to a residence in Windham and causing harm," Goulet added to the paper.
A deputy stopped Tucker earlier, Goulet told the Press Herald, but he sped off when the deputy asked him to pull into a nearby parking lot. Tucker began driving recklessly at a high speed, Lt. David Hall told the paper, and the crash occurred about three miles north of where Tucker was first stopped.
When a spike strip is deployed, motorists are supposed to be kept far from it, but Hall told the Press Herald that everything happened too quickly.
"We try to make it as safe as possible," Hall added to the paper. "If the suspect just drives over the strips, it is not a problem; if he tries to go around it or take other action, it becomes a problem." He noted to the Press Herald that spike strips don't cause drivers to lose control of their vehicles, as they deflate tires very gradually.
"Him crashing was not caused by the spike strips, but was caused by him overcorrecting," Hall told the paper.