The #GoldenGlobes mood was already sober thanks to an impeachment, threat of war with Iran and Australian bush fire… https://t.co/6XArh9UkaR

— Lorraine Ali (@Lorraine Ali) 1578291674.0
Opinion: Ricky Gervais cheapened the Golden Globes and overshadowed vital political statements https://t.co/sBu0optknz

— The Independent (@The Independent) 1578352342.0
Just how big a jerk was Ricky Gervais at the Golden Globes? https://t.co/Eecz2Znl1F

— Slate (@Slate) 1578278380.0
What's more, Washington Post TV critic Hank Stuever opined that the monologue was "hardly the provocative scorching that Gervais promised with his return" and that "nobody cared" about his barbs against Hollywood's elite.
Oh, and author Mark Harris went on a bit of a tweet-storm against Gervais, accusing the decidedly liberal comedian of cavorting in right-wing territory:
Here's my Ricky Gervais problem: The idea that celebrities are not only pampered babies but hypocrites who cause th… https://t.co/yiwWxLZ7u2

— Mark Harris (@Mark Harris) 1578325025.0
How did Gervais respond to the outrage?
Rather than getting in front of another podium, somberly thanking the left for helping him see the light, and imploring them for time as he has so much more to learn from them on his new journey, Gervais simply punched back harder: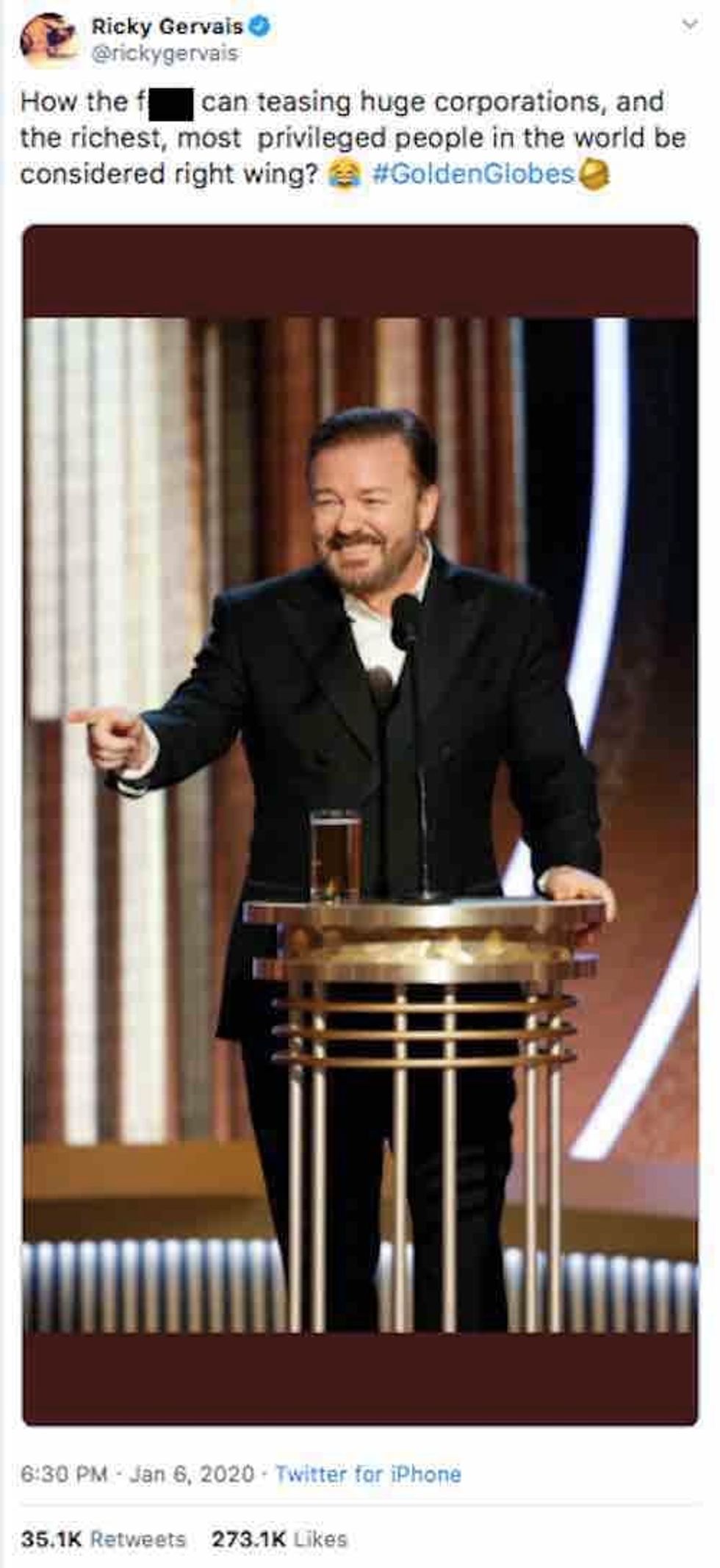 Image source: Twitter
"How the f*** can teasing huge corporations, and the richest, most privileged people in the world be considered right wing?" he asked regarding his insufferable critics.
Fortunately, it appeared a whole lot more observers had Gervais' back on this one.
Among the more notable defenders was comedian Jim Norton, who took a no-holds-barred aim at the Los Angeles Times' critique of Gervais' monologue:
The @latimes is garbage. "The last thing anyone needed was for the smirking master of ceremonies to reprimand them… https://t.co/wHsoxWoydm

— Jim Norton (@Jim Norton) 1578363060.0
Comedian Doug Stanhope saw through the sober faces in the crowd:
Just watched @rickygervais opening for some dumb award show. Not only did he kill it, but if you watch the stars in… https://t.co/ZGZ9OilPq1

— Doug Stanhope (@Doug Stanhope) 1578287574.0
And fellow Brit and TV host Piers Morgan appeared to love every scathing second of Gervais' speech:

*NEW COLUMN* Ricky Gervais delivered a glorious kick in the globes to Hollywood's woke virtue-signalling hypocrite… https://t.co/MkHD6M8cVR

— Piers Morgan (@Piers Morgan) 1578329255.0
(H/T: BizPac Review)