A crook armed with a shotgun was caught on surveillance video entering a convenience store in Pensacola, Florida, earlier this month — and soon made his exit after the store clerk emerged from a back room with his own gun and told the crook he was no longer welcome.
What are the details?
Video shows the man holding a shotgun on the right side of his body after entering the store in the 4000 block of North Pace Boulevard on Sept. 9, the Escambia County sheriff's office said.
Authorities said the armed man didn't notice anyone behind the counter. The reason? The store clerk saw the man arm himself outside, after which the clerk went to a back room and grabbed his gun, the sheriff's office said.
When the crook saw the clerk return, "he freezes … oh boy," the sheriff's office explained, noting that the clerk "returned to the counter holding his own gun toward the befuddled attempted robber."
The clerk isn't visible on the surveillance video, but he's heard telling the shotgun-wielding visitor to "put it back."
The crook replies, "I don't mean no harm. I'm just not from around here."
"What you got in your hand, bro?" the clerk asks.
"I got a big-ass, motherf***ing gun, but I'm not from around here is what I'm sayin'," the crook answers. "I'm from Chicago, bro." He then implies he's carrying the shotgun for protection.
The clerk is unmoved, telling the armed man again to "put it back."
The sheriff's office quipped that "words seem to fail you when your felony attempt is thwarted by lawful and righteous force. Thankfully, he decides that it is not the time for a robbery, and he slowly exits the store."
The rest of the story
The sheriff's office said 32-year-old Rakim Stephen Tate was arrested Sept. 15 in Santa Rosa County and charged with openly carrying a prohibited weapon and attempted robbery with a firearm. Authorities added that the Benelli shotgun used in the robbery attempt was recovered.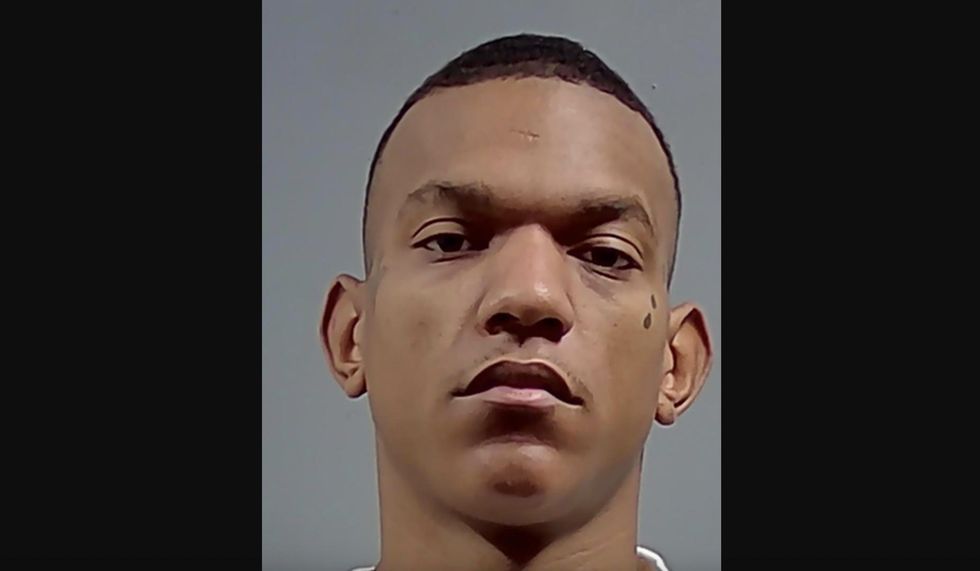 Rakim Stephen TateImage source: Escambia County County Jail
"You're not in Chicago anymore," the sheriff's office taunted at the conclusion of its post. "You're under arrest."
Tate — who's actually a Pensacola resident — was taken to the Escambia County Jail. His bond for the attempted robbery with a firearm charge, a felony, was set at $100,000, jail records show. Tate's bond for the carrying a prohibited weapon charge was set at $1,000, jail records show, and his court date is scheduled for Oct. 7.
Man brings shotgun into gas station, clerk pulls gun on him: Escambia Co. Sheriff's Office youtu.be