A female middle school teacher who had sex with a 14-year-old male student should receive a lighter sentence since the boy was a "willing participant," according to a motion filed by her attorneys, the Daytona Beach News-Journal reported.
Stephanie Peterson, 27, pleaded guilty Oct. 16 to lewd and lascivious battery sex act with a child, a second-degree felony, and electronic transmission of material harmful to minors, a third-degree felony, the paper said. She was a teacher at Florida's New Smyrna Beach Middle School.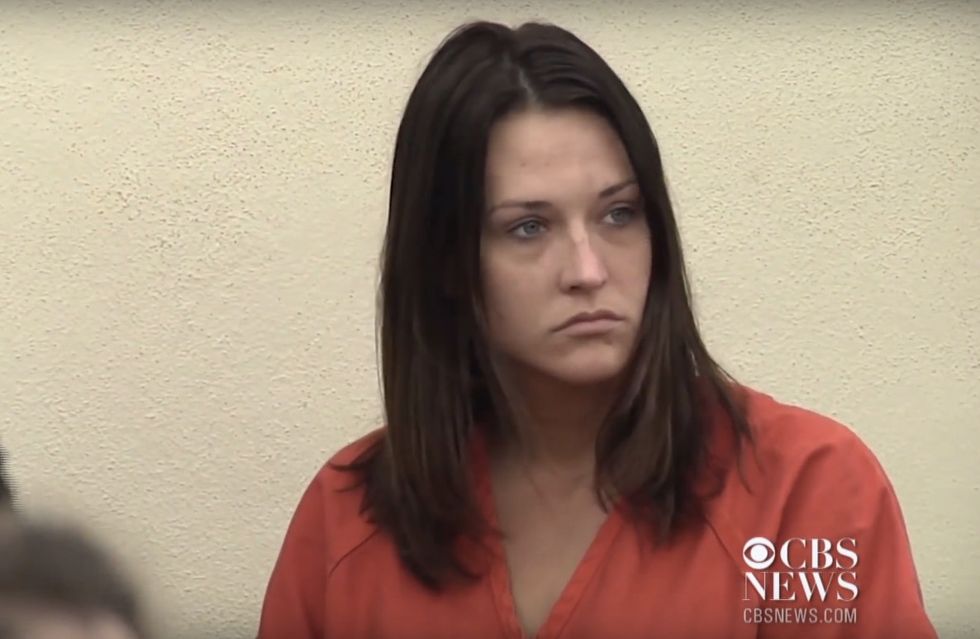 Stephanie Peterson (Image source: YouTube screenshot)
A plea agreement allowed Peterson's attorneys to argue to the judge for a lower prison sentence than the five-year minimum listed in the agreement; the maximum sentence was 10 years, the News-Journal said.
And on Wednesday she was sentenced to three years in prison, the paper said in a new story, noting that Peterson's lawyers dropped their 14-year-old-as-"willing participant" argument and focused instead on her bipolar disorder as a reason to hand down a lighter sentence.
'Willing participant' is problematic argument
Stetson College of Law professor Charlie Rose told the News-Journal that attorneys insisting a 14-year-old was a "willing participant" in sex with an adult isn't a good idea, particularly when Florida's age of consent is 18.
"The child is below the age of legal consent for sexual activity with an adult so the fact that they were a willing participant, in my mind, is actually an escalator," Rose added to the paper. "It's an indication that perhaps the child was manipulated into engaging in sexual activity. It does not make the crime less culpable."
Here's a news report that aired after Peterson's arrest earlier this year:
What's the background?

Interactions between Peterson and the student occurred between Nov. 1, 2017, and Jan. 31, 2018, the paper said, and started when Peterson let the boy use her smartphone so he could check his Instagram account. He left himself signed on and later that day received a message from Peterson on his own account, the News-Journal added.
More from the paper:
The communication continued through Snapchat with Peterson sending the teen nude pictures, including one of herself in the shower in which her face is clearly visible.

She drove to his house at night and he would sneak out to meet her. They had sexual intercourse in her car in the driveway, a report states. Peterson gave him oral sex on her couch in her house and twice in a barn behind his home.

The situation was revealed when a different teacher called the teen's home to offer to tutor him, prompting his mother to jokingly ask him if the teacher was going to molest him. The teen then started crying and blurted out "Anyone could molest you."

Peterson later told the teen to "Delete everything" on Snapchat, according to reports.
The sentencing
As part of Peterson's sentence, she also must serve five years' sex offender probation following community control (i.e., house arrest) and must register as a sex offender for the rest of her life, the News-Journal reported.
"I wish I could make it clear how regretful I am for what has occurred," Peterson said at her sentencing hearing, the paper said. "If I could say one thing to the victim, it would have to be that I'm sorry, two words used too often without much meaning but I can honestly say with everything in my heart that I mean it to its truest definition."
Her attorneys asked that Peterson not be sentenced to prison, the News-Journal noted, adding that the prosecutor asked for six to 10 years in prison.
Circuit Judge Raul Zambrano cited Peterson's mental illness in going below the minimum five-year prison sentence, the paper said: "You are mentally ill, and you're going to be mentally ill for the rest of your life."
Psychologist Lisa Potash testified that Peterson was in a manic state when she had sex with the student and was disgusted with herself when she came down from that state and realized what she had done, the News-Journal said.
However, the judge said Peterson had to pay for her crime.
"Your actions have lifelong consequences to you and for this child for the rest of his life," Zambrano added, according to the News-Journal. "That memory will never be taken away from him."
More from the paper:
Earlier, the victim's mother took the stand and called for Peterson to be sent to prison for the maximum 10 years. She said her once funny, lighthearted son has grown reserved and angry. She said he is now in high school where some students have taunted him about having sex with his teacher.
Here's a clip of Peterson's sentencing: