Students at Asbury University — a Christian college in Wilmore, Kentucky — have been praying and worshiping in their chapel around the clock for over a week.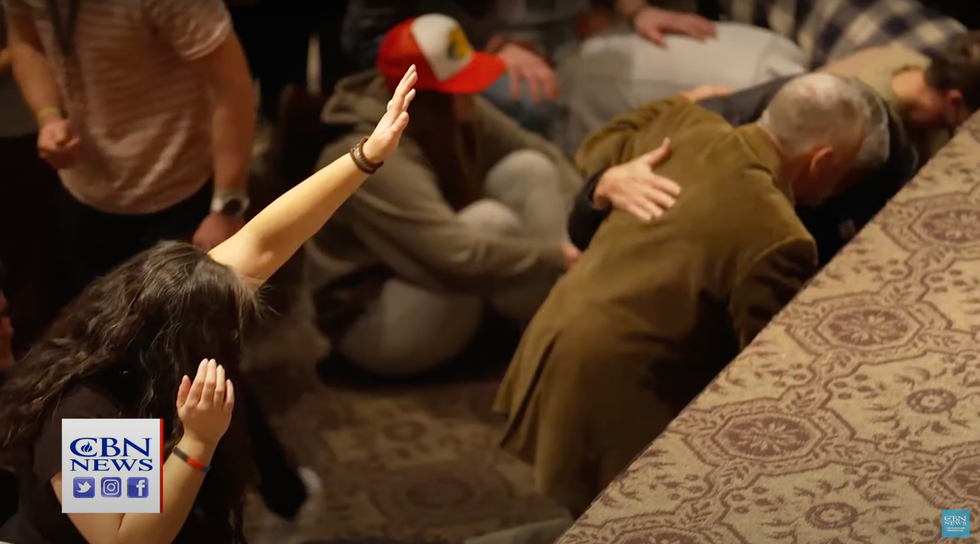 Image source: YouTube screenshot
The phenomenon has been attracting visitors from all over, and by many accounts what appears to be a spiritual "revival" is spreading elsewhere.
What are the details?
It began with a regularly scheduled chapel service at Hughes Auditorium on the morning of Feb. 8 — and the Christian Post said it simply hasn't ended.
Alexandra Presta — a senior who's also executive editor for the campus newspaper, The Collegian — explained to the Post that following last Wednesday's chapel service "roughly 30 students kept going." Soon other students joined them.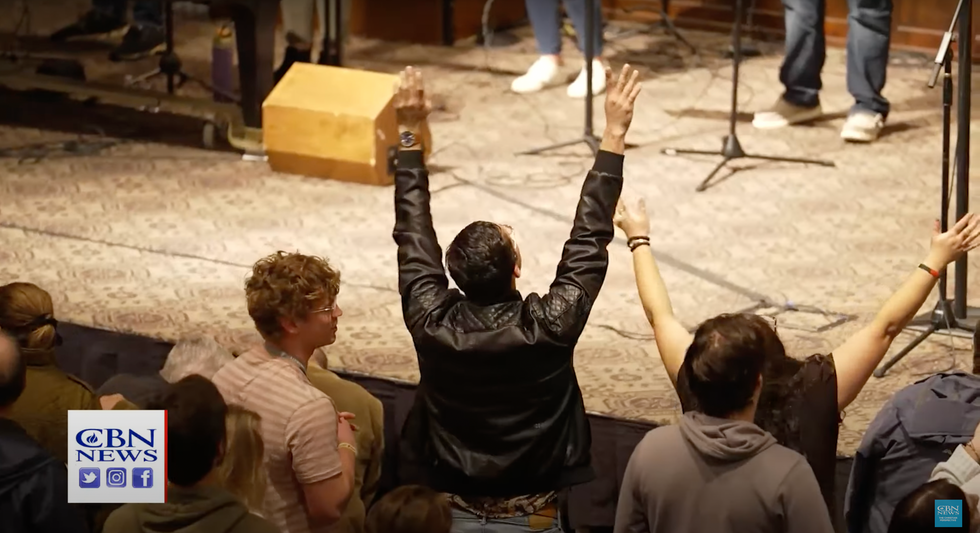 Image source: YouTube screenshot
Presta added to the outlet: "I had left for a few minutes but then felt called to return. Since then, it hasn't stopped. It's been a mix of worship, testimony, prayer, confession, silence." She called it "a full experience of the Holy Spirit," the Post noted.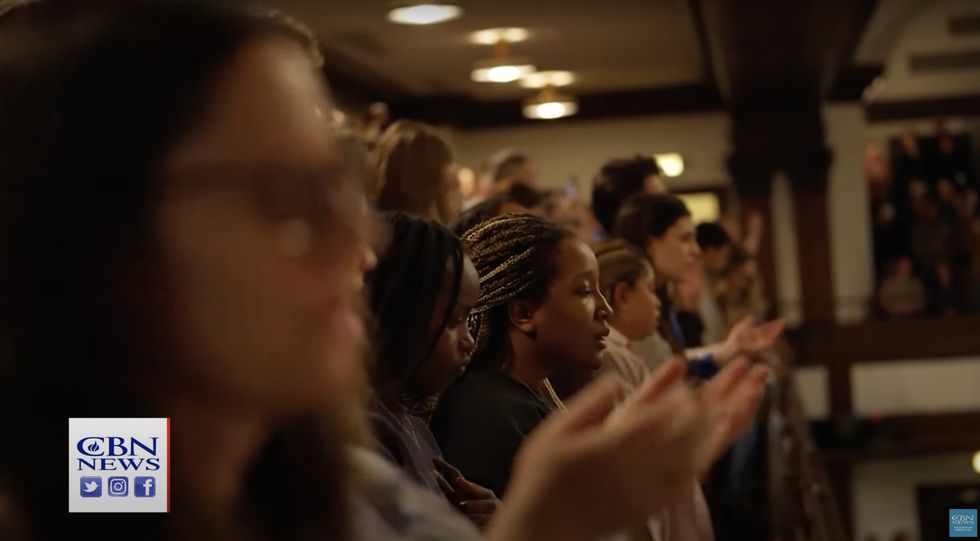 Image source: YouTube screenshot
The phenomenon also has attracted the interest of mainstream media. NBC News, in fact, reported that "Tuesday night capped the largest crowd yet: 3,000 worshipers piled into the college chapel and four overflowed facilities throughout the college town."
Folks from from everywhere else are flocking there, too.
Asbury President Kevin Brown said at least two-thirds of the attendees are from out of state, NBC News noted before adding that "students and staff from 22 schools have visited so far, alongside groups from Hawaii to Massachusetts, university faculty said. Travelers from Singapore and Canada are expected to arrive soon, they added."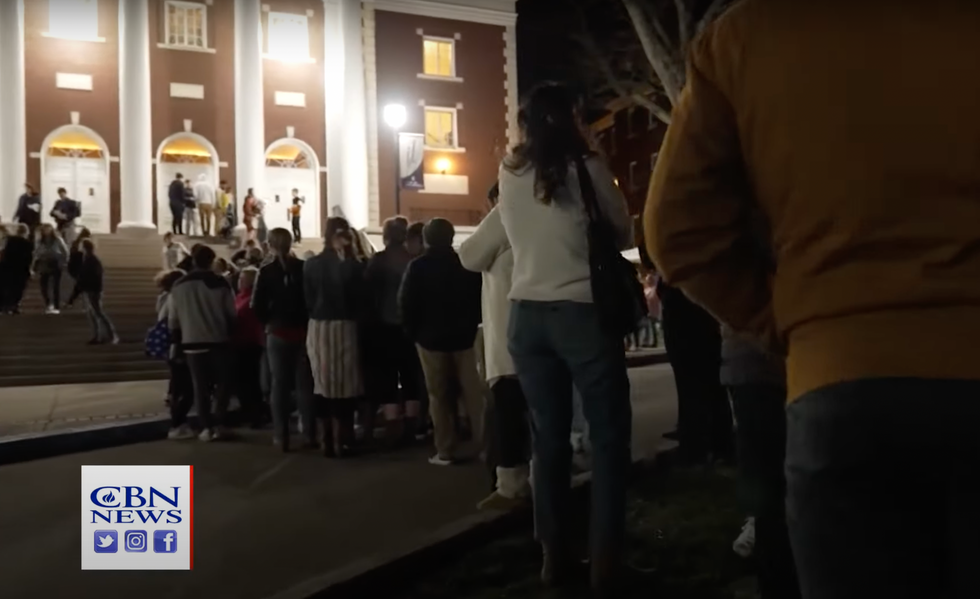 Image source: YouTube screenshot
Nick Hall told NBC News he bought a one-way plane ticket from Minneapolis when he saw a viral video on Instagram of what's happening at Asbury — but he cautioned that the whole thing is surprisingly low-key for what many are calling a "revival."
"This is acoustic guitars, pianos, and very non-charismatic speakers," Hall added to the news network. "This is as un-sensationalized as it could be."
REVIVAL at Asbury University: 'If God Wants It to Happen, It's Going to Happen'youtu.be
Presta told the Post that some folks "have slept on the floor and continued to praise God nonstop."

T.J. Reeves told NBC News he departed Wheaton College in Illinois — also a Christian school — and with no particular plan made a 6 1/2-hour drive to Wilmore shortly after hearing about what's happening there.
"In chapel at Wheaton there was an encouragement to pay attention to a move of the Lord in Asbury," Reeves added to the news network.
This isn't the first time such a spiritual outpouring hit Asbury — it also happened in February 1970, and the Post said that "revival spread, impacting various places, including Southwestern Baptist Theological Seminary of Fort Worth, Texas, after three Asbury students spoke about their experiences to the student body."
What's happened so far in February 2023 also appears to be spreading. NBC News said students at Lee University in Tennessee began a 24-7 prayer vigil Monday morning, and other schools such as Anderson University in Indiana and Ohio Christian University near Columbus are experiencing similar things.
The Post added in a separate story that Cedarville University — another Christian college in Ohio — is going through "a special outpouring and sensing of the presence of the Lord," according to school President Thomas White.
Here's a look at what's happening at Lee University:
Revival fire spreads from Asbury to Lee Universityyoutu.be
TheBlaze's Glenn Beck on Thursday spoke to Asbury's student body president Alison Perfater about what's happening in the chapel, and she described the sight of "thousands of people ... hungry and desperate for community and God."
Perfater added to Beck that people have been experiencing "physical healing" and "freedom from anxiety and depression."
The Holy Spirit, she noted, is "very busy."
Glenn: This MIRACLE gives me MORE HOPE than any other storyyoutu.be