In the wake of recent mass killings — particularly in El Paso — a Texas gun store is facing backlash over an outdoor sign advertising a "back to school sale," KTRK-TV reported.
The sign for Boyert Shooting Center in Katy indicates that the sale begins Tuesday and will include "up to 50 percent off firearms."
'Did I really see that?'
But that doesn't sit well with Michelle Simons, the station said.
"It was so jarring like, 'Did I really see that?'" she recalled to KTRK.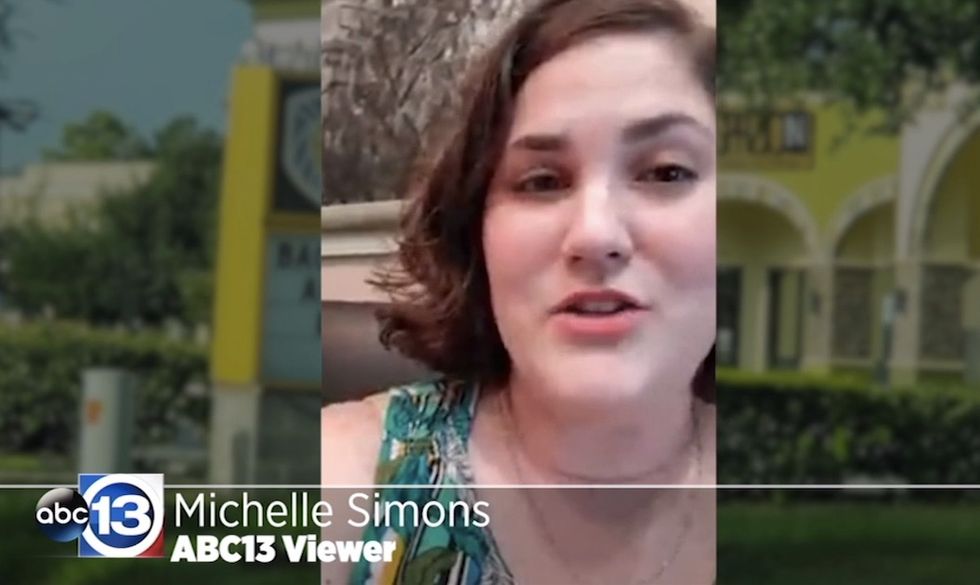 Image source: KTRK-TV video screenshot
Simons told the station she and her husband passed the gun store while driving and were surprised by the sign. She added to KTRK that her husband is an educator and doesn't believe guns and schools should be mixed.
"In the current climate and in the current culture where we have school shootings just constantly, mass shootings just constantly, it seems like a real poor choice of words," Simons noted to the station.
She also told KTRK her husband gets upset when his school district makes him teach students about active shooter safety, and that he said students shouldn't have to worry about going through that.
The couple wondered to the station if the sign is a way to get attention by inciting controversy.
"I hope it was just some kind of glaring oversight. I would rather see any other kind of wording on their board," Simons told KTRK. "What does back to school have anything to do with getting guns?"
Gun store responds
Boyert Shooting Center sent the following statement to the station:
We have friends and family who are teachers and our way of reaching out and saying thank you is by offering a summer long promotion of discounted training courses, firearms and accessories. A lot of Texans are not aware, but it is now legal to conceal carry in some colleges, and for teachers in certain school districts to conceal carry as well. We are wrapping up the program that we have been running since the beginning of June, with a huge sale to benefit everyone.
Boyert has raised eyebrows before
After Dick's Sporting Goods last year decided to stop selling "assault-style" rifles in all its stores nationwide following the mass killing at Marjory Stoneman Douglas High School in Florida, Boyert Shooting Center poked fun at the chain with another outdoor sign message: "We're not all Dicks. We still sell ARs."
"It was meant to have people react to it and hopefully most understand that we are referring to the company and not an individual," Boyert's program director Travis Clark told the Houston Chronicle at the time of last year's sign. "We have had a lot of people come in and tell us they love the sign."