Surveillance video shows the crook going from table to table and taking cash; amid the robbery, two customers tried to take cover underneath a table: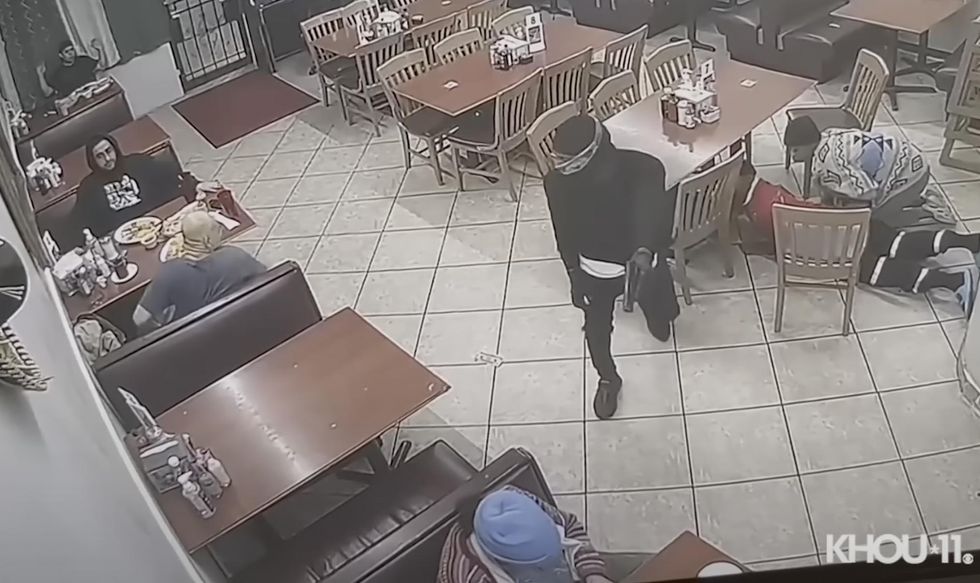 Image source: YouTube screenshot
But seconds later, one of the customers sitting to the side drew a gun and fired at the robber who was walking past him.
KHOU said in its broadcast that it froze the surveillance video before shots were fired but that the full video shows the robber being shot multiple times.
Here's the surveillance video:
Raw video: Customer at taqueria shoots robber as he was leavingyoutu.be
Customer who shot robber returned stolen money
What's more, police told the station that the customer who shot the robber grabbed the stolen money back from the robber and returned it to the other customers.
Those inside the restaurant departed before police arrived, KHOU said, adding that there were no reported injuries among customers or restaurant staff.
Workers at the restaurant were shaken up about the incident, the station said, adding that the restaurant said it planned to reopen around 7 a.m. Friday.
Police want to question customer who pulled trigger
Houston police told KHOU that the customer who shot the robber is wanted for questioning, although he hasn't been identified and is not charged. Police also released surveillance images of him:
Nearly all the commenters who weighed in on the above tweet from police so far are siding with the customer who shot the robber, saying he did the right thing and shouldn't get in trouble:
Anything else?
Investigators added to the station that the robber didn't have a real gun — it was, instead, a plastic pistol.
Police are asking the customer who shot the robber and the other customers who left the scene to contact the police department's Homicide Division at 713-308-3600 to provide statements, KHOU said.
(H/T: The Western Journal)