Video cameras captured the moment when a violent male protester wearing a black "F*** Kyle" t-shirt and black-and-red wool cap body-slammed a reporter, attacked a female counter-protester, and slapped cameras in front of the courthouse in Kenosha, Wisconsin, where a jury was deliberating the Kyle Rittenhouse trial.
What are the details?
The protester in question was caught on video instigating numerous violent encounters with Rittenhouse supporters as well as journalists who were simply documenting the tense scene on the courthouse steps Wednesday as both sides continue to wait for a verdict.
"Look at this c** dumpster right here!" the protester said to a female counter-protester at the start of a video.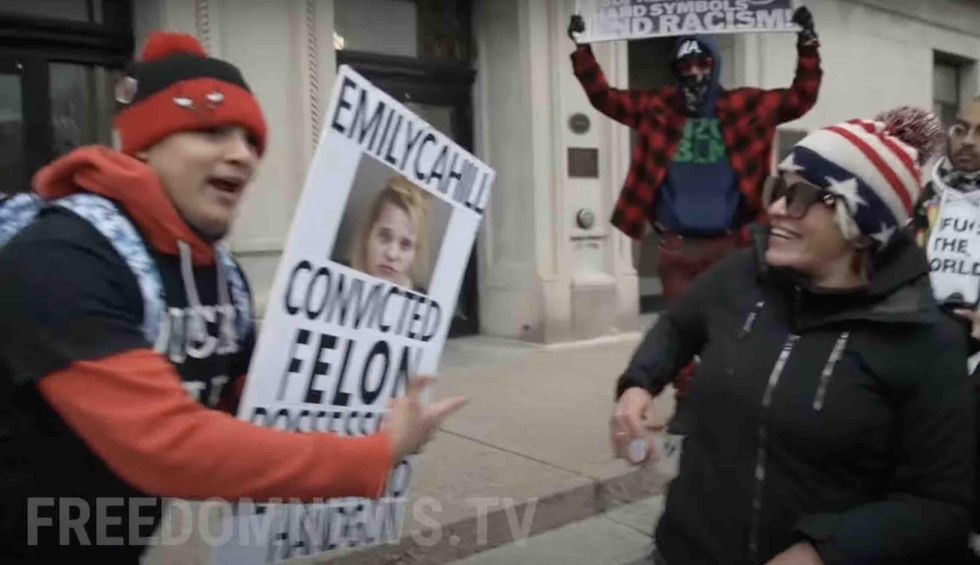 Image source: YouTube screenshot
The woman shot back, "You c** dumpster — your mom was!"
The protester replied, "I can't be a c** dumpster ... I don't have a vagina, you c**t!"
But the smiling woman wasn't taking it and upped the ante: "You can swallow it, you dumb bitch!"
That apparently got under the skin of our hero, as he took a big swipe at the woman and appeared to graze her sign.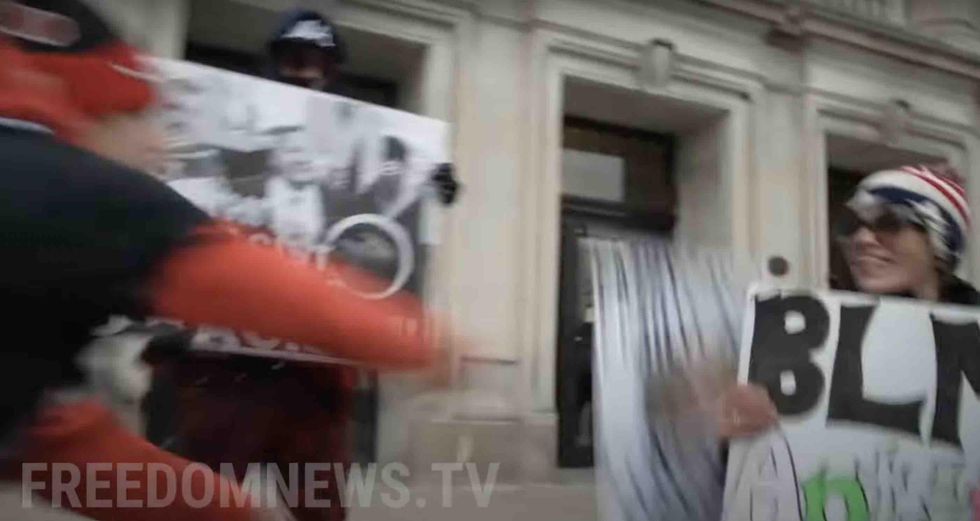 Image source: YouTube screenshot
A number of folks reacted to his physical response with disapproval.
Seconds later another protester tried to take signs from the female counter-protester: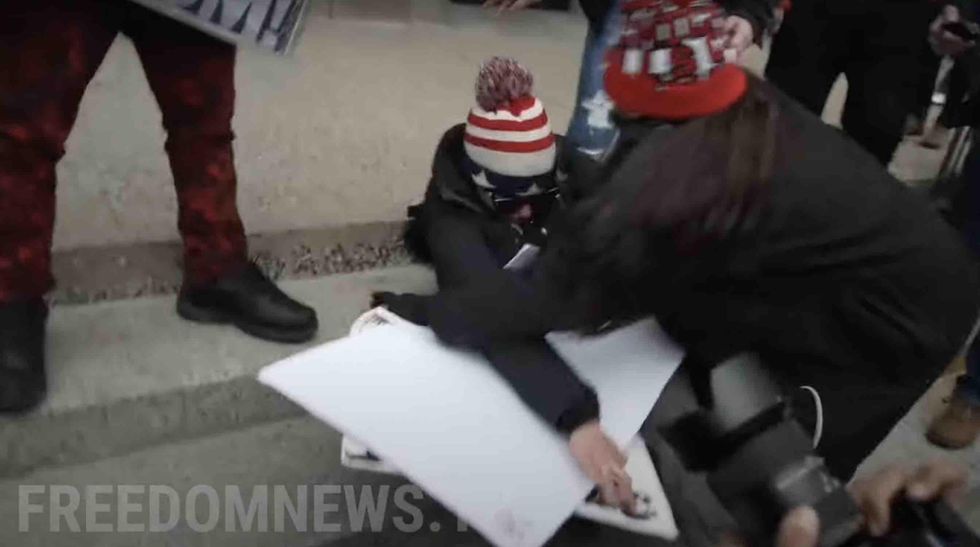 Image source: YouTube screenshot
And the "F*** Kyle" protester joined in fray and appeared to manhandle the woman he had just argued with.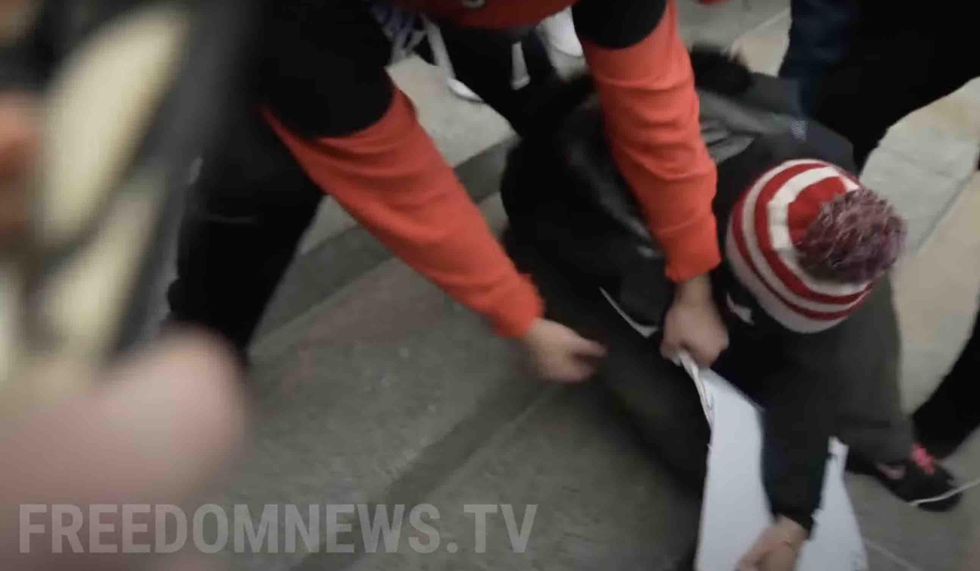 Image source: YouTube screenshot
Then the "F*** Kyle" protester began attacking a reporter, pushing him up the courthouse steps before body-slamming him to the ground as a number of onlookers converged around them.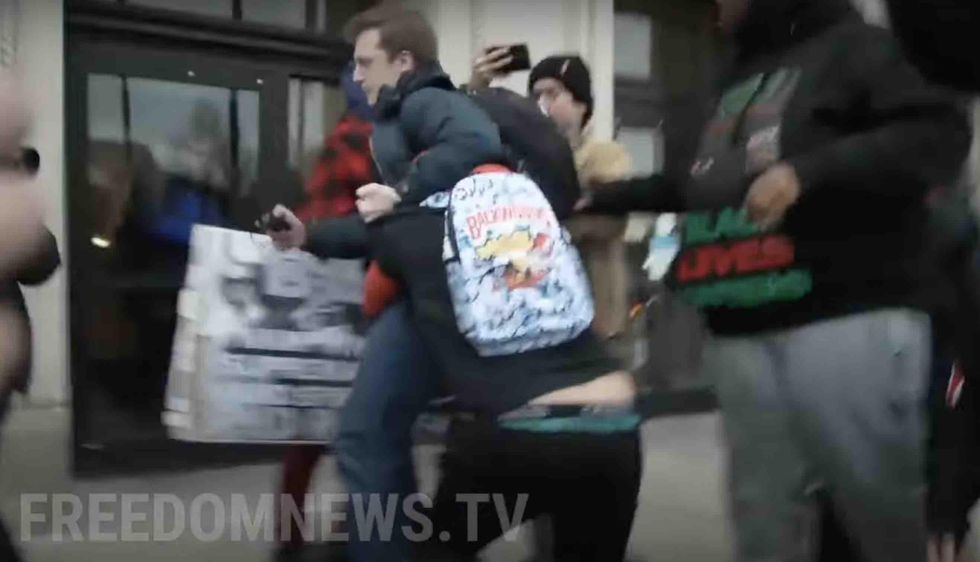 Image source: YouTube screenshot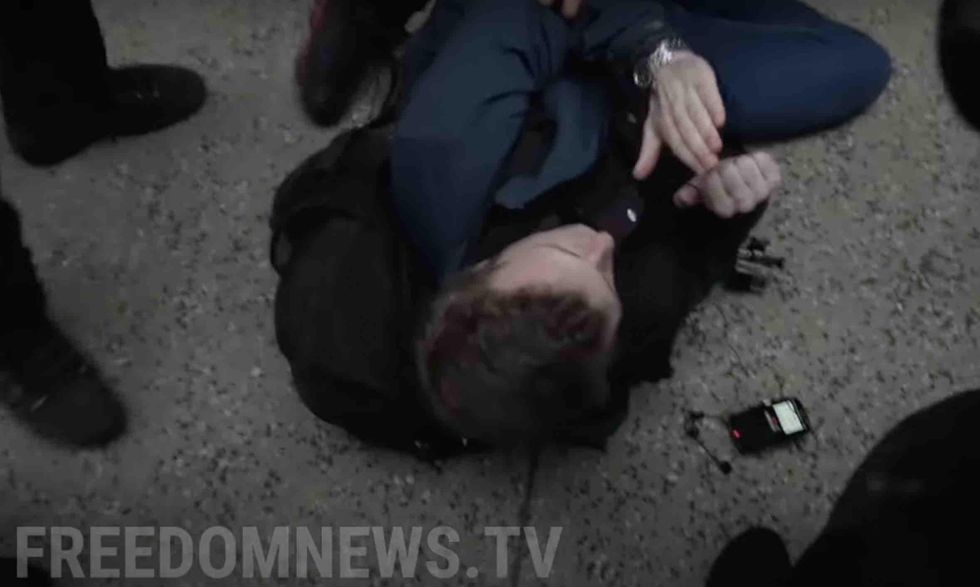 Image source: YouTube screenshot
One woman was heard yelling, "Anthony! You're gonna get arrested!"
It turned out to be a prophetic cry.
Officers soon took the protester in the "F*** Kyle" t-shirt into custody, Fox News reported, adding that 20-year-old Anthony Chacon was charged with battery, resisting arrest, and disorderly conduct, according to Sgt. David Wright, a spokesman for the Kenosha Sheriff's Department.
Fox News also said one of its digital reporters witnessed the suspect carrying out the aforementioned violence — as well slapping multiple cameras: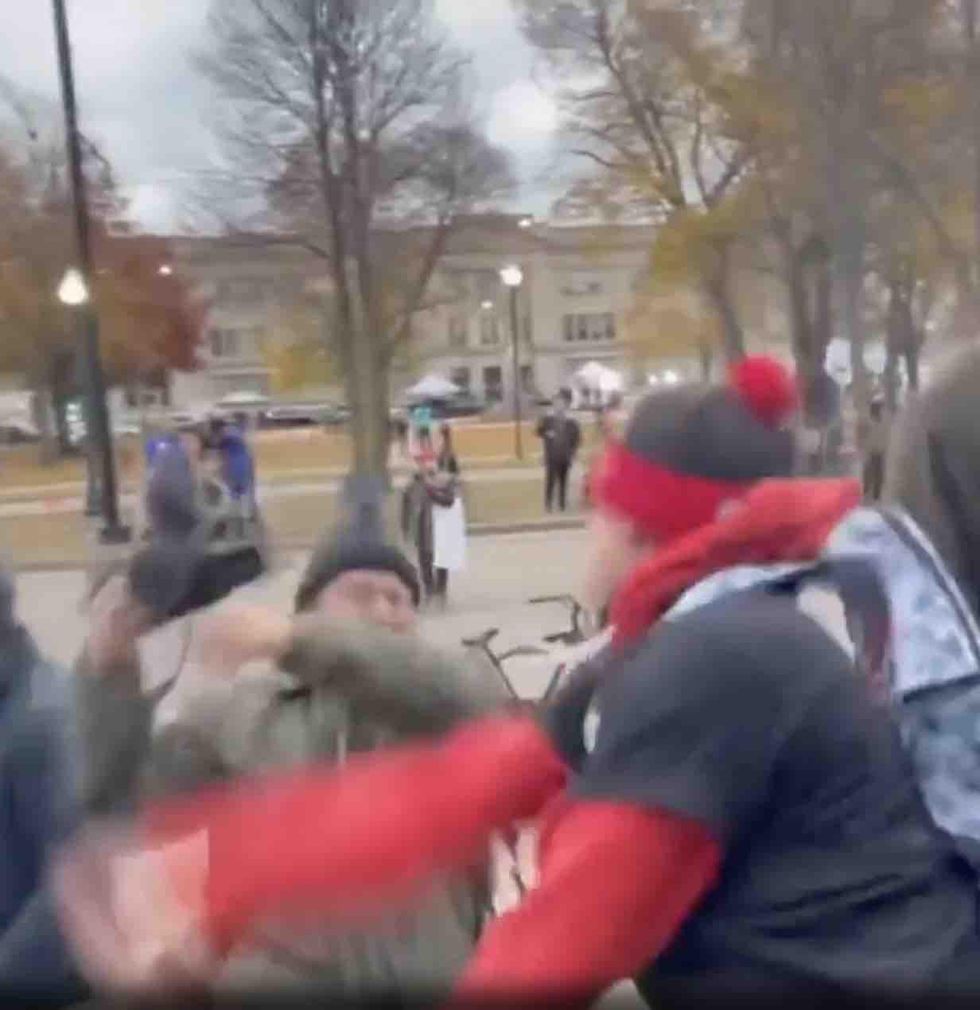 Image source: Fox News video screenshot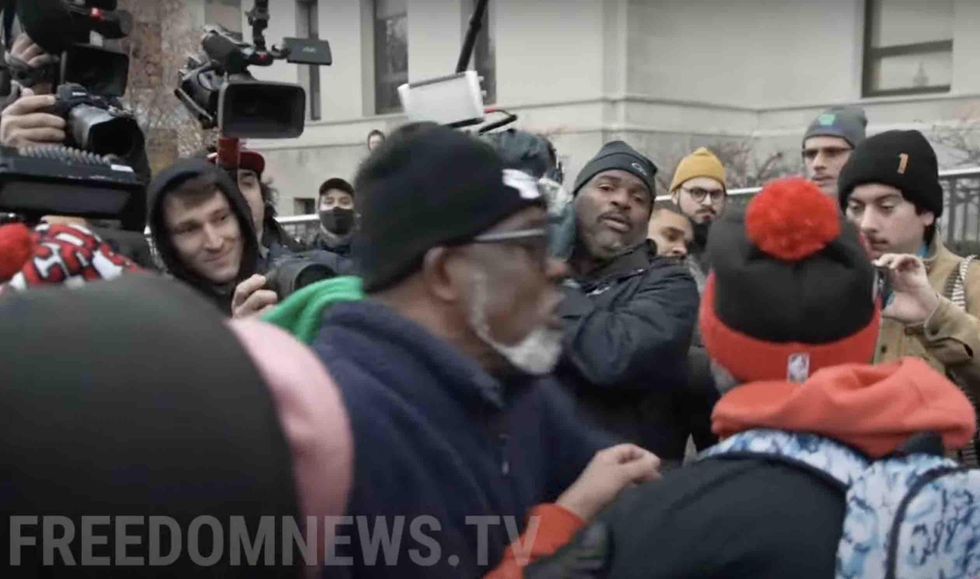 Chacon after delivering an angry swat to yet another camera operator. (Image source: YouTube video screenshot)
And here's Chacon finally in cuffs. (Aww, smile for the camera, tough guy):
Image source: YouTube screenshot, redacted
Here's the video of Chacon in action.
Content warning: Profanity:
Multiple People Arrested in Kenosha as Second Day of Deliberations Concludedyoutu.be
What's more, Chacon also was charged with felony bail jumping and misdemeanor bail jumping, Wright told Fox News.
Chacon's jail record — which indicates he's 5-feet-6-inches tall and weighs an imposing 145 pounds — shows there is no bail amount for Wednesday's charges, but there is a $1,950 bond for them.
Since September 2020, he's also been charged with substantial battery/intent to do bodily harm, battery, and disorderly conduct in two other instances.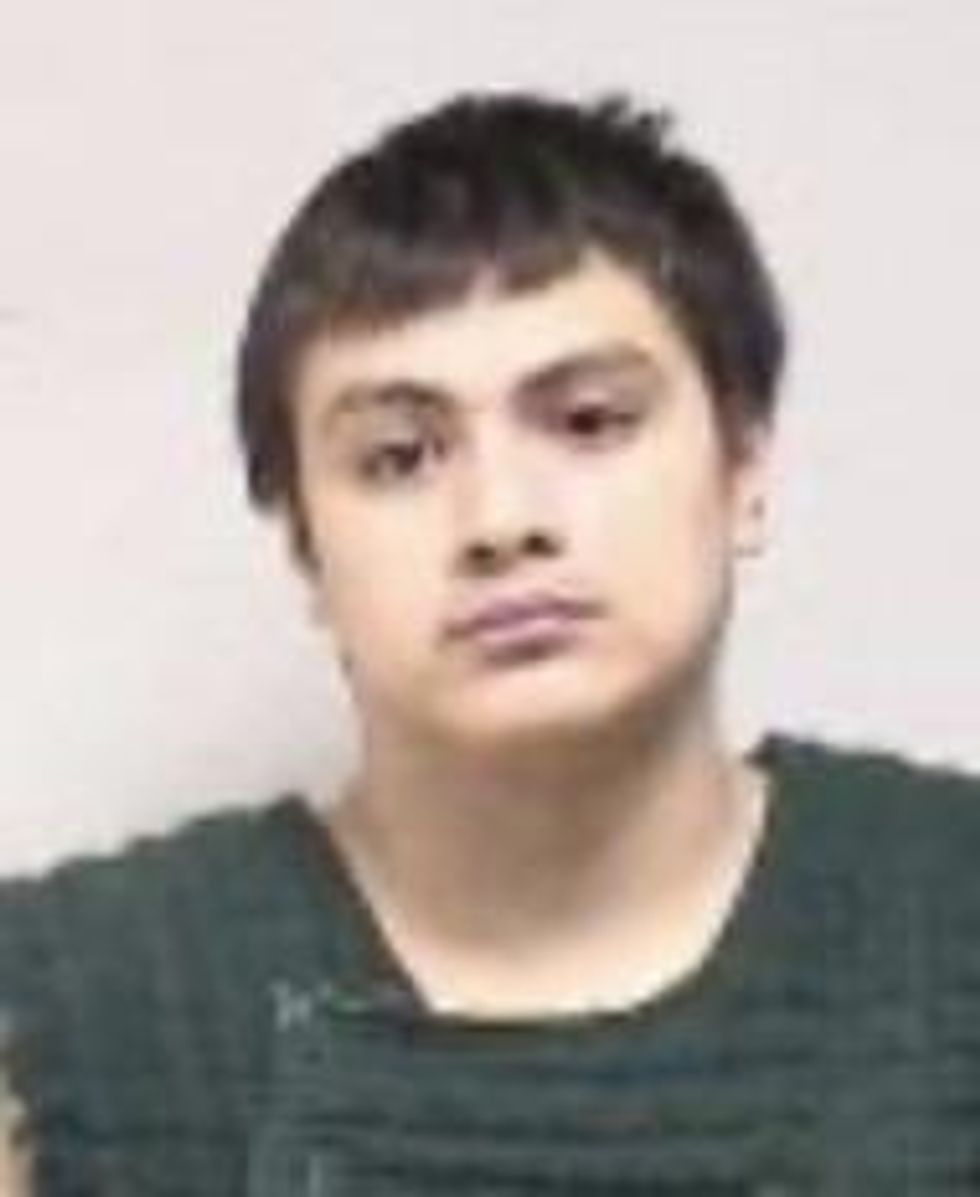 Image source: Kenosha County Sheriff's Department
But wait — there's more
Fox News, citing Wright, reported that 34-year-old Shaquita Cornelious was also arrested Wednesday and is facing charges of resisting arrest, disorderly conduct, and possession of marijuana. The sheriff's department inmate lookup indicated Thursday that Cornelious posted bond — in the amount of zero dollars.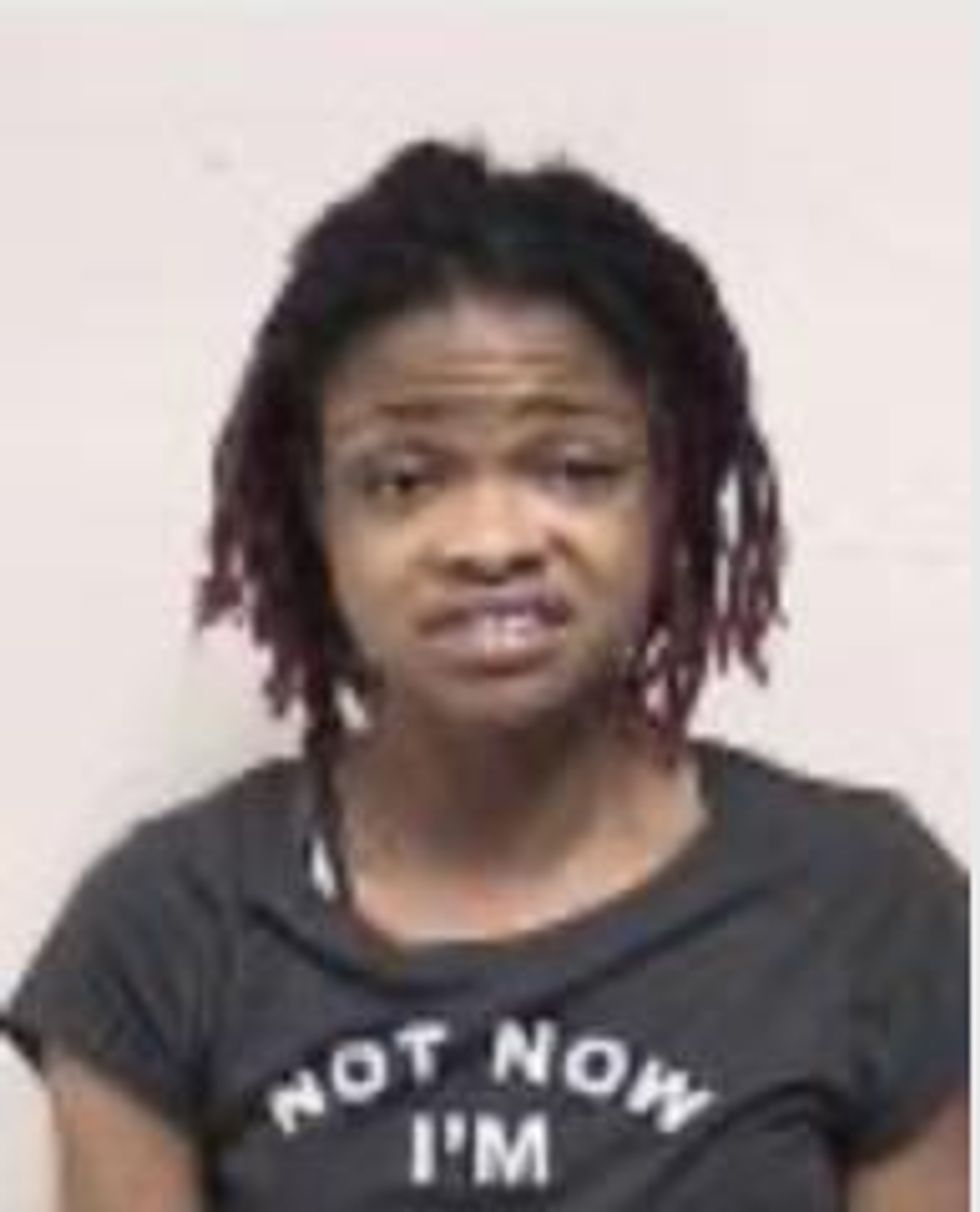 Image source: Kenosha County Sheriff's Department
Anything else?
Fox News added the Kenosha Sheriff's Department released a statement on social media saying "law enforcement needed to deploy several officers to keep crowds of citizens and media from interfering."
Here's more video from Fox News: