© 2023 Blaze Media LLC. All rights reserved.
Thug biker stomps, smashes rear window of car with kids, 2 and 5, in back seat. Mom confronts biker, who points gun at her — but she won't back down.
Video caught the scary moment when a Philadelphia biker stomped and smashed the rear window of a car while children — ages 2 and 5 — were in the back seat.
With that the kids' mother emerged from the car to confront the biker, who responded by pointing a gun at her, head-butting her, and shoving her. Still, the mom refused to cower away — and ended up knocking him down, along with his dirt bike.
What are the details?
Nikki Bullock, the mother in question, spoke to WCAU-TV about the ordeal, which took place around 8:45 p.m. Sunday in Center City.
Bullock told the station she was delivering food with her girlfriend and their two children when the biker — who was riding with large group of bikers — hit her car.
"They're not paying attention to lanes. They're just doing whatever. So I'm turning in the lane, and he just hits the side of the car," Bullock told WCAU, adding that she argued with the biker afterward.

She noted to the station the biker at that point took things to another level, hopping up on her car's back bumper and stomping on the rear window before jumping high and smashing through the window with both feet.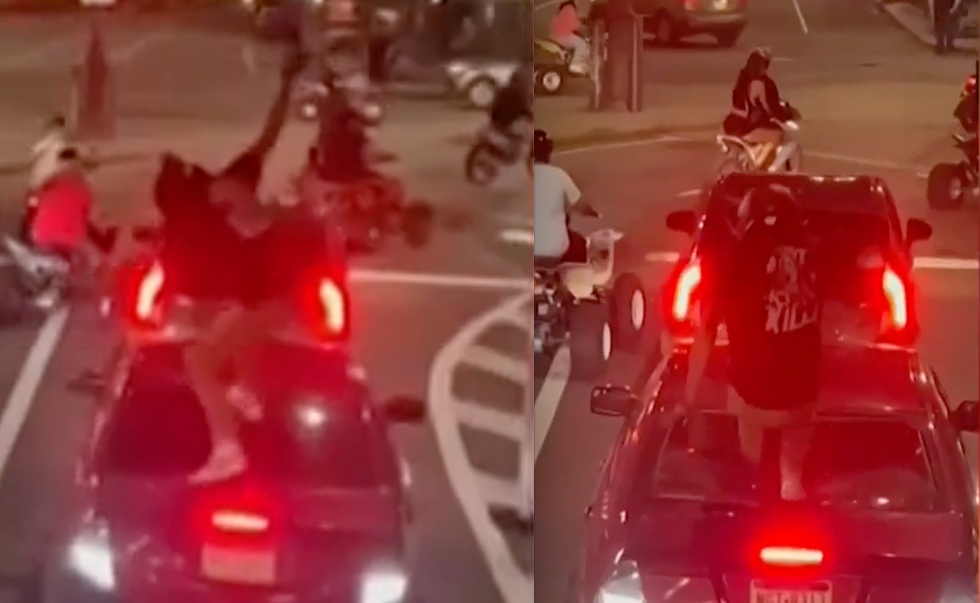 Image source: WCAU-TV video screenshot
Video shows the biker getting down to the street while dropping what appears to be a gun.
Image source: WCAU-TV video screenshot
As the biker picks it up, the mom exits the car to confront the biker — who responds by pointing a gun at her.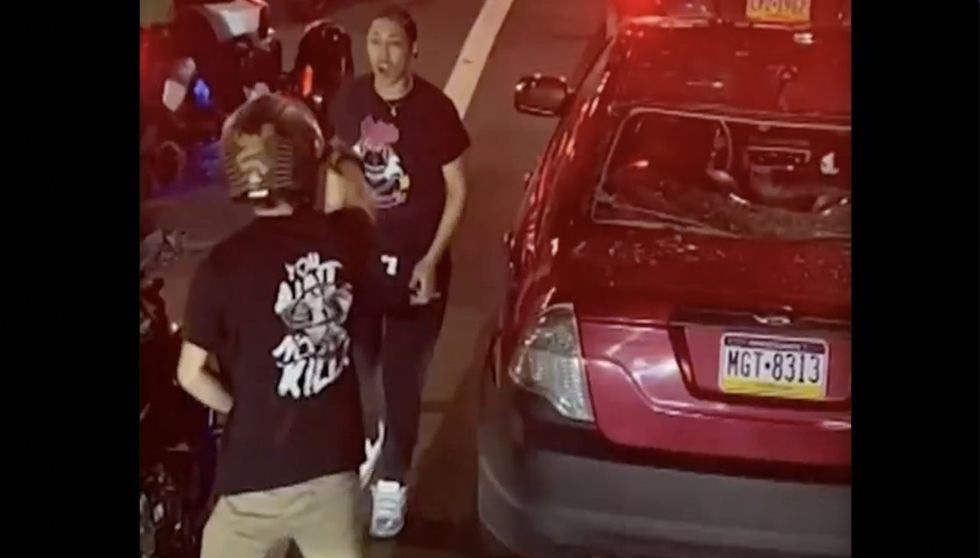 Image source: WCAU-TV video screenshot
"It was just, like, it was a little gun, and at that point, my windshield was already broken — so, what was he really going to do to me, for real?" Bullock asked the station.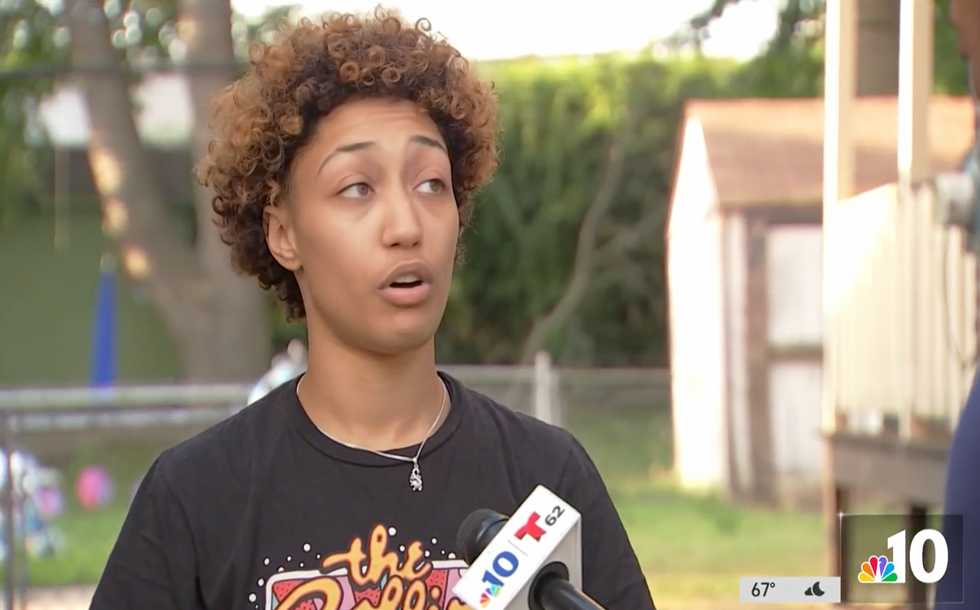 Image source: WCAU-TV video screenshot
She continued trying to get in the biker's face, and the biker — who was wearing a helmet — head-butted her and shoved her.
Well, Bullock still wasn't about to back down, and video shows her shoving back the biker, who falls sideways along with his ride.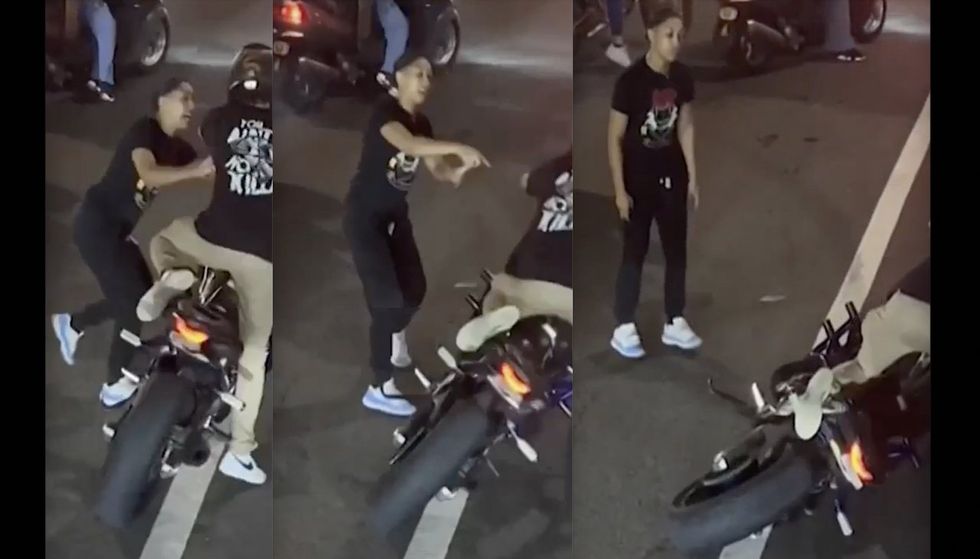 Image source: WCAU-TV video screenshot
Bullock added to WCAU that her kids are all right and "there's not a scratch on them."
Video shows her with at least one child in her arms walking away from the scene.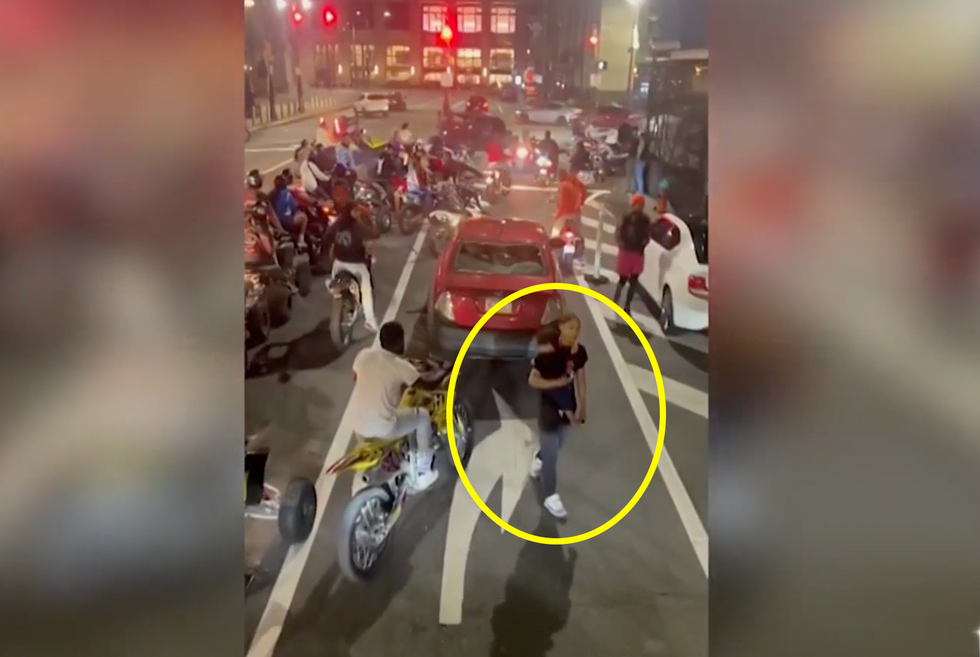 Image source: WCAU-TV video screenshot
'It's just out of control'
George Coloney of Fort Lauderdale, Florida, told the station he was on a double-decker tour bus when the incident unfolded in front of him.
"I just started filming a video of all the bikers when next thing you know this guy hops off and jumps on this lady's car," Coloney told WCAU.

He added to the station that one of the bikers hit the mirror of Bullock's vehicle, which led to the confrontation.
"For him to take it that far, it's just out of control," Coloney noted to WCAU. "To the point where many people could've died in an instant."
Coloney added to the station that no one intervened to stop the biker, and police arrived after the biker took off.
Anything else?
Police released images of the suspect, who they say is wanted for aggravated assault and vandalism, WCAU said.
"If that person is caught, and I get the chance to charge that person, we will be going very, very vigorously," District Attorney Larry Krasner told the station.
Those with information on the suspect's identity can call police at 215-686-TIPS (8477), WCAU said.
Like Blaze News? Bypass the censors, sign up for our newsletters, and get stories like this direct to your inbox. Sign up here!

Want to leave a tip?
We answer to you. Help keep our content free of advertisers and big tech censorship by leaving a tip today.
Sr. Editor, News
Dave Urbanski is a senior editor for Blaze News.
DaveVUrbanski
more stories
Sign up for the Blaze newsletter
By signing up, you agree to our
Privacy Policy
and
Terms of Use
, and agree to receive content that may sometimes include advertisements. You may opt out at any time.