A man broke through a child's bedroom window in the middle of the night at a home in Tulsa, Oklahoma, earlier this week — but the child's father managed to get his whole family out of the home, grabbed a machete, and took a hack at the intruder.
What are the details?
Officers were called to a first-degree burglary in progress at a home near Pine and Memorial around 2 a.m. Tuesday, police said, adding that arriving officers found several family members and children screaming in the home's front yard.
The family pointed officers to the house, where the homeowner and suspect were still inside, police said.
Investigating officers learned the family was sleeping when the suspect, later identified as Ty Copeland, broke through a window in a bedroom occupied by one of the children and forced his way inside, police said.
But the homeowner got his wife and children safely out of the home while Copeland began throwing objects and destroying parts of the residence, police said.
Cops added that at one point the homeowner grabbed a machete and struck Copeland with it, after which the suspect barricaded himself in a back bedroom, police said.
Aided by a police dog, officers took Copeland into custody, police said, adding that he was taken to a hospital with severe cuts and injuries from broken glass and the machete strike.
KOTV-TV said records show Copeland has spent time in prison since 2010 for assault with a dangerous weapon, possession of stolen property, and possession of a gun as a felon.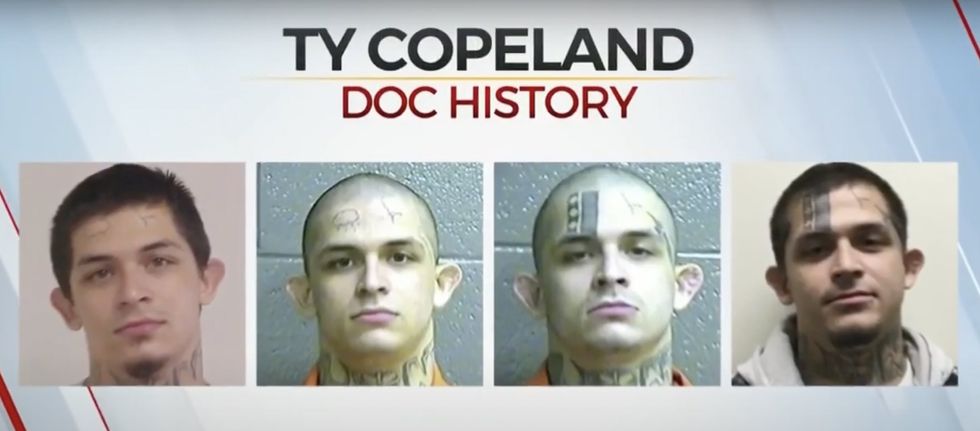 Image source: YouTube screenshot
What's more, Copeland told officers he'd been running from police and picked a random house to break into and hide, police said, adding that he also admitted to smoking methamphetamine earlier in the evening.
Police, however, told KOTV they actually weren't chasing Copeland despite what he told cops. The station added that Copeland was wearing an ankle monitor.
"This is the stuff kids are afraid of at night," Officer Danny Bean told the station. "Someone being in their rooms, under their beds, in their closets, someone coming through their window."
Tulsa Man Accused Of Breaking Into Home Through Child's Bedroom Windowyoutu.be
Anything else?
Police added that due to Copeland's status as a Native American as well as the McGirt ruling, Copeland was booked into jail on an FBI hold.
According to Oklahoma.gov, the U.S. Supreme Court in 2020 "overturned the conviction of child rapist Jimcy McGirt on the grounds that the Creek Nation's reservation was never disestablished for criminal jurisdiction."
Oklahoma.gov added that state courts no longer can prosecute crimes committed by or against Oklahomans who are also tribal members — and "hundreds of criminal cases are now being dismissed because the state does not have the ability to try and convict criminals on historic tribal lands."
Like Blaze News? Bypass the censors, sign up for our newsletters, and get stories like this direct to your inbox. Sign up here!