Sometimes TV news personalities feel the emotional weight of the stories and subjects they cover — and Hoda Kotb, coanchor of NBC's "Today," is no exception.
What happened?
Kotb on Friday morning interviewed New Orleans Saints star quarterback Drew Brees after he pledged $5 million for coronavirus relief to the state of Louisiana, which has been hit hard by the pandemic as businesses have shut down and medical supplies are badly needed.
She told Brees she was "heartbroken" seeing the new struggles citizens are dealing with in New Orleans, a city she covered earlier in her career as an anchor for local station WWL-TV.
"There's such a need," Kotb told Brees. "They need hospital equipment, they need all kinds of stuff. And all of a sudden on my Twitter feed yesterday, I looked and it said '$5 million' and 'Drew Brees,' and I said, 'Oh! He came through again!'"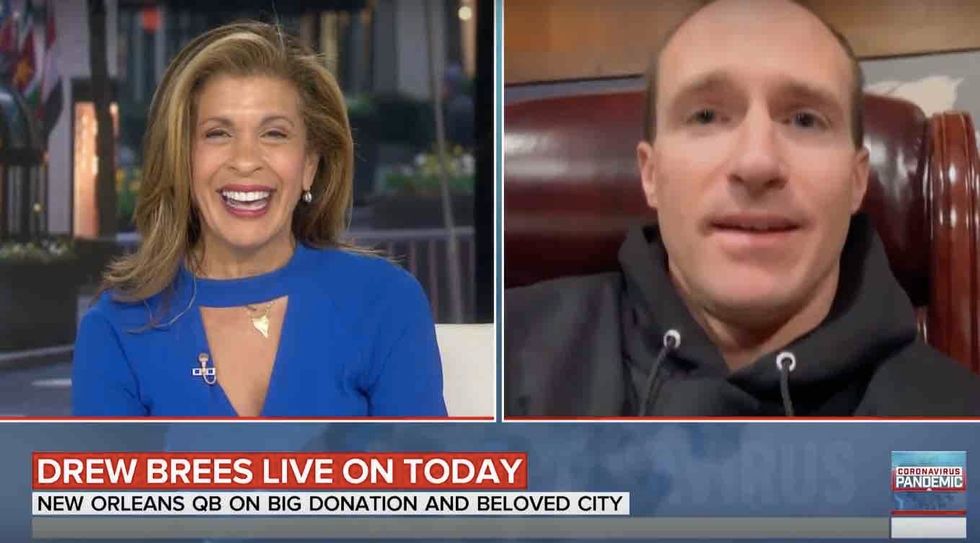 Image source: YouTube screenshot
Brees noted that "there are so many people in need right now" and that the coronavirus is particularly difficult for Louisiana since "we're a hospitality state" that can't afford to have its restaurant industry shut down.

On Instagram Thursday, Brees said he and his wife Brittany "will be mobilizing our partnerships with Second Harvest Food Bank, Ochsner Health Systems, Walk-Ons, Jimmy Johns, Smalls Sliders, and Waitr to prepare and deliver over 10,000 meals per day throughout Louisiana for as long as it takes to children on meal programs, seniors, and families in need. Let's all do our part, maintain hope, and get through this together."
The couple are owners or investors in the restaurant chains and food delivery service Brees noted in his post, ESPN reported, adding that they have been heavily involved in the New Orleans and Gulf South communities through their Brees Dream Foundation since the quarterback joined the Saints in 2006 and began helping in the wake of Hurricane Katrina.
"Hang in there and maintain hope," Brees told those in the state as the interview with Kotb came to a close. "Obviously, we've been through a lot of tough times together — whether it's hurricanes, oil spills, floods. And this is just another one of those bits of adversity that we're going to come out better on the other side. But we've got to stick together right now."
Kotb added to Brees that she believes "a lot of things are contagious, including generosity" and that she hopes because he made a "big, generous donation" that others will say, "Hey, maybe I can help out, too."
'I'm so sorry'
As soon as the interview concluded, Kotb was overcome with emotion and wasn't able to deliver the tease of program's next segment, trying to hold back tears and shuffling papers. "I'm so sorry," she said, her voice breaking.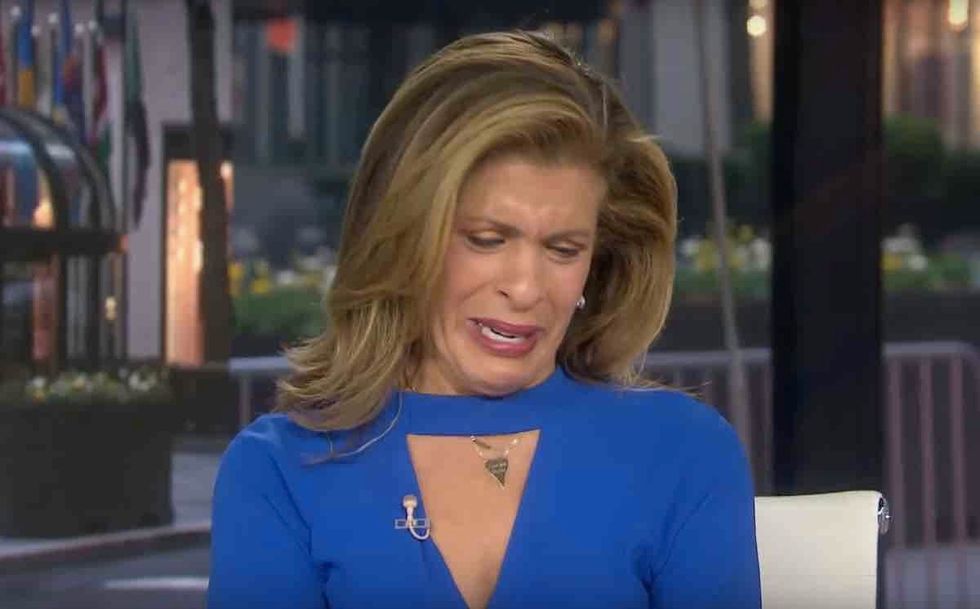 Image source: YouTube screenshot
"Oh, Hoda, I know it's a lot," coanchor Savannah Guthrie told Kotb. "Hoda, I'm so sorry, hon. Take a moment. It's a lot. I know where your heart is, my dear, I do." With that Guthrie offered to tease the next segment, to which Kotb replied, "Yes, please."

In the replies underneath the "Today" video tweet of Kotb's emotional moment, many commenters said they were touched by her humanity.

"We are in the midst of a world crisis and it's stressful and hard," one commenter wrote. "I'm happy to see some honest, caring, and real emotion from the wonderful Hoda."
Kotb and Guthrie later recapped the interview and Kotb's emotional moment:
"You sort of look around for someone to hug just because." Hoda reflects on the emotional moment she had after her… https://t.co/mecgswVNkr

— TODAY with Hoda & Jenna (@TODAY with Hoda & Jenna) 1585318441.0
You can watch her full interview with Brees here.