Former President Donald Trump trolled New York Democrats on Wednesday by issuing "endorsements" of their congressional campaigns.
What did Trump say?
First, Trump issued a resounding "endorsement" of Daniel Goldman, a former federal prosecutor who is campaigning as a Democrat for New York's 10th Congressional District.
Interestingly, Goldman was lead majority counsel during both impeachment proceedings against Trump.
"It is my great honor to Strongly Endorse him," Trump said. "I do this not because of the fact that he headed up the Impeachment Committee and lost, but because he was honorable, fair, and highly intelligent. While it was my honor to beat him, and beat him badly, Dan Goldman has a wonderful future ahead."
Trump added that Goldman will be "very compassionate and compromising to those within the Republican Party."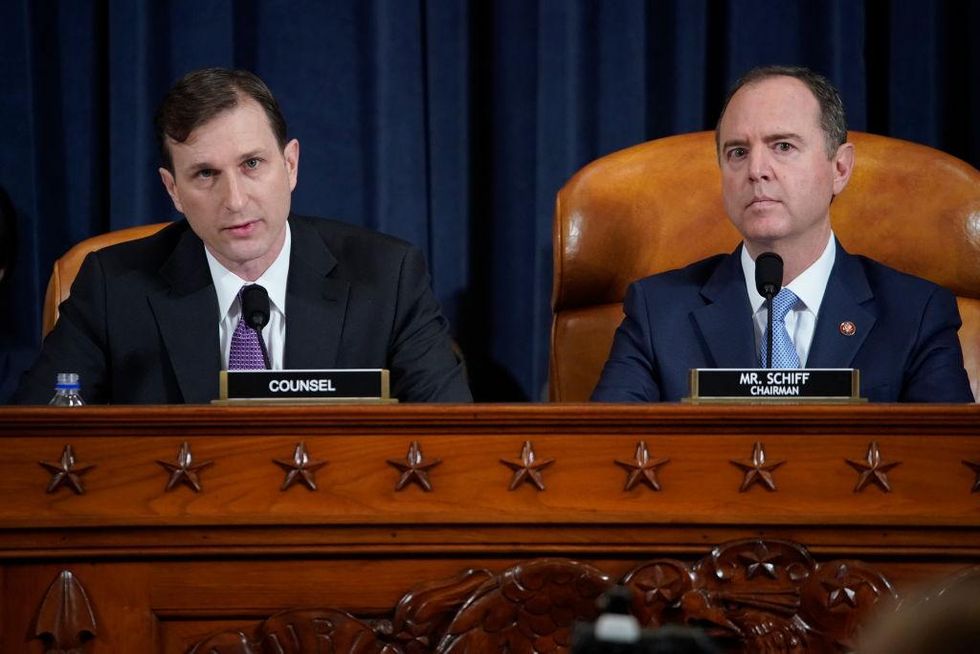 Daniel Goldman sitting next to Rep. Adam Schiff (D-Calif.) at then-President Trump's first impeachment hearing in 2019. (Joshua Roberts - Pool/Getty Images)
Then Trump "endorsed" Rep. Carolyn Maloney (D-N.Y.), who is campaigning against Rep. Jerry Nadler (D) for New York's redrawn 12th Congressional District.
"A vote for Carolyn Maloney in NY-12 is a vote for the future! She is a kind and wonderful person, who has always said terrific things about me, and will support me no matter what I do, just as I supported her very early on," Trump said. "She begged for a check with no quid pro quo, and I gave it to her. In fact, I gave her many."
The former president mocked Nadler for being "high energy, sharp, quick-witted, and bright."
"You can't go wrong with either," Trump added, referring to Maloney and Nadler, "but Carolyn Maloney is the better man."
What was the response?
Goldman quickly responded to Trump's endorsement by rejecting it and insulting the former president.
"Last week Donald Trump attacked Dan Goldman, who led his impeachment. Now he's pretending to endorse Goldman. True to form, Trump is trying to meddle in an election," the Goldman campaign said in a statement.
"This is a pathetic attempt at fooling Democrats who are far smarter than Trump is, and it's clear that only one candidate in NY-10 is living rent-free in Trump's head. Buckle up Donald," the statement added. "Dan's coming for you."
Maloney similarly rejected Trump's endorsement.
"This is laughable and I reject any endorsement from Donald Trump," Maloney tweeted. "Trump doesn't respect women. He instigated the attacks on January 6th and claimed that the 2020 election was a big lie.
"Thanks, but no thanks. I'll pass," Maloney added.
However, multiple Democratic candidates seized on Trump's "endorsements" to tie their opponents to Trump.
"Donald Trump just endorsed my multi-millionaire opponent, in case you needed a reminder of what the stakes are. #NY10, choose your fighter," tweeted Yuh-Line Niou, who is running against Goldman for the Democratic nomination in New York's 10th district.
"Donald Trump is scared of a younger, more dynamic Democratic Party. He knows how much more effective a new generation of diverse, energetic Democrats will be in stopping his movement," reacted Suraj Patel, who is running against Maloney and Nadler in the 12th district.
Meanwhile, Rep. Mondaire Jones (D-N.Y.) repeatedly used Trump's statements against Goldman at a debate on Wednesday, the New York Times reported.
"Mr. Goldman is fulfilling Donald Trump's vision of him being a moderate person who is attempting to defeat progressives in this race," Jones reportedly said.
Jones later described Goldman as "the first candidate on this stage to be endorsed by Donald J. Trump."