© 2023 Blaze Media LLC. All rights reserved.
Musk announces temporary limits on number of tweets users can read
As thousands of Twitter users reported issues accessing the platform Saturday morning, Elon Musk announced temporary limitations on the number of tweets users would be able to read.
"To address extreme levels of data scraping and system manipulation, we've applied the follow temporary limits," Musk tweeted Saturday.
The limits, which rose steadily throughout the day, are based on users' subscription status and time on the platform.
The limit announcement began with verified accounts being capped at reading 6,000 posts daily. Unverified accounts were limited to 1/10th that amount at 600 per day. New verified accounts were first capped at 300 per day.
In a tweet later in the day, Musk announced that the rate limits would be increasing to 8,000 for verified, 800 for unverified, and 400 for unverified accounts that are new.
Musk announced yet another reading limit bump to to 10,000, 1,000, and 500 around 6 p.m. ET Saturday evening.
Using the platform's own trending panel as a gauge, users were less than enthused about the new limits. At various points throughout the day, phrases and hashtags including "d*** Twitter," "wtf Twitter," "Twitter down," "#GoodbyeTwitter," and "rate limit exceeded" were trending.
By around 6 p.m. ET, #RIPTwitter was trending, boasting more than 27,000 tweets.
The website DownDetector, which tracks issues and outages in real time, showed a marked spike in user-reported problems early Saturday morning.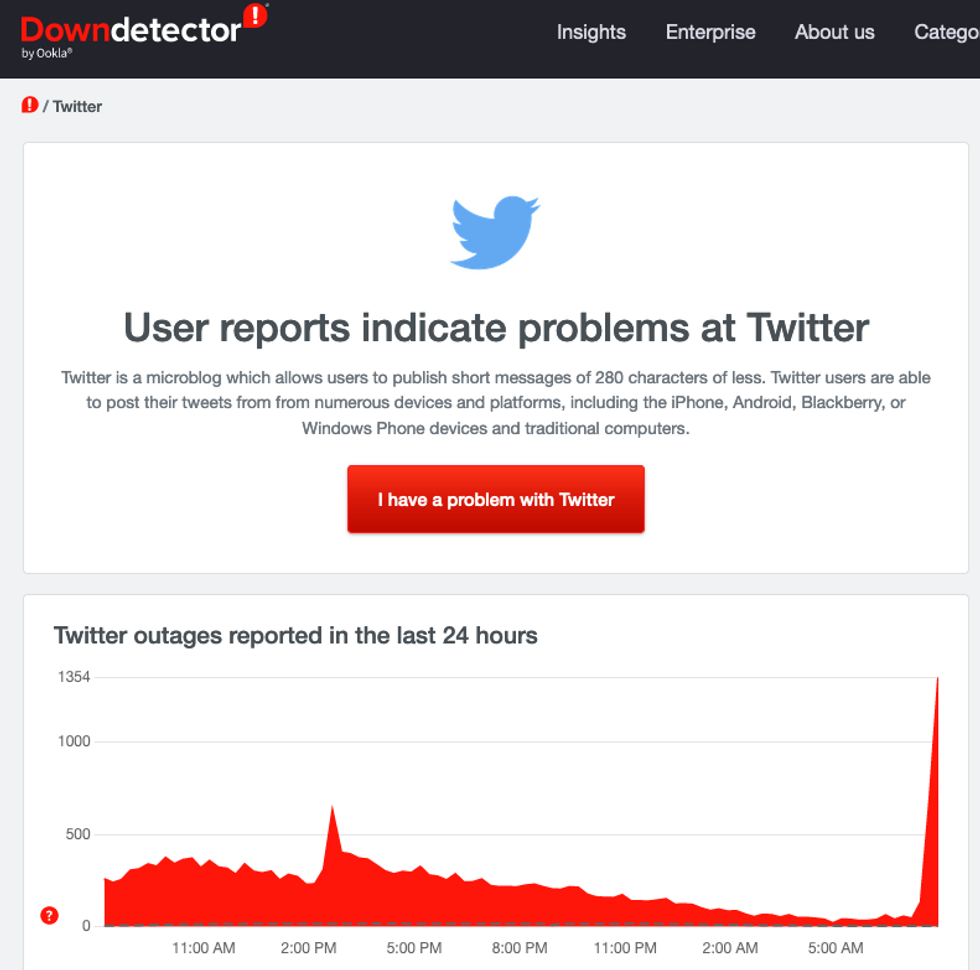 Some users attempting to read tweets and interact on the platform were repeatedly met with an error message.
"Sorry, you are rate limited. Please wait a few moments then try again."
Today's service disruption and announcement of new limitations on reading tweets comes just after an issue the day before that involving the ability to view tweets without being logged into the site, CNN reported. It is not clear if yesterday's issues were a glitch or a policy change.
Friday, Musk described the inability to browse Twitter's web version without being logged in a "temporary emergency measure."
"We were getting data pillaged so much that it was degrading the system for normal users!" Musk also said.
Like Blaze News? Bypass the censors, sign up for our newsletters, and get stories like this direct to your inbox. Sign up here!
Want to leave a tip?
We answer to you. Help keep our content free of advertisers and big tech censorship by leaving a tip today.
more stories
Sign up for the Blaze newsletter
By signing up, you agree to our
Privacy Policy
and
Terms of Use
, and agree to receive content that may sometimes include advertisements. You may opt out at any time.