A psychologist at the University of Montreal presented findings relating to research on pedophiles, their recidivism, and treatment effectiveness.
The lecture, titled "Pedophilia: Recent and emerging research," was given in March 2022 by Ian McPhail, who is described on the university website as "a registered psychologist who is currently a postdoctoral fellow."
McPhail used three "taxa," essentially meaning categories, to identify the levels of sexual attraction to children among the population:
"Non-pedophiles: People who have no sexual interest in children";
"Non-preferential pedophiles: People who have roughly equal sexual interest in children and adults";
"Preferential pedophiles: People who have much more interest in children vs. adults."
Describing the spectrum of interest, McPhail said to attendees that "everybody in the room has some amount of sexual interest in children," admitting that it was a controversial statement.
Speaking on recidivism rates for sex crimes, McPhail describes the rates as nearly double for "preferential pedophilic" offenders compared to those of "non-pedophilic" offenders.
However, when comparing the recidivism rates for "non-pedophiles" versus "non-preferential pedophiles," McPhail says the results "across the board [are] basically a null finding," due to his conclusion that the data is similar between the two categories.
"About 75% of the men, the sex offenders in the samples, got treatment that wasn't helpful," McPhail says, referring to the efficacy rates of rehabilitation treatments for sex offenders.
Based on his findings, McPhail says that only those who are solely attracted to children should be subject to intervention: "Specialized intervention for sexual attraction to children should be reserved for highly-pedophilic sexual offenders," the psychologist suggested. "We don't need to do be doing specialized intervention for the majority of sexual offenders that come into the prison system."
McPhail listed the organizations that funded his research at the beginning of his presentation, which include: the Social Sciences and Humanities Research Council the Centre for Forensic Behavioral Science and Justice Studies at the University of Saskatchewan, German Academic Exchange Service, and the Centre for Addiction and Mental Health Webster Research Development Grant.

The abstract for the lecture described the event as a talk that "examines the latent structure of pedophilic interests, whether therapeutic interventions are effective in treating pedophilic interests, and the role of stigma-related stress in the lives of pedophilic individuals."
Like Blaze News? Bypass the censors, sign up for our newsletters, and get stories like this direct to your inbox. Sign up here!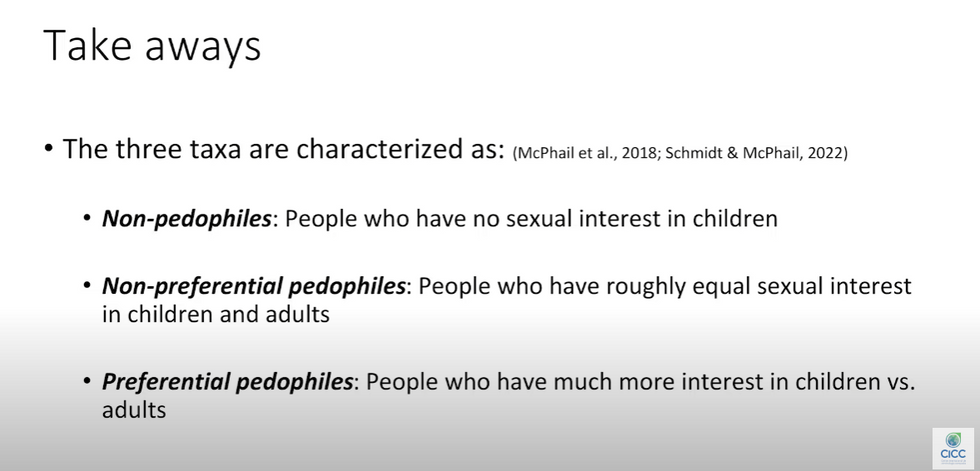 Centre international de criminologie comparée CICC / YouTube (screenshot)