Greta Thunberg may be just a teenager, but she already has her own statue.
The University of Winchester, located in south England, erected a life-size bronze statue in Thunberg's honor on Tuesday, sparking backlash among students who believe university funds should have been more wisely spent.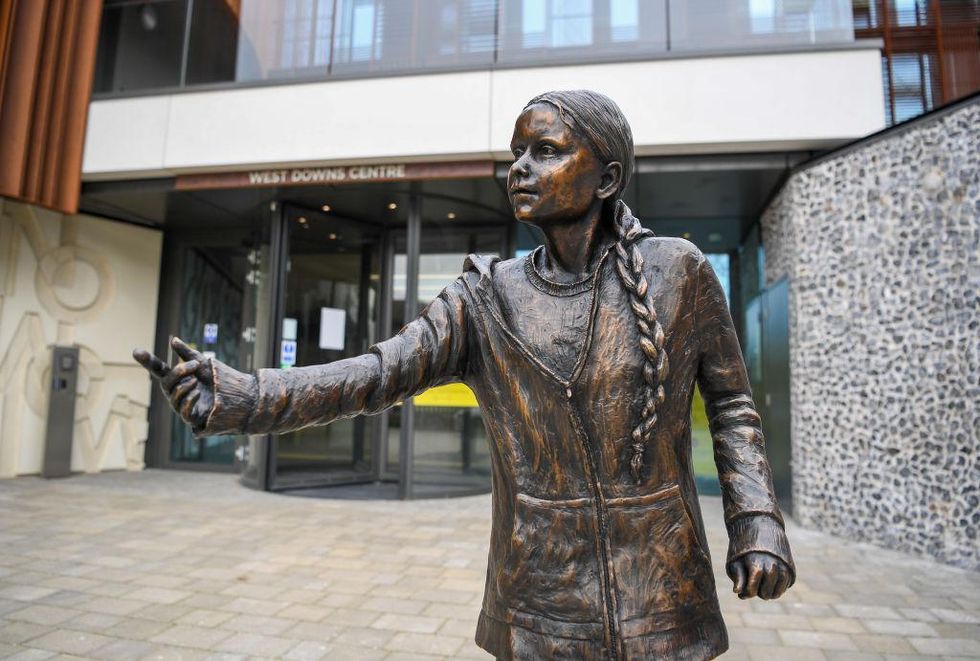 The Greta Thunberg statue at University of Winchester. (Finnbarr Webster/Getty Images)
In a press release, school officials said the statue represents the school's "ongoing commitment to sustainability and social justice" and its "commitment to combat the climate and ecological emergency."

The school's vice chancellor, Joy Carter, said:
Greta is a young woman who, in spite of difficulties in her life, has become a world leading environmental activist. As the University for sustainability and social justice we are proud to honour this inspirational woman in this way.

We know that many find her a controversial figure. As a University we welcome reasoned debate and critical conversations. We hope her statue will help to inspire our community, reminding us that no matter what life throws at us we can still change the world for the better. That is a message we want all our students and all young people to hear.
According to the BBC, the statue cost nearly £24,000, which is the equivalent of $33,000.
What did students say?
Megan Ball, president of the Winchester Student Union, said that Winchester students could not support the statue and called on university officials to replace the money they spent on it.
"We're in a COVID year, lots of students haven't really had access to campus, lots of them are trying to study online and are in dire need of support," she said, the BBC reported.
"We are calling on the university to match the statue cost by committing £23,760 in additional funding to student support services across campus," Ball added. "We urge them to publicly face the critical issues which students are highlighting and provide a transparent breakdown of additional and existing financial support."
Ultimately, the student union called the statue a "vanity project."
We have just passed the following motion regarding @_UoW's decision to spend £24k on a statue of Greta Thunberg aft… https://t.co/MGmowi4Bpk

— Winchester UCU (@Winchester UCU) 1616608836.0
Did the school divert funds allocated for students?
Carter said that no funds meant for students were allocated to finance the statue.
"We are aware of some concerns raised about the financing of the statue. The statue was commissioned in 2019 as part of the West Downs project from funds which could only be spent on that building. No money was diverted from student support or from staffing to finance the West Downs project," Carter explained.
In fact, the university administrator said that students have received an abundance of COVID-related financial assistance.
"The university has spent £5.2m this year on student support, processed £382k in government hardship funds for students in addition to our own hardship funding, established a new IT access fund of £100k, grown the teams that support student wellbeing and spent £1.5m additional funding to support teaching, learning and health and safety during the pandemic," Carter said.