Just a few days after a woman outside of the University of North Carolina at Chapel Hill went berserk and attacked a young male pro-life intern, yet another pro-abortion foot soldier at the campus went on a mission — and paid for her actions with a tearful arrest caught on camera.
Video from the pro-life group Create Equal posted Tuesday showed a UNC student stealing a sign from a pro-life activist.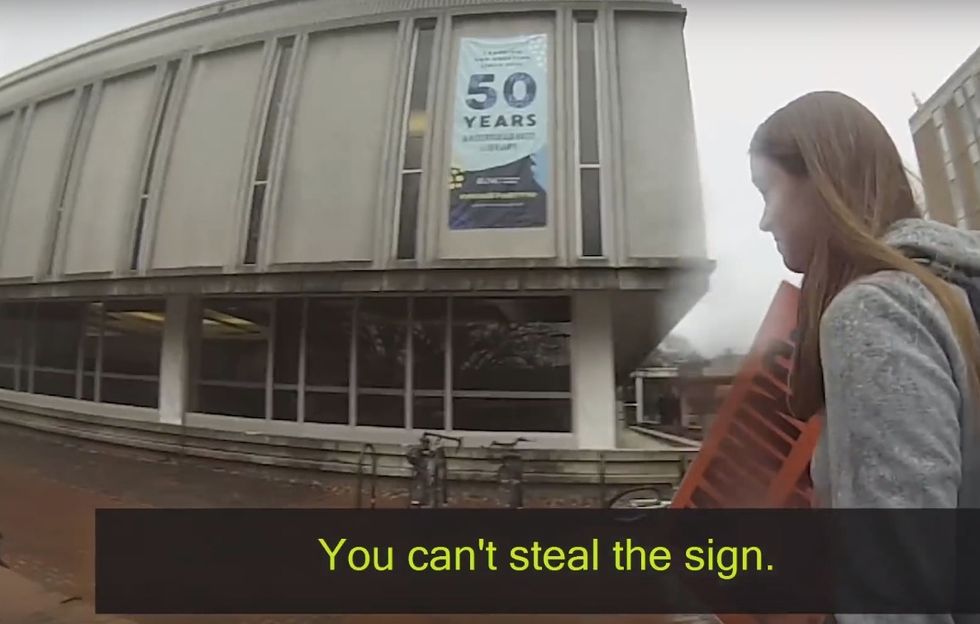 Image source: YouTube screenshot
But the activist followed the woman, recording it all on video, and called out to a nearby police officer.
Within seconds the cop was standing in front of the sheepish-looking student who had a little bit of trouble convincing the officer that her motives were pure.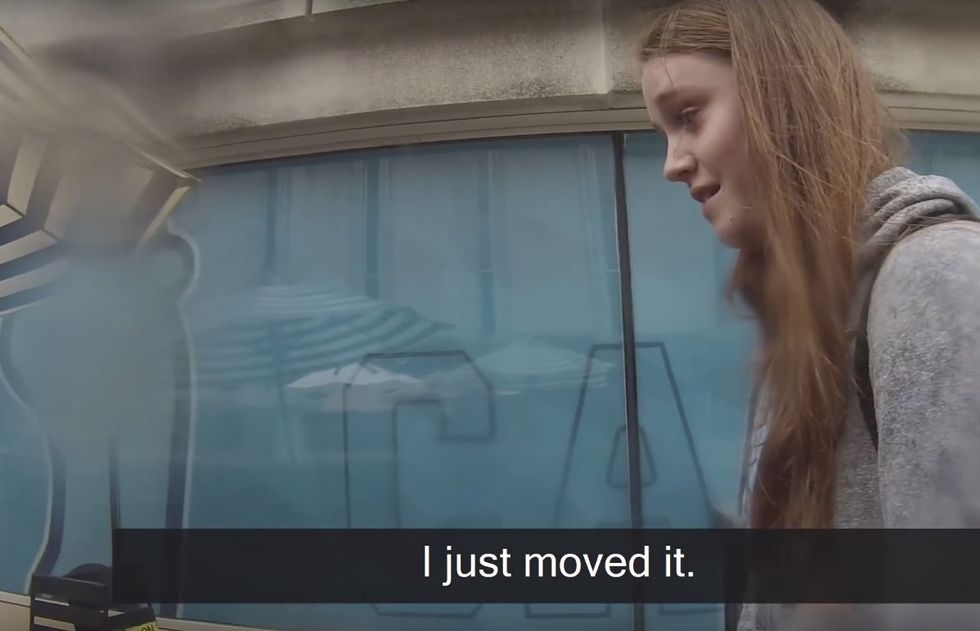 Image source: YouTube screenshot
"Why'd you rip it out of his hands?" the officer inquired.
"Because," she replied, tapping the sign, "this restricts women's rights."
After being forced to give back the activist's sign, the student tried to leave the scene, saying "I can't believe y'all protect them."

But the officer cut in front of her and prevented her from leaving: "Nope. You're not going anywhere. Right now you're being detained, okay?"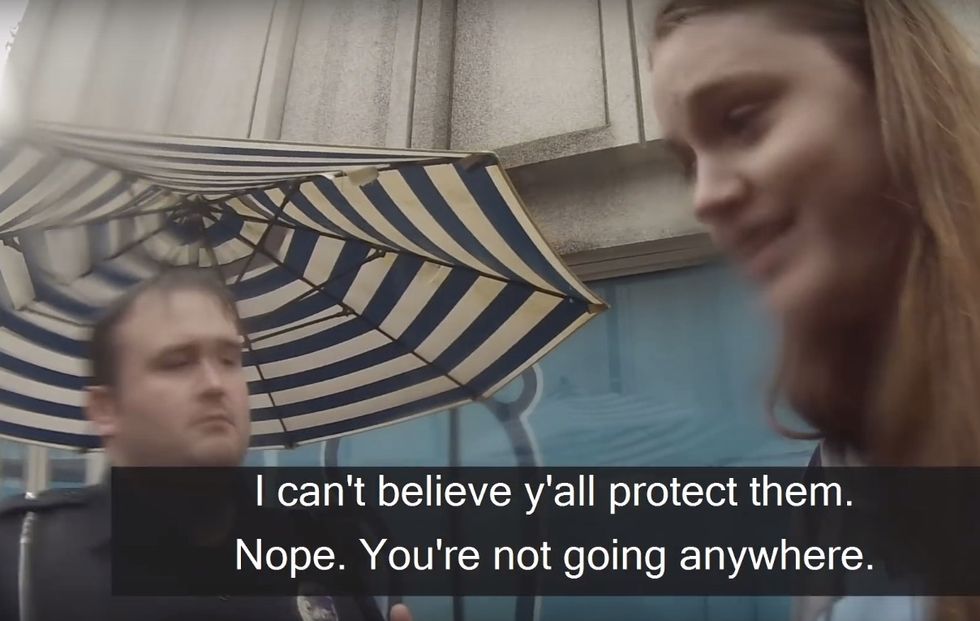 Image source: YouTube screenshot
"Detained for what?" she answered, incredulous.
"Uh… larceny," the officer told her. "You stole his sign."
"He has it back!" she protested, later adding "I moved it 50 yards!"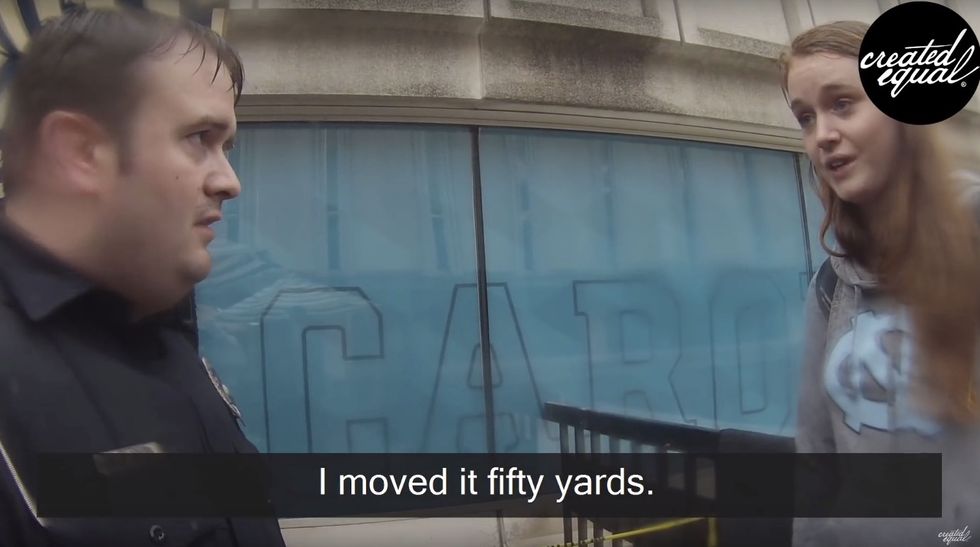 Image source: YouTube screenshot
"I don't care if you moved it one foot," he answered. "You don't have a right to take someone's property, okay? Period."

Sudden attitude change

"Look, sir, I'm not trying to get arrested," the student pleaded with the officer.
He asked her if she has ID, and she says no.
"Am I being arrested right now?" she asked, adding that "I won't mess with the sign again."
The officer asked for ID again, and this time she coughed it up.
"I cannot believe these are the people you protect ... do you see us being subjected to this s**t?" she asked the officer.
He gently explained that she doesn't have to watch pro-life demonstrations.
"They're here because they want us to watch them," she explained, her voice beginning to crack.
The cop said she could ignore them and take away their power.
"It doesn't matter how much you ignore 'em; they're gonna come back," she replied. "This is why women have such a problem getting abortions in North Carolina, and y'all just let them get away with this s**t."
Lowering the boom

"Put your arms and hands behind your back," the officer finally told her. "You're under arrest for larceny."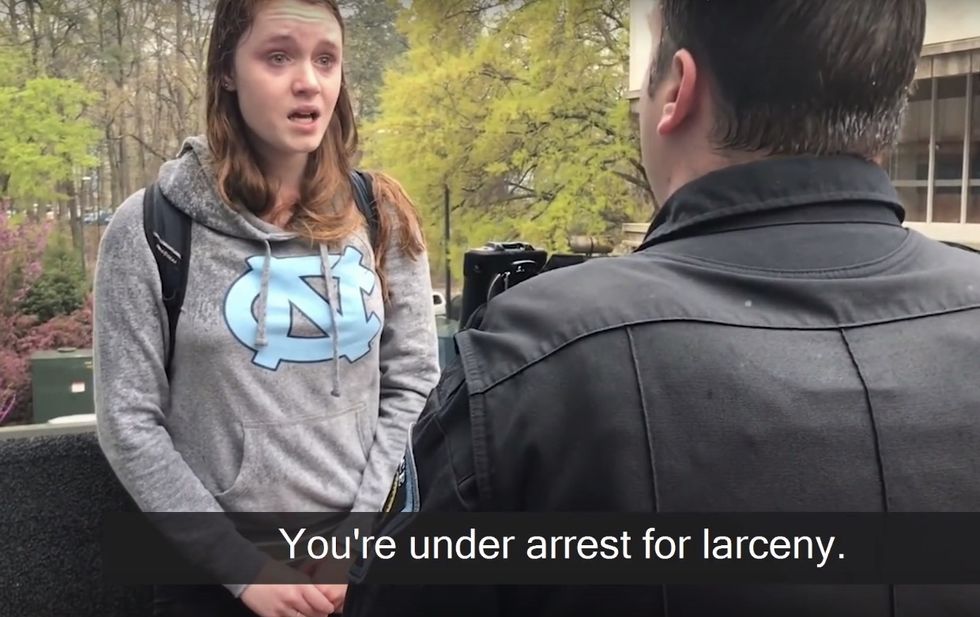 Image source: YouTube screenshot
"What?!" she answered, her mouth agape.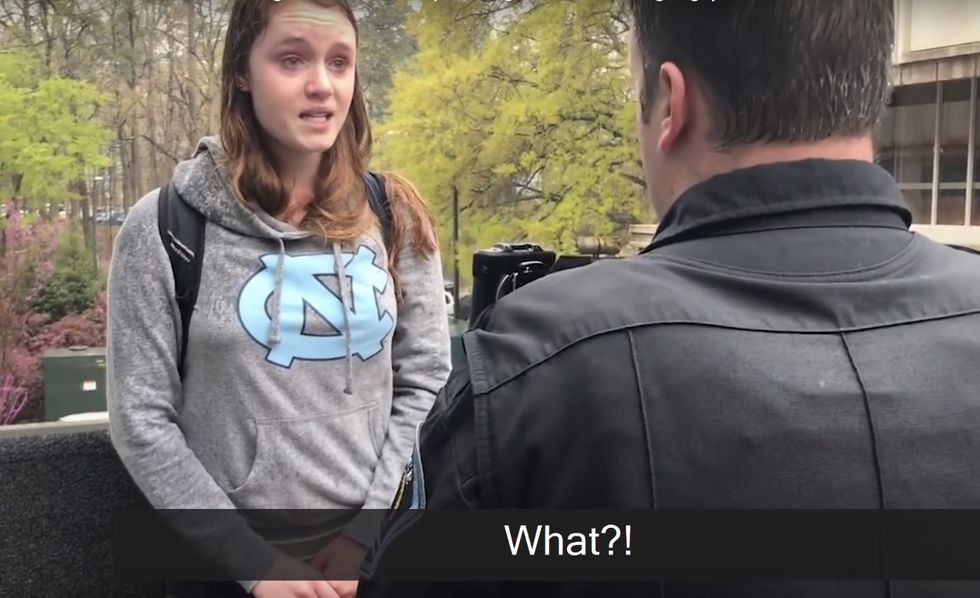 Image source: YouTube screenshot
She then insisted she was "going to give [the sign] back to him" and then begged, "Is there something else that I can do?"
Nope. The officer told her he can't "un-arrest" her — and then came the cuffs and the slow walk of shame.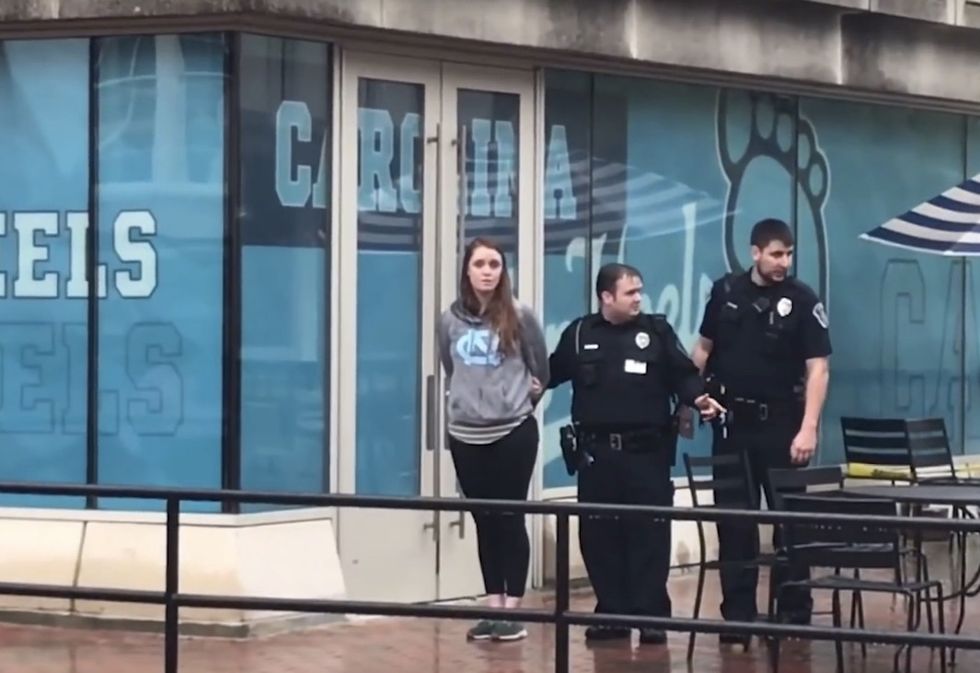 Image source: YouTube screenshot
She added beforehand, "I cannot believe this is happening."

Believe it, kid.

UNC Student Arrested, Charged After Attack (Warning: Offensive Language)youtu.be