"I felt like I just wasn't being able to get a full breath," track and field runner Maggie Williams recalled to KTVZ-TV. "Multiple times of that happening, not being able to get enough air — I just felt super-dizzy, and then eventually passed out."
With that, Williams — competing in an 800-meter run last week for Summit High School in Bend, Oregon — collapsed at the finish line.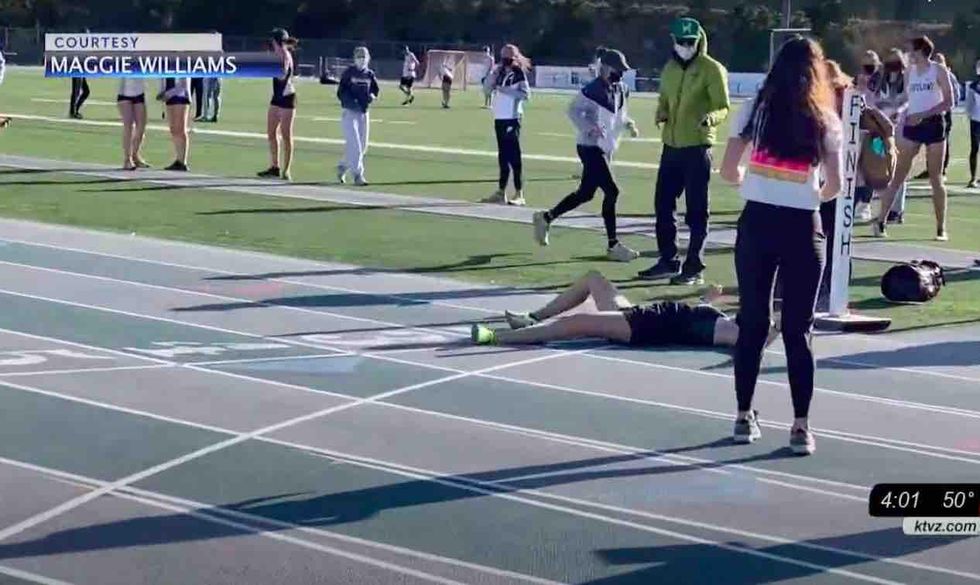 Image source: YouTube screenshot
Williams, a junior, told the station her lack of oxygen was a result of the mask she was required to wear during competition according to Oregon Health Authority guidelines for outdoor sports due to COVID-19.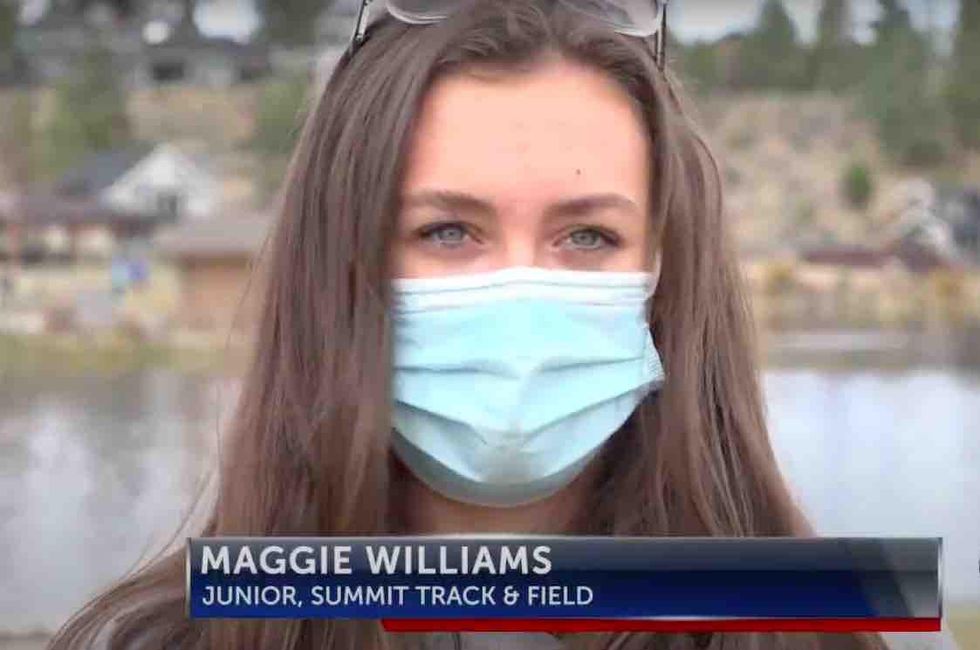 Image source: YouTube screenshot
"In the past, this has never happened," Williams added to KTVZ. "Then this race that I was wearing a mask, it did happen, which I don't think is a coincidence."
Her coach Dave Turnbull said Williams, with her mask on, suffered "complete oxygen debt," the Oregonian reported, adding that she was unresponsive after her fall.
"I've been doing this for 31 years, I've never seen anybody basically lose consciousness," Turnbull told the paper. "I've never seen that in the way it happened with Maggie."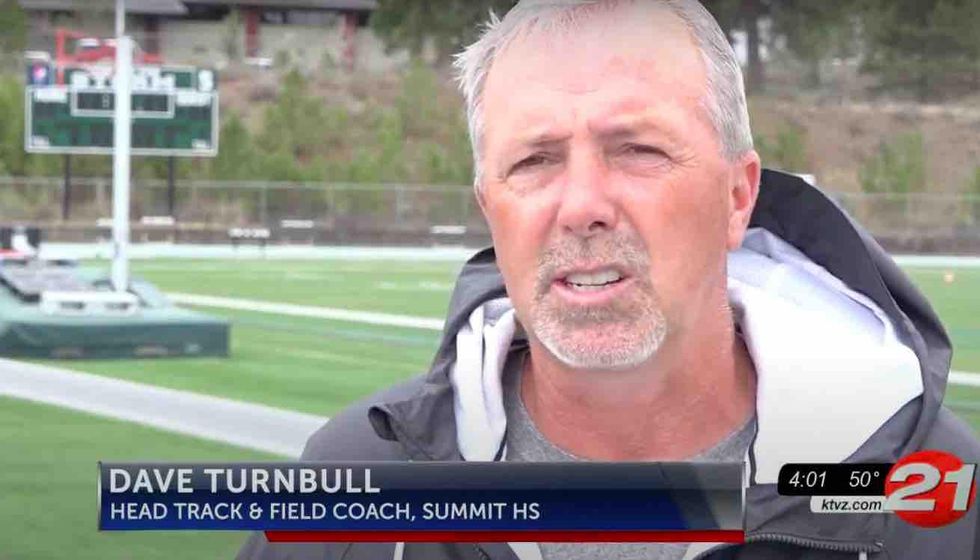 Image source: YouTube screenshot
He added to the Oregonian that Williams "wasn't sure where she was."

In the end, Williams' momentum carried her across the finish line in 2:08:45 — a new school record by two seconds, KTVZ said.
"I found out a couple minutes after my race, when I had recovered from my fall," she recalled to the station. "So super exciting for me."
State revises mask mandate for outdoor athletics after Summit HS runner collapses at finish ...youtu.be
Bigger issue at hand
But more important was Williams' passing out and what could have happened to her — and KTVZ reported that she and Turnbull appealed to the OHA.
"She just ran a 2:11 in Arizona without a mask on," Turnbull told the station in regard to Williams. "Three seconds faster from my experience isn't going to cause a kid to hit the track. When you're in a mask, it certainly does."

After the meet, he added to the Bend Bulletin: "I am concerned with the mask rule. This is what I am worried about, and I said this at the beginning of the season. You get a kid running the 800 with a mask on, it is actually dangerous. They don't get the oxygen that they need. This rule needs to change."
Turnbull added to the Bulletin that "unfortunately in Oregon we have to follow the OHA, and the OHA is not reasonable. I would like those people to come out and run an 800 with a mask on."
New rules
The OHA said Monday it will no longer require high school athletes to wear masks during non-contact outdoor sports, the Bulletin reported in a second story.
But the state hasn't dropped its mask mandate for athletes who compete less than six feet apart from each other, the paper said.
And athletes still must wear face masks while training for competitions and directly before and after competitions, the Bulletin noted, citing OHA spokesperson Jonathan Modie.
Anything else?
Earlier this month, a New Hampshire track coach said he was fired after refusing to make his athletes wear face masks during competitions as recommended by the state athletic association.
Bradley Keyes called the mask requirement "senseless, irrational, cowardice bulls**t" in a letter to Pembroke Academy's athletic director.
The Mayo Clinic indicated that the highest-risk activities for spreading COVID-19 involve unmasked people in close contact for long periods of time, the Bulletin noted.