© 2023 Blaze Media LLC. All rights reserved.
Video: Masked thug points gun at female clerk in smoke shop, demands cash and vapes. But she's not about to let him waltz away without a fight.
Surveillance video caught the scary moments when a masked individual pointed a gun at a female clerk in an Ohio smoke shop Tuesday afternoon and demanded cash and vapes.
But he likely never fathomed that Dejea Steiner — who was behind the counter at the Magic Wizard Smoke Shop in Euclid, WJW-TV reported — was in no mood to play.
What happened next?
Indeed, when Steiner grabbed a display case to retrieve items as the crook demanded, the 27-year-old instead rammed the case into the robber's face.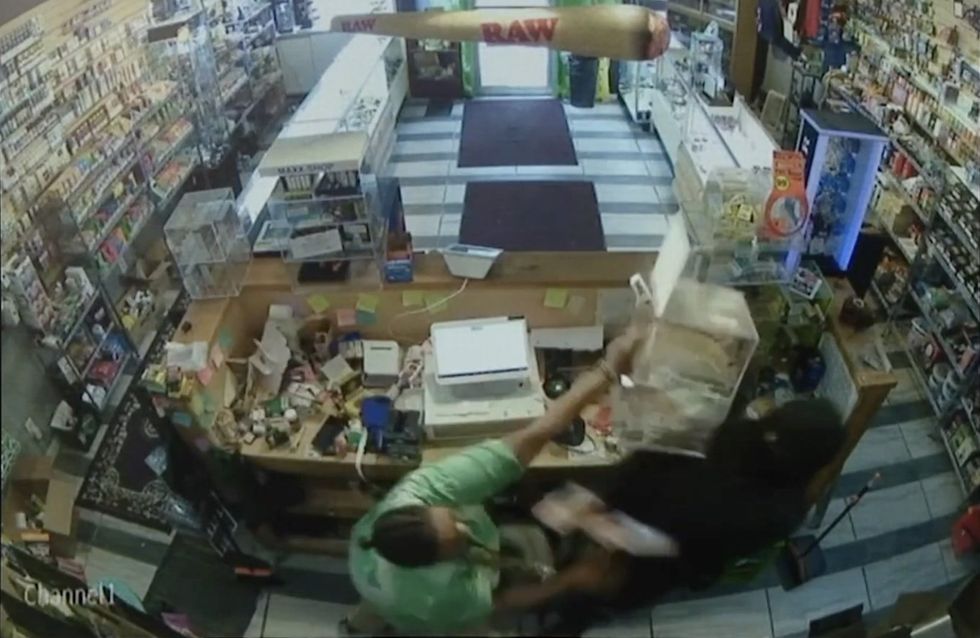 Image source: WJW-TV video screenshot
"I wanted to get out of that situation, so I did whatever I could," Steiner told the station.
WJW said Steiner and the robber ended up on the floor fighting, after which Steiner grabbed a sword she remembered was near the cash register and started swinging it.

The station said the suspect fired his gun and yelled several times for Steiner to "get back!"
"After the gunshot, I just ran out the door," Steiner told WJW, adding that she hollered for help.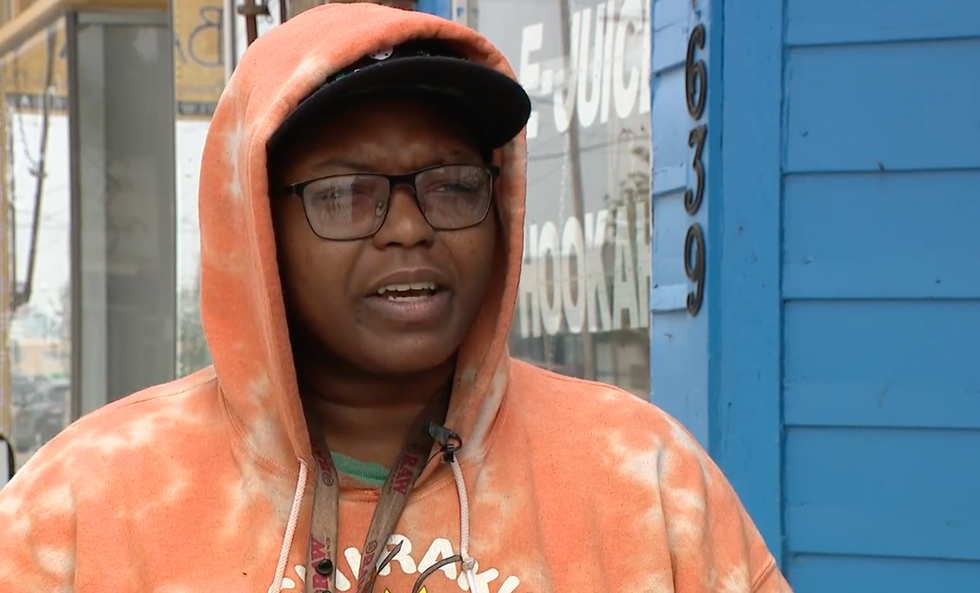 Image source: WJW-TV video screenshot
The suspect grabbed several items as well as cash and took off, the station said.
'Very lucky'
Euclid Police Chief Scott Meyer told WJW the suspect is very dangerous — and that Steiner is fortunate to have gotten away from him: "The clerk is just very lucky she wasn't injured or killed during the incident. I am so glad she is OK."
Euclid Police Capt. Mitch Houser noted to the station that while no arrests have been made, police are still searching for the suspect.

"There was quite a bit of a struggle," Houser told WJW. "You can see she grabs that vape case and smashes it over his head, and then as as they fall to the ground she grabs a sword and takes a couple swings at him and hits him — but the sheath was still on, so it didn't do any damage."
'I come to work every day'
Bottom line? Steiner told WJW she's all done with violent criminals, saying they've "kind of made people fed up, you know? I come to work every day. The people that own the store, they are struggling, too — and then to see people go out here and do this type of thing and harming people, you know, it's not OK."
Steiner added to the station that she hopes to become a graphic designer — and she also holds out some hope for the crook who pointed a gun at her and took what wasn't his.
"I understand life is hard," she explained to WJW. "It's hard for me. I've been through so much stuff. I'm even considered homeless right now, and I still get up and work. You need to work. We need to all try and help the economy. If you get a second chance at life, please do the right thing."

Like Blaze News? Bypass the censors, sign up for our newsletters, and get stories like this direct to your inbox. Sign up here!
Want to leave a tip?
We answer to you. Help keep our content free of advertisers and big tech censorship by leaving a tip today.
Sr. Editor, News
Dave Urbanski is a senior editor for Blaze News.
DaveVUrbanski
more stories
Sign up for the Blaze newsletter
By signing up, you agree to our
Privacy Policy
and
Terms of Use
, and agree to receive content that may sometimes include advertisements. You may opt out at any time.