A man was caught on cellphone video punching a Connecticut school board member in the face and knocking him to the ground during a Glastonbury Board of Education meeting Tuesday night, WTIC-TV reported.
What are the details?
The board was holding a special hearing regarding a petition that asked members to reverse their decision to replace the high school's Tomahawks mascot, the station said.
In the summer of 2020, the board voted to ditch the Tomahawks mascot due to appropriation of Native American culture, the Hartford Courant reported, adding that the high school has since chosen a new mascot — the Guardians — that features a student-designed logo.
WTIC said that during Tuesday night's public comment time, resident Mark Finocchiaro got into a heated argument with board members, one of whom told Finocchiaro "your time is up" and then "you're not paying attention" when Finocchiaro kept talking.
The station said an angry Finocchiaro issued an expletive, which concluded public comment.
During a recess when the board was to vote on the petition's request, Ray McFall came down from the stage to confront Finocchiaro, WTIC reported, citing witnesses.
With that, cellphone videos were rolling as the men stood face to face and their tempers boiled over.
'Yeah, I'm in your face'
One clip shows a resident saying to McFall, "That's unprofessional; why are you swearing at a citizen?" Finocchiaro then asks McFall, "You're in my face?" WTIC said.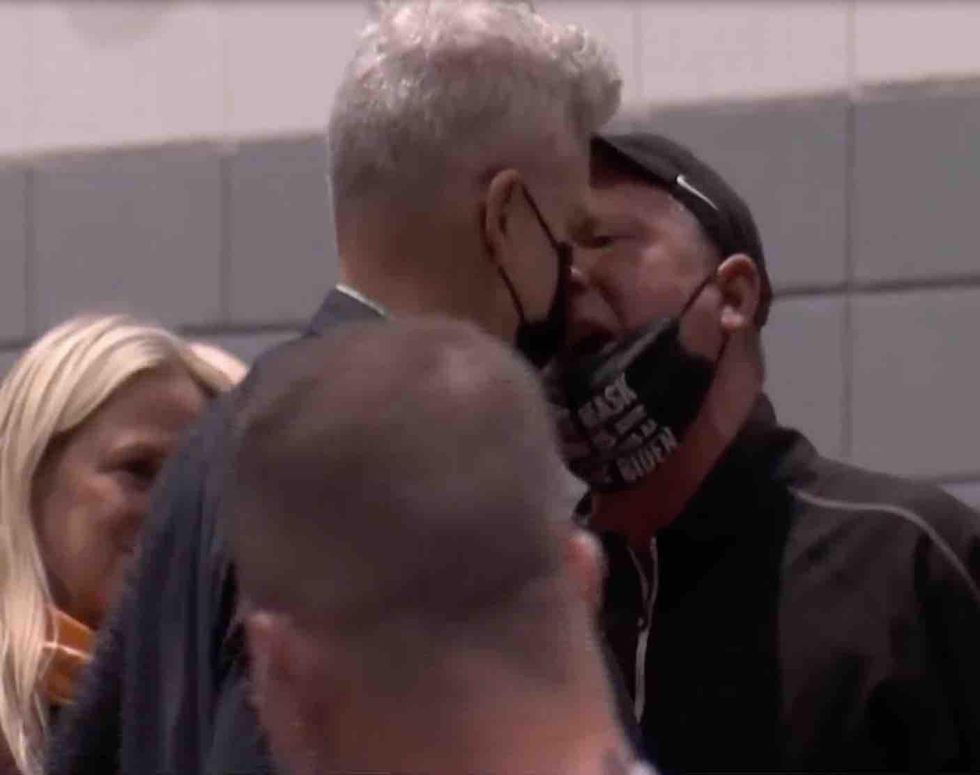 Image source: WVIT-TV video screenshot
"Yeah, I'm in your face," McFall replies, according to the station.
Finocchiaro then moves even closer to McFall's face and appears to make physical contact with the board member.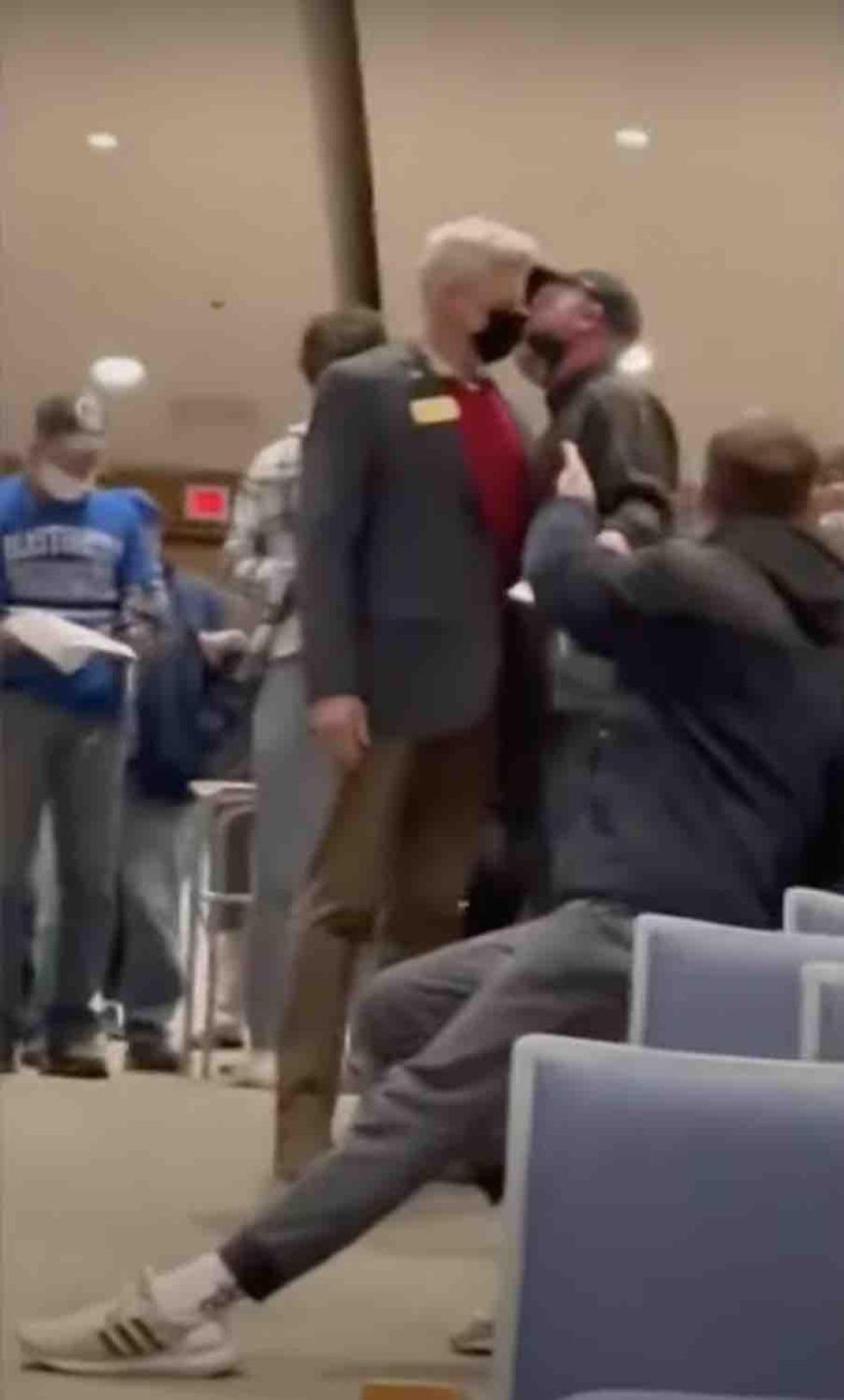 Image source: YouTube screenshot
In response, McFall pushes Finocchiaro in the chest and into a row of seats — and that's when Finocchiaro slugs McFall in the face, knocking him to the auditorium floor.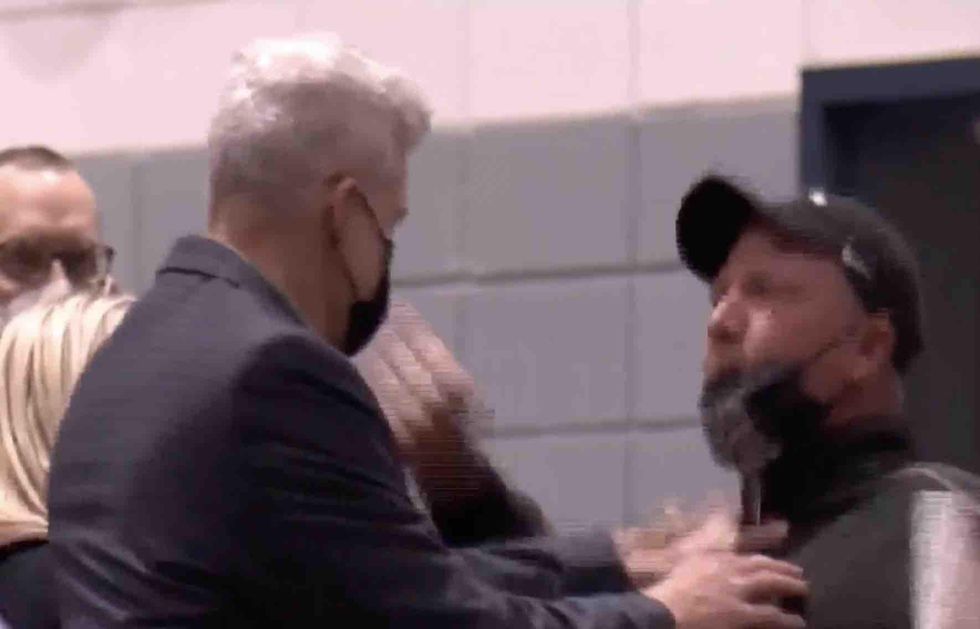 Image source: WVIT-TV video screenshot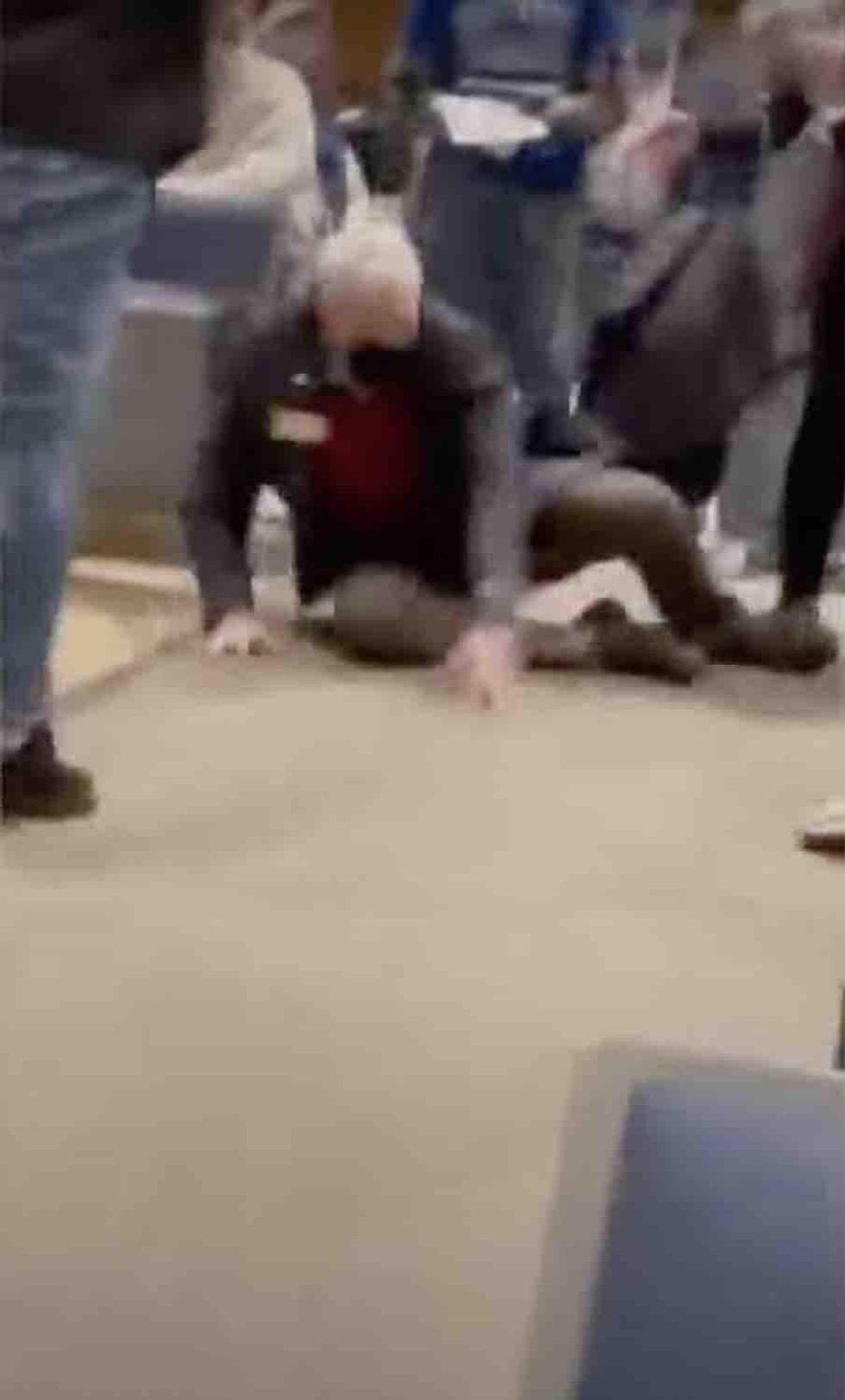 Image source: YouTube screenshot
Here's a video report of the incident:
Others milling around the pair attempted to separate them, and WTIC said McFall was brought back up onto the auditorium stage. Then the superintendent announced the meeting was over due the fight, the station said, adding that members of the pubic were asked to leave and police showed up.
"I was there just to watch, and I didn't know I would end up being involved in separating an argument or a physical fight," Glastonbury Town Councilman John Cavanna, who's also a police officer, told WTIC.
Cavanna added to the station that he sensed tension in the audience from the beginning of the meeting: "They're upset about the mascot, but they were much more upset about the manner in which the Board of Education went about removing it."
WTIC said the decision to ditch the Tomahawks mascot also happened when all meetings were virtual and resulted in residents feeling as though they weren't properly heard.
Tuesday's meeting ended without a decision on the mascot, the station said.
'Everyone's getting pushed up in a corner'
Dave Zevin, whose two sons used to be Tomahawks football players, told WTIC he was disappointed that a board member pushed an audience member: "That being said, punching a school board member, it's just wrong and it's foolish and does nothing to advance anybody's cause."
Resident Steven Piersa told WFSB-TV in regard to the fight that "people are getting ... bolder today, just with everything going on, everyone's in everybody's face today. It's crazy."
Piersa added to the station that many are being told "how to live their life, what you should be doing, 'Oh, that's not acceptable' ... everyone's getting pushed up in a corner, and eventually people are going to lash out."
Another resident, Olivia Jenkins, told WFSB that "people are over it. People are over the pandemic. People are over politics. I think, too, there's just a lot going on ... it's crazy."
Anything else?
Finocchiaro was not available for comment, the station said, adding that McFall did not respond to WTIC's request for comment.
Police said they are actively investigating the incident and no arrests have been made, the station said.
VIDEO: Fight breaks out at Glastonbury Board of Education Meetingyoutu.be