A sucker-punch attack against a man who appears to be Asian was captured on video and shared on social media, according to NextShark, an outlet that covers Asian American News and Asian News.
What happened?
The video shows at least four males walking down a sidewalk toward another man who appeared to be trying to get into a car. One of the males wearing a dark hoodie and dark pants approached the other man and sucker-punched him in the head. The victim fell face on the curb while the other males in the group cheered the attack.
"Day-umm!" one is heard hollering. Another remarked, "Down goes Frazier!" a reference to sportscaster Howard Cosell's famous outburst in the first round of a 1973 heavyweight boxing match between George Foreman and champion Joe Frazier.
While the victim was lying in the street with his head upon the sidewalk, the one of the males put a traffic cone atop the victim's head and then put the victim's baseball cap on top of the cone.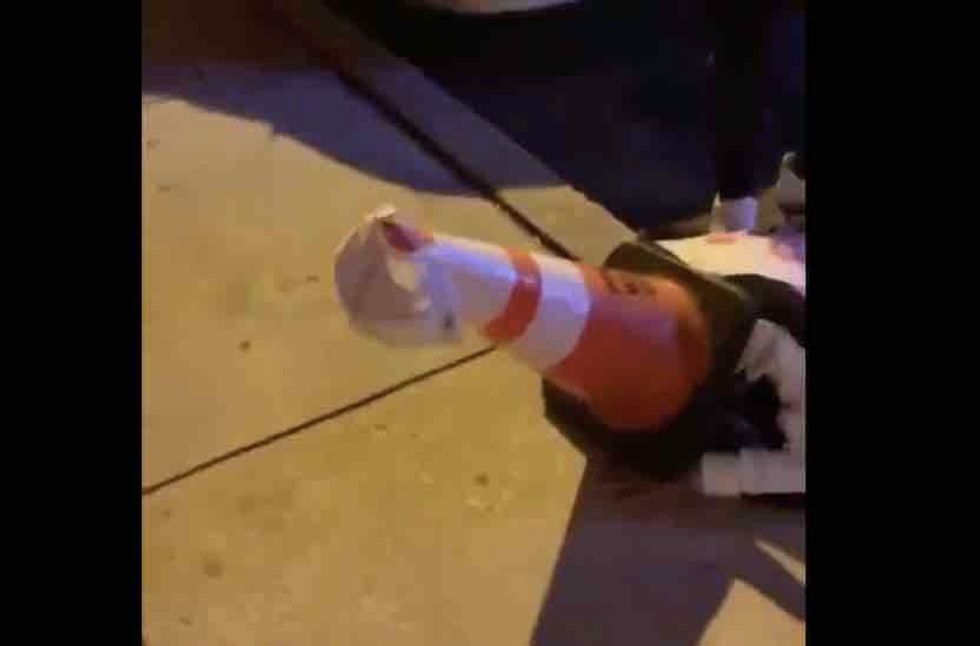 Image source: Twitter video screenshot
"He like a motherf***in' snowman," one male reacted while others laughed. One male also was seen going through the victim's back pockets.
Here's the clip. Content warning: language:
Random attack on an Asian man in the streets of Philadelphia. A detective from the Philadelphia Police Department… https://t.co/jOXPRLccU8

— Jon Chan (@Jon Chan) 1584765191.0
What else?
NextShark said Instagram user @jaydothemost uploaded the video Thursday but that the account was deactivated shortly after NextShark reached out to the user. The outlet added that @jaydothemost also tagged the Instagram accounts of friends as well as the geolocation S Block in South Philly.
NextShark added that a Philadelphia police detective said cops are looking into the incident and that a police report has not been filed by the victim.
Philadelphia Mayor Jim Kenney tweeted Sunday that the incident was a "despicable, violent crime" and that the attackers "will be held accountable."
We have seen the video of a person being attacked by a group in Philadelphia. The @PhillyPolice are investigating,… https://t.co/NyfoIxl40c

— Jim Kenney (@Jim Kenney) 1584878846.0
PhillyVoice reported that the video surfaced while the city and state are shutting down businesses and urging social distancing to combat the coronavirus.
"During this difficult time, we must support and comfort each other, not turn to violence and anger," Kenny also tweeted. "The actions of these few do not define who we are as a city."
Last week Philadelphia police announced they would temporarily stop arresting individuals for certain nonviolent crimes — such as theft, burglary, vandalism, fraud, prostitution, and drug-related offenses — to prevent jail overcrowding during the COVID-19 outbreak.