A female employee of a San Francisco Walgreens was seen on video trying to stop a male shoplifter from stealing items — and she was later criticized for trying to prevent the theft.
What are the details?
According to the Twitter user who posted the video, the shoplifting took place 10 a.m. Sunday at the Walgreens at the intersection of Geary and Taylor Streets in the city's Tenderloin district.
The clip shows the woman worker — identified by the Twitter user only as "Mary" — following the grey-hooded man down an aisle and telling him she's "called the police already."
The shoplifter then brazenly reaches into the shelves and stuffs several items down his pants — and Mary calls him out for it, just inches from him.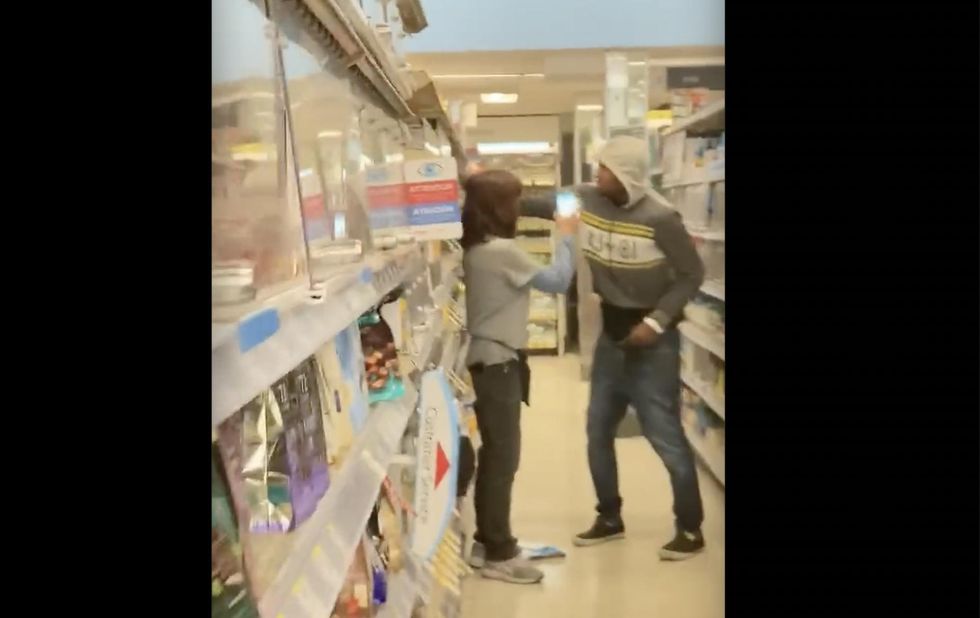 Image source: Twitter video screenshot via @darren_stallcup
"Hey! Hey! Hey! What are you doing?" Mary yells. "Don't stuff your pants! Take that out!"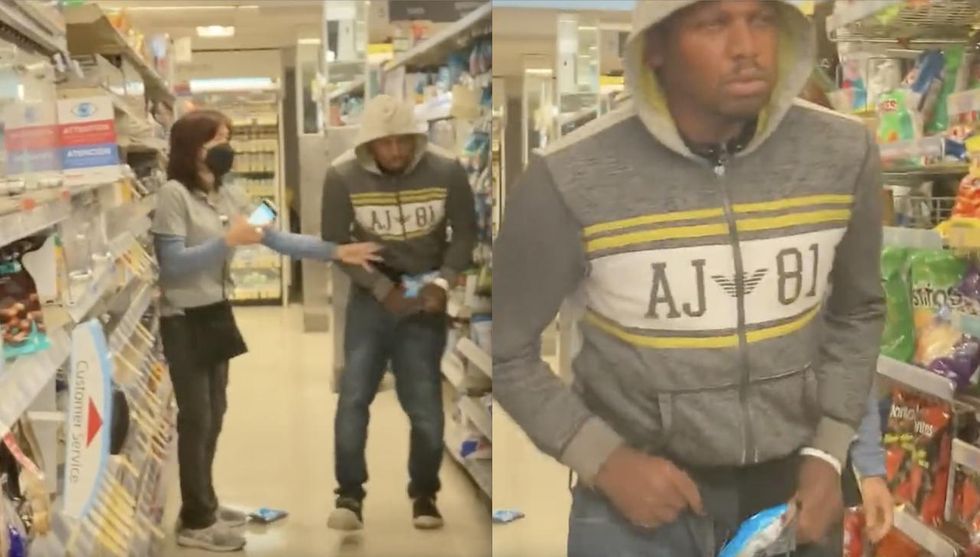 Image source: Twitter video screenshot via @darren_stallcup, composite
Here's the clip:
"Was getting some groceries at my local Walgreens when a barbarian ransacked the store," the poster's tweet read. "Asian American frontline worker (Mary) is NOT afraid. This is not her first rodeo!"
According to KTVU-TV, a "second video shows the alleged thief leaving the store, and another worker can be heard telling him to 'pull them drawers up.'"
"Barbarian really showing his a**," the same Twitter user said, according to the station. "Asian American worker Mary STILL ain't scared. Going above and beyond the call of duty." But it appears that tweet and video have been deleted.
KTVU said it's unclear if police went to the Walgreens during or after the incident.
San Francisco shoplifters have plagued Walgreens — and other stores — in recent years, and a number of Walgreens in the city have closed as a result.
How did folks react?
While some Twitter users praised the Walgreens worker for trying to stop the theft, many others criticized her for it:
Oh, and one commenter mocked the crook and what soft-on-crime San Francisco recently has become: "Please don't shame this man! He is a valued, loyal customer of our beautiful, historic, open-air drug market. We love it when he brings toiletries, OTC meds, and other new, unopened merchandise to trade for fentanyl."