A brazen couple was caught on cellphone video casually looting a Walgreens in San Francisco amid the city's shelter-in-place order to stem the spread of the coronavirus.
What happened?
The clip shows the couple — both of whom wore dark sunglasses — in an aisle while the male grabs handful after handful of items from a shelf and stuffs them in a large bag. The female also was seen carrying a large bag full of items.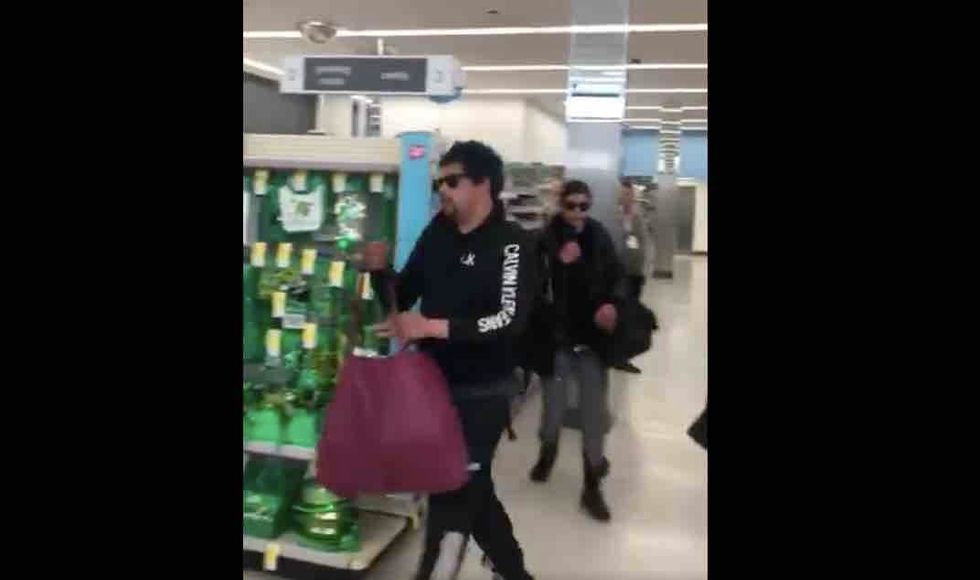 Image source: Twitter video screenshot
It isn't clear what specifically the couple were after, although the individual who recorded the video was heard saying, "I hope you overdose!" as the pair left the store without paying.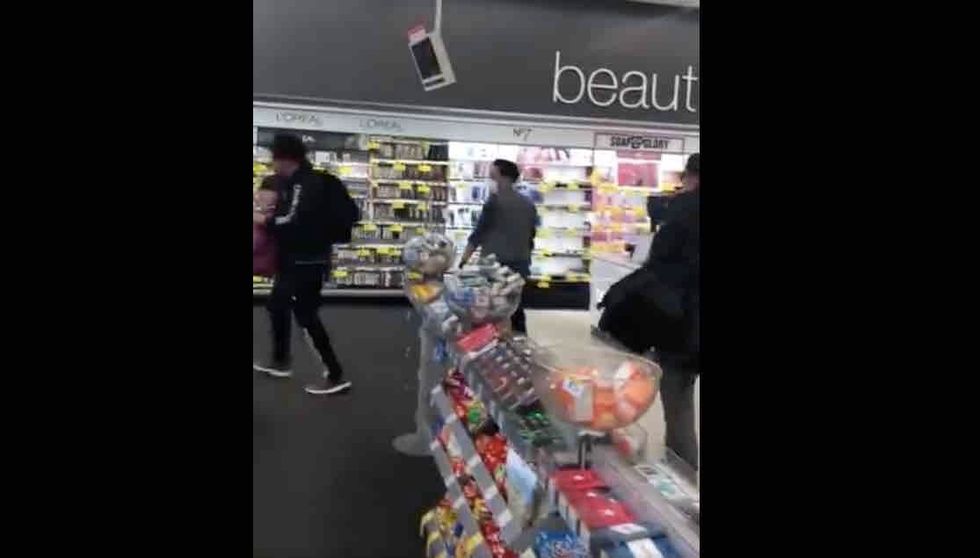 Image source: Twitter video screenshot
A Walgreens employee, who was wearing a mask and gloves, watched the crime helplessly. He appeared to try grabbing the bag the male was carrying on their way out to no avail.
The man who recorded the clip also called the couple "pieces of s**t!" for their looting.Here's the clip. (Content warning: language):
@SFPD @chesaboudin @Walgreens SF GOV - PROTECT OUR LAW ABIDING CITIZENS AND BUSINESSES. THE LOOTING HAS BEGUN. Wal… https://t.co/kfIlZ2CYGr

— Jared William (@Jared William) 1584650808.0
The video was posted Thursday to Twitter by a user who appealed to police, the city's far-left District Attorney Chesa Boudin, and California's far-left Gov. Gavin Newsom to "PROTECT OUR LAW-ABIDING CITIZENS AND BUSINESSES. THE LOOTING HAS BEGUN."

What else?
In some ways the offense is nothing new since the state passed 2014's Proposition 47, which makes such a crime a misdemeanor as long as the looted items are under $950 in value. But with police now turning their attention to the public's reaction to the coronavirus, it appears to be even easier for crooks to get away with looting.
A Public Health Order issued last Monday requires everyone in San Francisco to shelter in place, with exceptions for certain essential activities, business and government services, and public infrastructure construction, the city's police said.
The San Francisco Police Department said it's "empowered to issue misdemeanor citations for violations of this Public Health Order. However, our approach is to focus on education rather than enforcement." Police also said "our number one priority is and has always been violent crime. Call 9-1-1 to report violent crimes and crimes in progress. We will continue to respond to the scene."