Manson Bryant, 32, has been sent to prison at least three times, and Judge Eugene Lucci has presided over at least eight of his cases, WOIO-TV reported.
The most recent one involved a July 2018 home invasion for which Bryant was found guilty of aggravated burglary, aggravated robbery, kidnapping, and abduction, the station said.
But Bryant stood before Lucci in a Painesville, Ohio, courtroom prior to his sentencing earlier this month and sounded contrite.
"I've made a lifetime of bad decisions," he told the judge at the March 1 hearing, WOIO said. "I respect you, and I respect your decision."
That was, until Lucci read Bryant his sentence: 22 years in prison.
Contrite no longer

Bryant stood up and let his feelings be known.
"Twenty-two years? Man, f*** your courtroom, you racist ass b***h!" Bryant shouted at Lucci, WOIO reported, while officers restrained him. "F*** your courtroom, man! You racist as f***! Twenty-two f***ing years? Racist ass b***h! You ain't s**t!"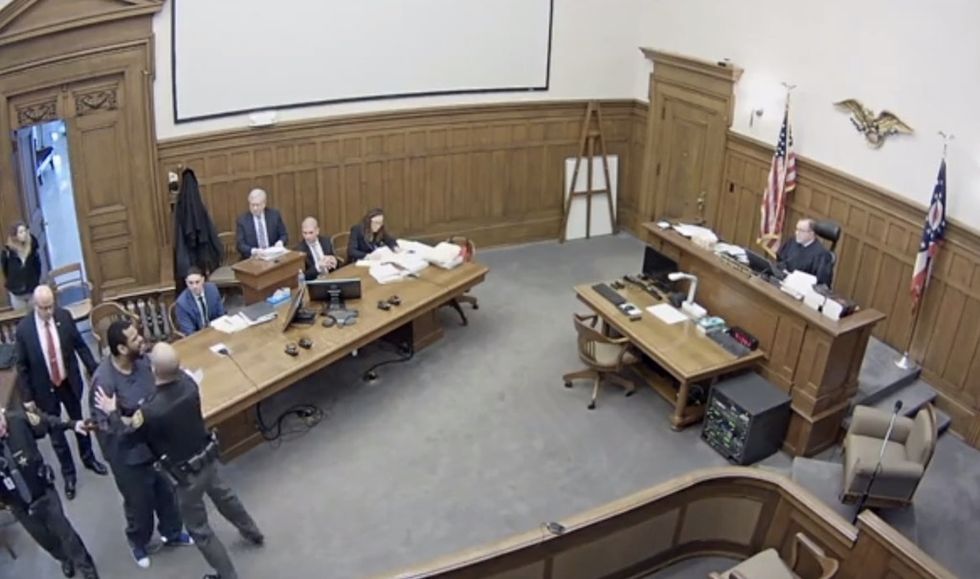 Image source: WOIO-TV video screenshot
Bryant was facing close to three decades in prison, the station said, but Lucci had determined that Bryant demonstrated some remorse.
Brutal lesson
While Bryant was still shouting obscenities at Lucci, the judge decided the defendant wasn't so remorseful after all and gave him some more time behind bars to think things over.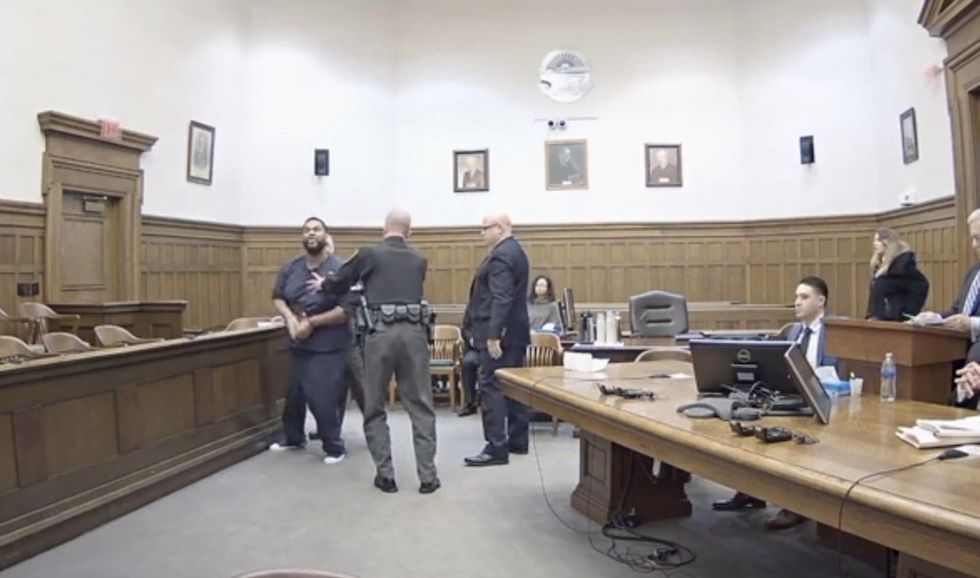 Image source: WOIO-TV video screenshot
"Actually, actually ... you know what," Lucci was heard saying on video released Tuesday, WOIO noted. "Remember when I said that you had some remorse? When I said that you had a certain amount of remorse, I was mistaken. The court determines that maximum imprisonment is needed. So that's 28 years."
Lucci noted that Bryant "was just feeding me a line of bull," the station said.
Bryant's attorney Daniel J. Williams, Esq., told WOIO his client will appeal his verdict and sentence.
"Sentencing hearings can be emotional for all involved," Williams told the station. "Mr. Bryant received a significant sentence and had an emotional and regrettable reaction to it. He was otherwise very composed throughout the course of his trial, even when the verdict was rendered. He intends to appeal the verdict and sentence, and continues to remain hopeful."
Here's more video of the incident. (Content warning: Profanity):

(H/T: Blue Lives Matter)